Dates

Jan 13, 1928 May 09, 2021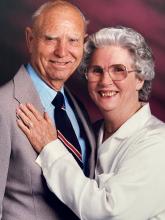 Jo Nita Callan Schwarz went Home to be with her Savior and her beloved Henry early Sunday morning, May 9, 2021. As always, her timing was impeccable; Sunday was her favorite day because it was the Lord's Day and the day of rest. It was also her gift to her cherished daughters that they might celebrate their mother free of pain and suffering on Mother's Day.

There will be a viewing on Thursday, May 13, 2021 from 9:00 AM until 10:30 AM at Trinity Lutheran Church in Miles, Texas. The funeral service will be held at 11:00 AM at the church and burial will follow in the Miles Cemetery. Arrangement are by Robert Massie Funeral Home.

The incredible life of Jo Nita Callan began on Friday, January 13, 1928, much to the chagrin of her mother, who was quite superstitious. Perhaps that's part of the reason that her parents, Rush and Minnie Maude Callan, made sure to instill into her the values of doing right and working hard. She did so on the family place in Fisher County, TX, and at Hobbs Schools, where she lived and attended until she left for Texas Tech University in 1945.

At Texas Tech, Jo Nita originally majored in Art as she loved color, especially green, and creating. However, a reintroduction to a particular gentleman shifted her plans, and she graduated with a Bachelor of Science degree in Home Economics in 1949. She would use this degree her entire life both as a teacher and as a homemaker for her family.
As a freshman at Texas Tech, Jo Nita caught sight of a handsome gentleman just returned to school from WWII. She recognized him as Henry Schwarz, the arrogant senior that graduated in the same Hobbs School graduation ceremony in which she graduated eighth grade in 1941. However, now he was dashing and worldly, and she was impressed. The two started dating soon after and were partners in love and life from then on. Jo Nita Callan became Mrs. Henry Schwarz in a small ceremony back at her family home in Fisher County on June 27, 1948. They returned to Lubbock where they lived when they welcomed their first daughter, Beverly Kay in 1950. Evelyn Annette followed in 1952, and their much-adored family was complete.

The young family moved around Texas and Oklahoma following Henry's jobs until they returned to the Callan family place in 1957. Henry worked with Jo Nita's father until they purchased their own property in 1960. It didn't seem like much at the time, but they did right and worked hard and turned the acreage northeast of Veribest into their home.

The farm was a family venture. Henry farmed and Jo Nita and the girls helped with the labor. Jo Nita was ever so frugal with their funds, and she and Henry built the dream house she designed with their own hands over the course of the next eleven years. The house was so uniquely Jo Nita that it is a regional landmark for its bright mint green color that Jo Nita loved so well. The girls were grown and gone by then, but their family was just beginning. In 1975, Jo Nita became "Granny" with the birth of her first grandchild, and future generations were changed forever.

If ever two people were born to be grandparents, it was "Paw-Paw and Granny." She always had food at any time of day or night, especially when hungry little ones got out of the pool. She taught all six grandchildren to sew. She took them to vacation bible school every summer. Paw-Paw taught them how to ride bikes in the hallway that she designed which also doubled as a bowling alley, a race track, and the longest hall in the world if you got sent to sit on the bed in the twin bedroom. Granny made the home. It's a home that has hosted countless memories for four generations so far.

Jo Nita was so passionate about creating homes that she spent her career teaching others how to do the same. "Mrs. Schwarz" began her teaching career at Hobbs School where she taught science and home economics for five years. In 1961 the family moved to Tom Green County and Mrs. Schwarz spent the next 25 years teaching at local schools. She taught at Lee Middle School, Central High School and Miles High School. The last 13 years of her esteemed career were as a Miles bulldog. She was also the sponsor of the drill team and of Future Homemakers of America. She was a dedicated educator both in the classroom and outside of it.

The only love Jo Nita had that was greater than that for her family or her students was for her Lord. Jo Nita and Henry were faithful members of Trinity Evangelical Lutheran Church in Miles from 1961 through each of their deaths. She served as a member of the church quilting club, local and synodical Women of the ELCA, church choir, memorial committee, church council, Aid Association for Lutherans, Lutheran Brotherhood, Thrivent Financial and numerous other organizations. She taught Sunday School and Vacation Bible School and was a faithful Bible Study member. She used her homemaking skills to make drapes, recover pew cushions, banners and meet other needs of the church as they arose. Briarwood Retreat Center in Argyle, TX was a place that was dear to her heart.

Jo Nita loved all those she served and the act of service, but it was her family she loved serving most. Her most treasured names were, "Jo," "Mom," and "Granny" which she is known by to the entire generation of her grandchildren and the generations after.
Her love, her wisdom, and her prayers will be missed greatly by those of her family remaining on this earth including her daughters Beverly Kinsey and husband Mike and Evelyn Drake and husband King; grandchildren Nicole Jones and husband Tony, Misty Kinsey, Reid Hall and wife Molly, April Drake and fiancé Shawn Kraatz, Tim Kinsey and wife Marti, Amy Roberts and husband Brad; eleven great-grandchildren: David Enderby (Danielle), Colson Enderby (Ashley), Trace Drake, Tony Jones, Jr., Trinity Jones, Kingsley Roberts, Sarita Kinsey, Camryn Hall, Park Roberts, Blake Hall, and Beckett Hall; two great-great-grandchildren: Dylan Enderby and Colson K. Enderby; brother R.W. Callan; and brother-in-law Leroy Coldewey. She has joined her beloved Henry, her parents Rush and Minnie Maude Callan, her sister Billie Jean Coldewey and nephew Bill Coldewey in Heaven.

Her family wishes to express their eternal gratitude to Pastor Diane Eggemeyer for her years of dedicated ministry to and precious friendship with Granny. They also wish to thank the staff at Brayden Park Assisted Living and Memory Care for their kindness, compassion, and love; they truly feel she was taken care of as if she were family.
A service to celebrate her life will be held at Trinity Evangelical Lutheran Church in Miles Thursday, May 13, 2021 at 11:00 with a graveside service to follow. In lieu of flowers, the family requests donations be made to the Miles Cemetery Association (P.O. Box 66, Miles, TX 76861), the American Bible Society (www.americanbible.org), or an organization of choice in her memory.
PUBLIC VIEWING
Wednesday
May 12, 2021
9:00 AM to TBD
Robert Massie Funeral Home
402 Rio Concho Dr.
San Angelo, TX 76903
---
PUBLIC VIEWING
Thursday
May 13, 2021
9:00 AM to 10:30 AM
Trinity Lutheran Church
501 Groves Street
Miles, TX 76861
---
FUNERAL SERVICE
Thursday
May 13, 2021
11:00 AM
Trinity Lutheran Church
501 Groves Street
Miles, TX 76861
Write Your Tribute