Dates

Feb 13, 1921 Apr 27, 2021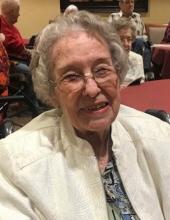 Mrs. Ethel Nance Sanders, age 100, of Whiteface, went to be with her Lord Jesus on April 27, 2021, at Brayden Park assisted living facility in San Angelo, TX. 
She was born February 13, 1921, at Old Emma, Crosby County, TX, a daughter of the late Alex Arthur Nance and Eunice Swinney Nance. She graduated Morton High School in 1939. She married Charles Luke Sanders on November 27, 1940, in Morton, TX, and celebrated 55 years of marriage. 
Ethel was preceded in death by her husband, Charles Luke Sanders; one son, Bobby Sanders, and son-in-law Billy Wall. Siblings: Hiram Nance, Anna Bell Swanner, Lucille Brooks, Arthur Nance, Mary Rushing, Robert Nance, and Betty Massey. 
She is survived by four daughters and three sons-in-law, Barbara Wall, Kathy Sanders, daughter-in-law, Nancy (Ray) Luper, Chrysti (Raymond) Love, and Gail (Kenny) Sifford. 10 grandchildren, 22 great-grandchildren, and 3 great-great-grandchildren. She also leaves many other family members and friends. 
In Cochran County, where she resided until 2010, she was a member of the First Baptist Church of Morton and then First Baptist Church of Whiteface. 
In addition to being a homemaker, she worked as a Whiteface school employee from 1964-1988. She enjoyed painting and upon retirement, Ethel took art classes at South Plains College, then private lessons with Sally Carter and Donnalita Schooler. During early retirement she continued interacting with children by doing private childcare in her home taking great joy in teaching the children "Jesus Loves Me" and other favorite songs. As a skilled seamstress, she made so many Easter dresses, costumes, and kept her 4 daughters fashionably dressed. She stayed active until the end by painting and creating hand embroidery pieces for her family. 
A special thank you to the staff of Brayden Park and Kindred Hospice for their compassionate care. 
A graveside service will be held privately at the Whiteface City Cemetery in Whiteface laying her to rest next to her husband. 
A Celebration of Life will be held in San Angelo on July 3, 2021.
Write Your Tribute