Dates

Oct 05, 1928 Apr 21, 2021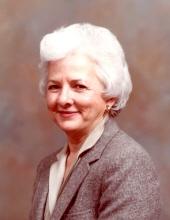 Mary Edith Clack, 92, of San Angelo passed away peacefully on April 21, 2021 in San Angelo. 
Mary was born on October 5, 1928 at her grandparents home in Milford, Texas to Opie and Clara McCain Greer. Because her father had taken a position with Mobil Oil Company just days before her birth, the family moved frequently. She started her schooling in Terrell, Oklahoma in 1934, but also attended school in Hillsboro and Andrews, Texas. She graduated Andrews High School in 1945. 
She enrolled in nursing school at West Texas Hospital in Lubbock. While on campus at Texas Technological College, she met her future husband, Norman Thompson, Jr. They married on June 1, 1947 in the First Baptist Church in Lubbock. Mary graduated from nursing school in 1949 and promptly entered the workforce. Norman worked for Sears, Roebuck and Company. They lived in San Angelo, Santa Fe, Lubbock, Dallas, San Paulo, Brazil and Caracas, Venezuela then finally back to Midland in 1975. She returned to nursing until she met her second husband, James H. Clack in 1984. They made their home in Andrews, as he was a Judge in Andrews County. Mary continued nursing with Home Health in Midland, as well as proctoring tests for nursing sides for licensing. It wasn't until 2011 that she retired at the age of 83. She enjoyed her life of retirement and moved with her sister to Baptist Retirement Community in San Angelo. 
Mary is preceded in death by her parents, her brother, Don, and her sister Dorothy Foster. She is survived by her sister Nancy Greer; sister-in-law Ruzora Greer; nieces, Diane Stegall and husband Darwin and Donna Najar and husband Sabas; great niece, Brittany Jefferies and husband James, great nephews, Justin Stegall and Hannah Andrus, Reed Stegall and fiancé Mary Ellen Stanley, Joshua Najar and Brittney Hoenshell; great-great nephew, Jackson Stegall, and great-great niece, Stella Stegall. 
A graveside service will be held on Monday, April 26, 2021 at 10:00 AM at Andrews Old Cemetery in Andrews, Texas.
Write Your Tribute