Dates

Apr 26, 1926 Apr 01, 2021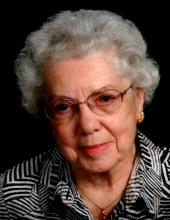 Nadine Joyce Johnson, 94, passed away on April 1,2021. Nadine was born to Herbert Johnson and Nettie (nee Reed) Johnson on April 26, 1926 in Springfield, MO. 
Nadine was preceded in death by her parents, brothers: Arthur B. Johnson of Springfield, Eugene G. Johnson and Alan R. Johnson both of San Angelo. Also sisters-in-law, Mrs. E.G. (Martha) Johnson and Mrs. Alan (Betty) Johnson of San Angelo. A nephew, Glen E. Johnson also predeceased her. 
Nadine worked for the Frisco Railroad (later Burlington) after high school graduation until her retirement in 1985, approximately 45 years. She was the Chief Data Entry Clerk upon retirement. Her father was a Railroad Engineer and she and her brothers shared a love for all things railroad. She and her two brothers and sisters-in-law were involved in a restoration of the San Angelo Railroad Depot and there is an exhibit of memorabilia she donated there. She and the E.G. Johnson's moved to San Angelo in the late 1980's where the Alan Johnson's were long-time residents. Alan was retired from the Air Force and owned a camera shop. All the siblings shared an interest in photography and had large collections of railroad oriented photos. 
Nadine is survived by three nephews, Jim Johnson (Marihelen) of West Lafayette, IN, Ricky (Betty) Johnson of Arlington, TX and Nicky (Beverly) of San Angelo, TX. Also nieces, Connie (Johnson) Bradford of Euless, TX and Linda Johnson of San Angelo. She is also survived by nine great nieces and nephews and many great-great nieces and nephews. Nadine was a loving, caring aunt who was always good to remember everyone's birthdays. She was proud of each of their accomplishments and kept a mental record of family history that was amazing. She will truly be missed. 
A viewing and visitation will be held on Monday, April 5, 2021 from 5:00 to 7:00 P.M. at Harper Funeral Home. Interment will be in Springfield, MO with her parents. 
In lieu of flowers, donations may be made to the San Angelo Train Depot Museum.
Visitation
Monday, April 05, 2021
5:00PM - 7:00PM
Harper Funeral Home
2606 Southland Boulevard 
San Angelo, TX 76904
Write Your Tribute