Dates

Feb 18, 1929 Jan 21, 2021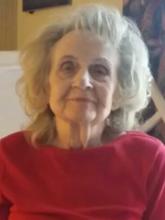 Rhoda Fisher Grimes passed away peacefully on January 21, 2021 at the age of ninety-one years. She had resided in Georgetown, Texas for the last eight years, but was a resident of Houston, Texas for most of her adult life.
Rhoda, or Susie as she was known to some, was born in San Angelo, Texas on February 18, 1929. When she was thirteen years old, her father, Tom Green County District Attorney O. C. Fisher, was elected to the United States Congress. She lived in Washington, D.C. for the next several years until she returned to San Angelo to graduate from the old San Angelo High School, now known as Central High School. She then attended Stephens College in Columbia, Missouri for two years. She completed her education at the University of Texas at Austin. She remained loyal to her college sorority, Alpha Phi, for the rest of her life.
While attending college, she met her future husband, Jim Grimes, and they were married in San Angelo on September 2, 1950. They soon relocated to Mexico City for three years while Jim worked in the Yucatan oil fields. By 1954, the young couple had arrived in Houston, Texas where Rhoda and Jim raised their family.
Rhoda loved people. She had an instant curiosity about those whom she met. She had many friends from a wide variety of circles. Some were from her childhood, others, her college years, and some whom she met later in life.
She loved to play bridge, and played with many of the same ladies for nearly fifty years. Rhoda also loved to travel. She was fluent in Spanish and learned to speak French in her forties. She especially embraced the Mexican culture and spent many happy times at the family home in Acapulco.
Rhoda suffered a loss when her husband, Jim, died in 1999. But she persevered, always upbeat, and enjoying life with family and friends. She enjoyed a good political debate, and usually won! Another passion that delighted Rhoda was watching the television show Jeopardy – daily.
Rhoda was preceded in death by her beloved husband, Jim Grimes. She is survived by her four children: Steve (Carly) of San Angelo, Randy (Laura) of Georgetown, Janet Hoffman of Spring, Texas and Cynthia Warren (John) of Georgetown. She is also survived by twelve grandchildren and nine great-grandchildren.
The family would like to thank the staff at The Wesleyan in Georgetown for their superb care over the last eight years.
A graveside service will take place at Memorial Oaks Cemetery in Houston, Texas on Friday, January 29, 2021 at 10:30 a.m. It is the family's hope that others will remember Rhoda as a woman of faith who loved her Lord and Savior.
Write Your Tribute