Dates

Jul 12, 1970 Dec 24, 2020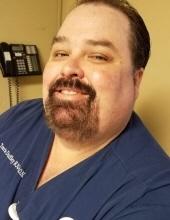 Travis Eugene Duffley, 50, entered Heavens Gates on December 24, 2020. Travis was born to Paul Duffley and Janice Merryfield on July 12, 1970. 
Travis married Tina Martinez in 2004 and they resided together in San Angelo, Texas. Together they raised 5 children Natalie Morris, Andrew Duffley, Matthew Duffley, Marina Duffley, Samantha Martinez, and 6 grandchildren. He is preceded in death by his parents along with his sisters Cynthia Hawkins and Lisa Minor. Travis is also survived by his brother Vernon Phelps and family, his sister Bambi Schoenfield and family, and numerous nieces and nephews. 
Travis started as a CNA then later became an LVN and worked his way to an RN. He later obtained his BSN and was six months away from becoming a Nurse Practitioner before his passing. 
Travis worked as the D.O.N. at Park Plaza Nursing Center for 20 years and was passionate about ensuring his residents had the best care available. Travis had the amazing ability to see someone's true worth and would often guide them towards their full potential. He went above and beyond everyday to make sure his staff and residents had everything they needed. Travis had an astonishing intellect and always had an answer for any problem life threw your way. He enjoyed challenging problems, solving puzzles, tinkering with gadgets, and repairing items. However, Travis's true passion was education, not only for himself but for others. He was at his best when teaching people new skills or imparting wisdom towards obstacles. A part of his light is instilled in everyone he guided; he will truly be missed. 
"Pass on what you have learned." 
Memorial services with be held Saturday, January 2nd at Harper Funeral Home at 2PM. 
Family and friends may share condolences and sign the online register book at 
www.harper-funeralhome.com.
Memorial Service
Saturday, January 02, 2021
2:00PM
Harper Funeral Home
2606 Southland Boulevard 
San Angelo, TX 76904
Write Your Tribute