Dates

May 25, 1925 Jul 14, 2018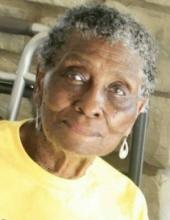 Modette Shields was born May 25, 1925, to the late Harry & Connie Shields Sr. in Big Spring, Texas.
 
Modette was employed as a Homemaker for fifteen years for C.L. Taylor & family until her health would no longer permit her to work. She was a joy to be around, any day or time, and always loved to be with family. There was never a stranger in her home.
She is preceded in death by her parents; four sisters, Rowena Roberson, Julia Foster, Coriene Shields; Ola Mae Hutton; three brothers, Harry Shields Jr, Riley Shields, and Benjamin Shields; one daughter, Julia Lewis; and one son, Heiser Shields.
She is survived by two sons: Rev. John & Pamela (wife) Shields, and Billy Shields and wife, of San Angelo, Texas; one daughter, Diane Hart and her husband Vincent Eaton of Dallas, Texas; and beloved Son in law, Richard Lewis, husband of the late Julia Ann Lewis; and Daughter in law Barbara Shields, wife of the late Heiser Shields; 18 grandchildren; 19 great grandchildren; 1 great-great child; a host of nephews; nieces; and wonderful friends.
There will be an open visitation Friday, and the service will be held Saturday, July 21st 1 p.m. at New Light Baptist Church 720 West 16th St. San Angelo, Texas 76903.
Write Your Tribute