SAN ANGELO, TX — Tim Vasquez has been sentenced to 15.5 years in federal prison and will have to pay a $35,000 fine. 
The former San Angelo Police Chief convicted of accepting bribes entered the courtroom in the Federal Courthouse downtown wearing a yellow jumpsuit.  He was shackled, so he had chains on his ankles and his wrists were chained to his waist.  He shuffled as he made his way to his seat.  
Former San Angelo Police Chief Vasquez was sentenced Friday at the Federal Courthouse in San Angelo, 33 E. Twohig Ave. His sentencing follows his conviction in March 2022 for bribery and three counts of honest services mail fraud. Earlier this year, the U.S. Attorney in Lubbock stated that all together, Vasquez could get 70 years in jail.
Vasquez had been held in the Terry County Jail in Brownfield since his conviction on March 24.
Vasquez's conviction stems from about 13 years of payments made to him through his band, Funky Munky, for performances at Dailey and Wells Communications, Inc., a public safety radio vendor that the City of San Angelo hired to install and maintain its L3 Harris public safety radio system. The jury found that those payments were bribes paid to the former police chief for the chief's advocacy of using Dailey and Wells and its Harris radio solution. The City last purchased a major radio upgrade from Dailey and Wells in 2015 for $5.7 million.
The conviction has influenced the City of San Angelo to reconsider its long-held tradition and law of electing its police chief. This month, a city-appointed special committee reported to the City Council their findings so far of reasons to have the city manager appoint a police chief instead of leaving the choice up to the voters. San Angelo is the only city in Texas that elects its police chief. To change the City charter, a ballot initiative is required and voters must choose to change the way the San Angelo police chief is chosen.
While he was facing 70 years in federal prison, experts predicted the range of the punishment can possibly be anywhere from 10 to 30 years. The sentencing was originally scheduled in Lubbock in June but Federal District Judge James Wesley Hendrix, presiding, ruled the sentencing venue changed to San Angelo for August 5, 2022 at 1:30 p.m. about two months ago.
Vasquez has been in custody since he as found guilty.  He will remain in custody and will be transferred to the custody of the Bureau of Prisons  when they have a bed for him at a location chosen by the BOP.   Federal guidelines require inmates to serve 85% of their sentence.  That would have Vasquez serving 13.1 years in prison before becoming eligible for release.  There is no parole in the federal prison system.  He could spend three to six months in a halfway house at the end of his term if caseworkers recommend that to prison officials.  Once a person becomes an inmate with the BOP, the Bureau will decide where that inmate will be placed depending on several factors including the Judge's recommendation, whether the inmate is high profile and how likely the inmate is to be harmed by other inmates, as well as other factors.  
The nearest Federal Correctional Institution to San Angelo is FCI Big Spring.  Vasquez's attorney requested the federal prison near Dallas. Vasquez's girlfriend lives in the DFW area.
We will have more on this story later.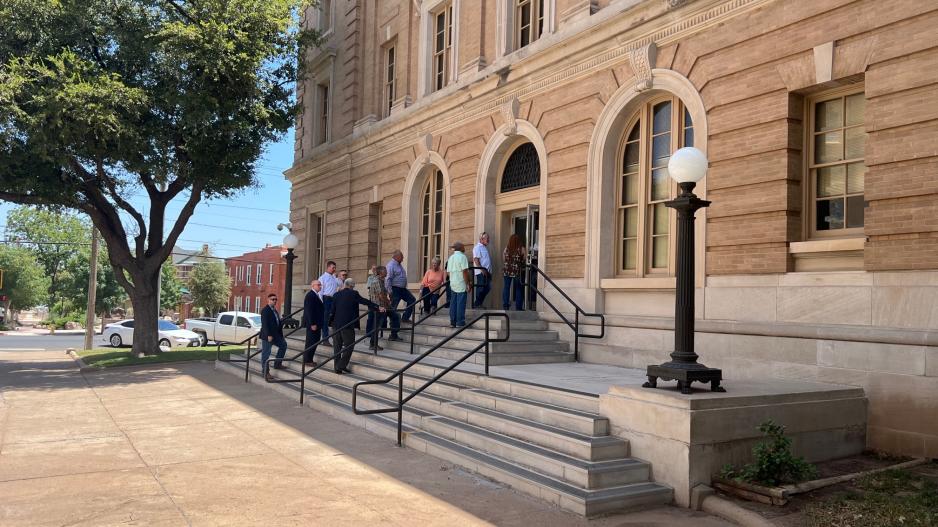 Most Recent Videos