12-Year-Old Shot and Killed in Howard County
Press Release
BIG SPRING, TX — On Wednesday May 10, 2017 at approximately 7:50 p.m., Deputies with the Howard County Sheriff's Office were dispatched to Scenic Mountain Medical Center Emergency Room in reference to a gunshot victim. Upon arrival, Deputies identified the victim as Jose Hernandez 12 years of age. Hernandez had been reported as a runaway through the Big Spring Police Department. Hernandez died as a result of his injuries. Hernandez next of kin have been notified.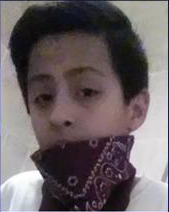 As information was gathered it was determined that Hernandez had been shot at a residence in the County North of Big Spring, he was transported to the Emergency Room by Private Car. Investigators have limited information on the details of the shooting at this time, but are currently working to develop information.
Justice of the Peace Bennie Green ordered an autopsy to be performed on Hernandez in Lubbock, Texas on Thursday May 11, 2017.
If you have any information, we ask that you contact the Howard County Sheriff's Office at 432-264-2231 or Crime Stoppers 432-263-8477 (TIPS)
At this time no further information is available.
Get more stories like this by
signing up for our daily newsletter, The LIVE! Daily
.