CHAPEL HILL, NC —One particular US newspaper declared this to be "arguably the greatest story in college athletics," in which the Tar Heels needed a double-overtime penalty shootout to beat the Northwestern Wildcats 2-1 at the Karen Shelton Stadium on Sunday, November 19, securing the program's 11th national championship and its fifth in six years.
This is the story of a record-breaking rookie 23-year-old NCAA female Field Hockey Player named Erin Matson, who is making big headlines today after becoming the youngest coach to win an NCAA Championship in history. After playing for the Tar Heels for five years and winning 4 National Championships, Matson succeeded head coach Karen Shelton, who retired in December 2022. Matson was involved in three undefeated seasons with the Tar Heels as a player, so she is no stranger to winning. 
Sunday, as the game tightened up and it came down to the wire, there was a shootout heading into sudden death. Then Maddie Kahn made a crucial block to set up sophomore Ryleigh Heck to win UNC a consecutive national championship.
"Right then and there, my mind just went blank," Heck said.
"I don't even remember spinning or scoring. I just remember being with my teammates just cheering. One of the greatest feelings ever."
Head Coach Erin Matson also comes from a family with a broad athletic heritage, with a father who played baseball for Delaware, a mother who played both softball and hockey at Yale, and a younger brother who plays baseball at Harvard.  There's no telling what else this young lady will achieve both on and off the field in the coming years.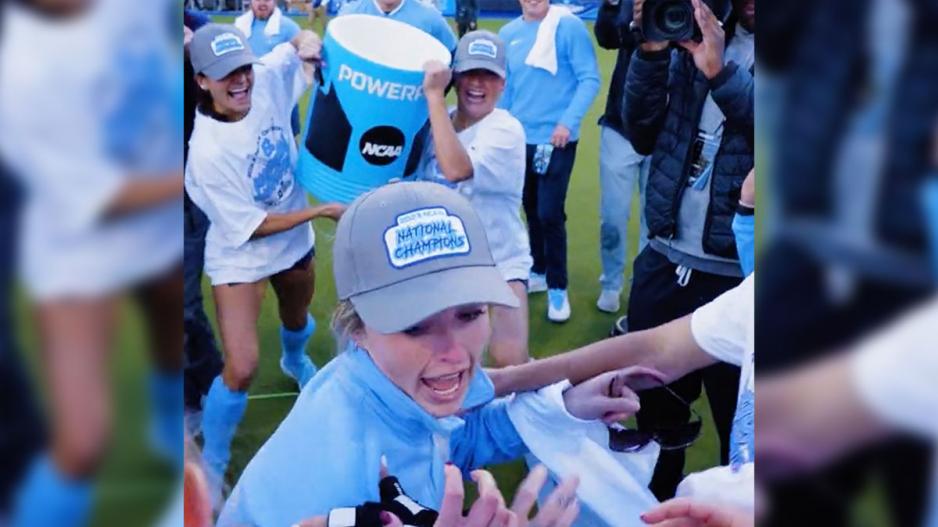 Most Recent Videos