AMES, IA — The No. 7 Texas Longhorns are one step closer to securing their place in the Big 12 Title Game after the 'Horns downed the Iowa State Cyclones in Ames 26-16 on Saturday, November 18. Texas survived another tough conference test against a resilient Cyclone team to improve to 10-1 (7-1 Big 12) on the season. A huge special teams effort led by Kicker Bert Auburn paved the way to victory on a day when Texas was without star running back Jonathon Brooks.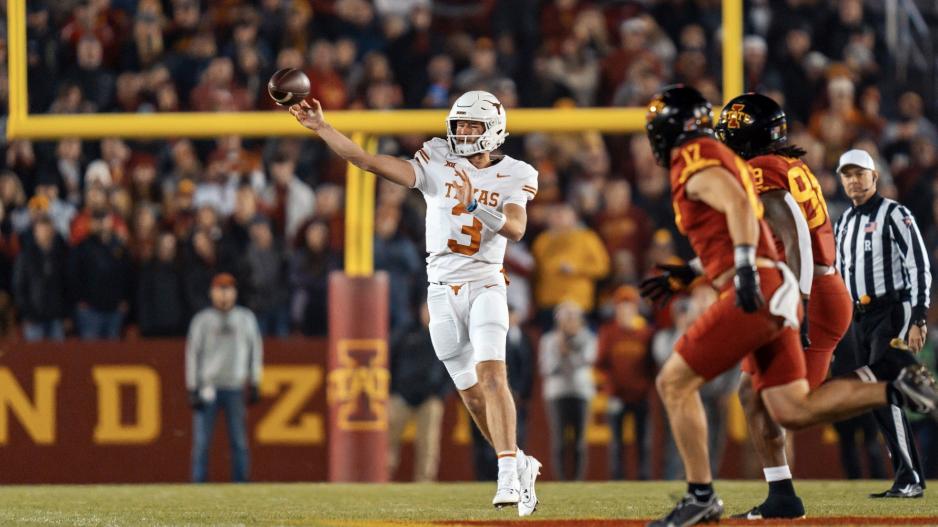 With 3:13 remaining in the 3rd quarter, Iowa State scored a 14-yard touchdown to narrow the Longhorns' lead to four points. T'Vondre Sweat blocked the ensuing extra point to keep the contest a two-score game. Austin Jordan picked up the blocked extra point and returned it for a 2-point conversion.
The two teams traded scores in the 4th quarter, and the Cyclones only trailed by seven. Auburn nailed his third field goal of the night from 42 yards out to secure the victory. The Longhorns' kicker made field goals from 39, 50, and 42 yards in the game against Iowa State. 
Quick Hits
Freshman running back CJ Baxter amassed a career-high 117 yards for the Longhorns after lead running back Jonathon Brooks suffered a season-ending ACL injury last week.
While Iowa State posted an impressive 323 yards passing, their ground game struggled, accumulating just nine yards rushing.
Texas guarantees a chance at a Big 12 Title if they beat the Texas Tech Red Raiders next week. Texas Tech (6-5, 5-3 Big 12) won its regular season home finale on Saturday against the University of Central Florida in Lubbock 24-23.
Kickoff between the Longhorns and Red Raiders is scheduled for Friday, November 24, at 6:30 p.m. The Red Raiders stunned the Longhorns with a 37-34 OT thriller in Lubbock last season.
Most Recent Videos