CHARLOTTE, NC — On Sunday, November 19, the Dallas Cowboys cemented another dominant win when they rolled over the Carolina Panthers in Charlotte 33-10. Powered by an impressive performance from Cowboys' cornerback DaRon Bland, the Cowboys moved to 7-3 in the 2023 season. Bland tied an NFL record with his fourth pick-six on the season in Sunday's matchup.
Bland is just the fourth player in NFL history that has four interceptions returned for touchdowns. He joined Eric Allen in '93, Jim Kearney in '72, and Ken Houston in '71. With seven games remaining in the 2023 regular season, Bland said after the game that he now has an added goal he will shoot for. He wants the record all to himself.
"Honestly, it hasn't hit me," Bland said. "I feel like I'm really just kind of doing my job. That kind of stuff, I feel like I've been doing. I've felt like myself, so it's not really ever hit me because it feel like it's just another day."
"Definitely going to try to break the record now," Bland said. "I got to have some more in there."
The Cowboys' corner put an emphatic exclamation point on a dominant afternoon when he intercepted a pass from Panthers' rookie quarterback Bryce Young early in the 4th quarter to put the game away officially. The Cowboys' defense excelled in Sunday's contest. They allowed only 187 total yards and claimed two takeaways on the day.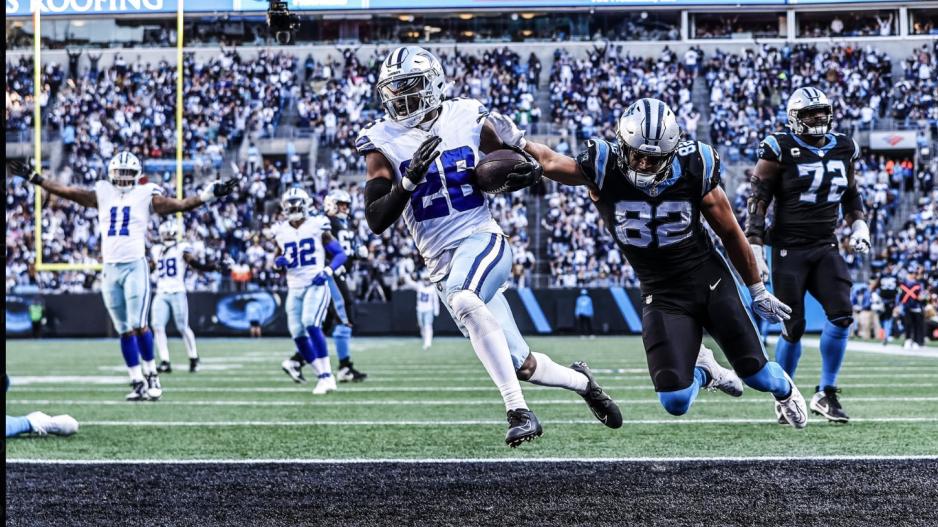 Bland's pick-six solidified another solid performance for a corner elevated to the number two spot only after Trevon Diggs went down with a season-ending torn ACL in practice early in the season. Bland's interception proved pivotal in the 4th quarter as the touchdown turned a one-score game at 17-10 to a 14-point advantage late.
With the win, the Cowboys remain second in the NFC East. Dallas next hosts the Washington Commanders on Thanksgiving Day, Thursday, November 23. Kickoff is scheduled for 3:30 p.m.
Most Recent Videos