PITTSBURGH, PA — The Cleveland Browns took multiple losses to their rival, the Pittsburgh Steelers, in Pittsburgh on Monday night, September 18. Not only did the Steelers defeat the Browns, 26-22, but Cleveland also likely lost one of their best players for the season. Star running back Nick Chubb took a low hit on a carry near the goal line and sustained a severe knee injury. Chubb had to be carted off the field and did not return to action.
Early in the 2nd quarter, the Browns drove the ball down inside the Steelers' 10-yard line before the Steelers' Minkah Fitzpatrick hit Chubb low in an attempt to bring him to the ground, but Chubb's feet never left the ground. Instead, the former Georgia Bulldog's knee gave out instead. The injury looked so bad that even ESPN would not show the replay on the broadcast on Monday night. Teammates tried to help Chubb to his feet, but he just shook his head and remained on the ground. Medical personnel rushed to his side and had to cart him off the field.
Watch the moment below:
After the game was over, Browns' Head Coach Kevin Stefanski delivered the somber news to the media. 
"Nick's got a very significant knee injury," Browns Coach Kevin Stefanski said in a postgame briefing Monday night. "He's a great football player, as we know, but he's an even better person, so we will support him every step along the way."
Chubb injured the same knee while at Georgia. In that injury, the running back tore his MCL, LCL, PCL, and ACL.
"It's a blow for the whole team, and we don't want his injury to be in vain," Myles Garrett said in a postgame player press conference. "We got to push on. That's what he'd want us to do. And if he had any choice in the matter, that's what he would do. Just gotta continue to fight and use it as motivation."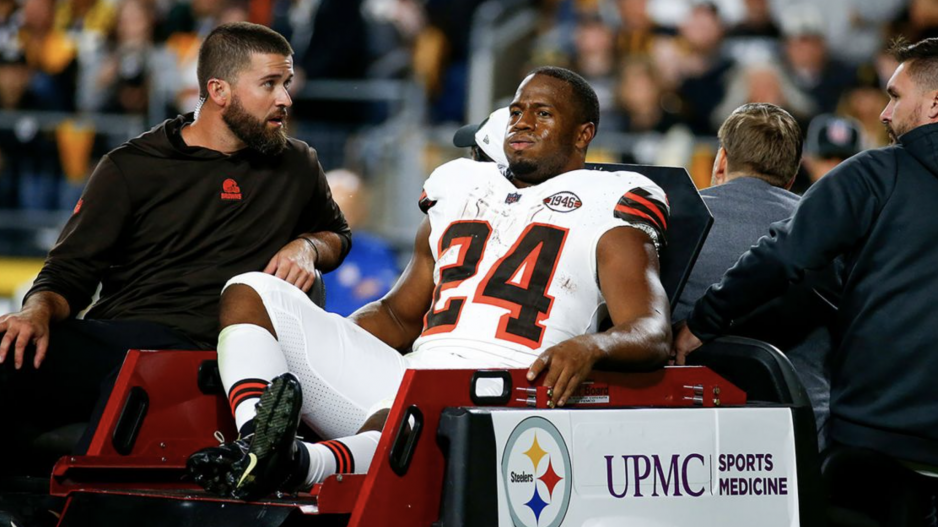 It is still unknown the extent of Chubb's injury, but with how fast Stefanski confirmed that his running back was done for the year, he likely will have a long road to recovery.
The Browns host the Tennessee Titans on Sunday, September 24, at noon.
Most Recent Videos