CARY, N.C. – The third-seeded Angelo State baseball team advanced to the NCAA Division II Baseball title game for the first time in program history after defeating sixth-seeded Southern New Hampshire 5-3 on Thursday night at the USA Baseball National Training Complex.
Austin Beck led off the second inning with a single to center field. He stole second and advanced to third on a balk before Jackson Hardy laid down a bunt to score the first run of the game. The Rams added another run in the inning as Justin Harris singled to left field to bring home Hardy from third after he stole second, giving ASU a 2-0 lead.
Braxton Pearson started on the mound for the Rams, throwing five scoreless innings with only three hits with one strikeout. 8-3
The Rams added two more runs in the top of the fifth inning as Thomas Cain reached on a fielder's choice before stealing second base and coming home to score on a triple by Jacob Guerrero. Tripp Clark hit a sac fly to center field to add another run and extend ASU's lead to 4-0.
In the eighth inning, Clark led with a triple to left field before coming home on a sac fly by Jordan Williams to put the Rams up by five with six outs to go.
The comeback bid fell short for the Penmen who scored three runs in the bottom of the ninth inning before Beck recorded the final out of the game with a toss to Harris at second base.
The Rams finished with three stolen bases in the game while Kamden Kelton finished 2-for-4 at the plate.
Caleb Heuertz threw three innings of relief with two runs on two hits while Scott Ellis pitched the final inning with one run on two hits.
The Rams will play for a national championship on Saturday, June 10 against the winner of No.4 Rollins and No. 5 Cal State San Bernardino which takes place on Friday. Stats are below. For more stats and player profiles see the story at Angelo Sports.
| School | Final Score |
| --- | --- |
| Angelo State (55-9) | 5 |
| SNHU (44-13) | 3 |
| School | 1 | 2 | 3 | 4 | 5 | 6 | 7 | 8 | 9 | R | H | E |
| --- | --- | --- | --- | --- | --- | --- | --- | --- | --- | --- | --- | --- |
| Angelo State | 0 | 2 | 0 | 0 | 2 | 0 | 0 | 1 | 0 | 5 | 7 | 0 |
| SNHU | 0 | 0 | 0 | 0 | 0 | 0 | 0 | 0 | 3 | 3 | 7 | 1 |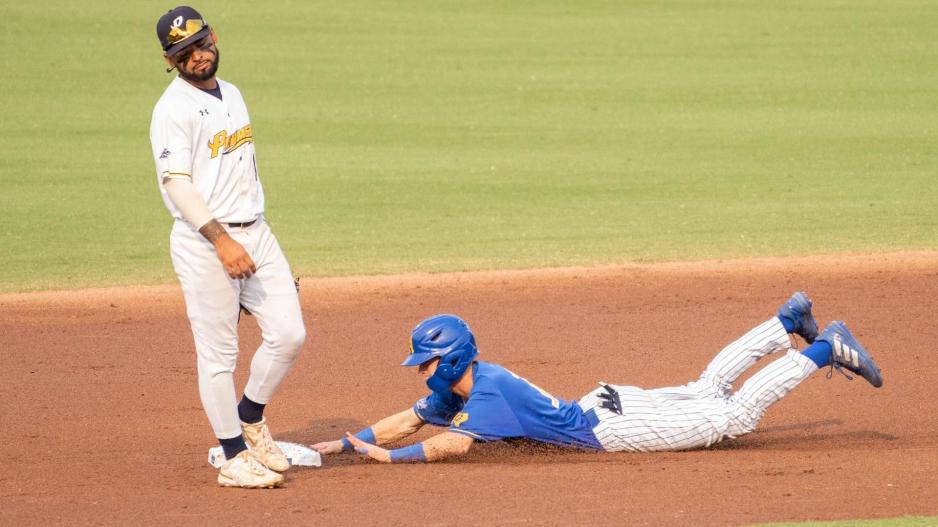 Most Recent Videos