LOS ANGELES, CA — One of the greatest NFL players of all time has died. Jim Brown, legendary running back for the Clevland Browns, died on Thursday night, May 18, at 87. His wife, Monique, announced Brown's death in an Instagram post on Friday afternoon. She said Brown "passed peacefully" on Thursday night in their home in Los Angeles.
"To the world, he was an activist, actor, and football star," the post read. "To our family, he was a loving and wonderful husband, father, and grandfather. Our hearts are broken..." the post said. Take a look at the post here.
NFL Commissioner Roger Goodell released a statement about Brown's passing. "On behalf of the entire NFL family, we extend our condolences to Monique and their family," NFL Commissioner Roger Goodell said in a statement on Friday. "Jim Brown was a gifted athlete -- one of the most dominant players to ever step on any athletic field -- but also a cultural figure who helped promote change.
"During his nine-year NFL career, which coincided with the civil rights movement here at home, he became a forerunner and role model for athletes being involved in social initiatives outside their sport. He inspired fellow athletes to make a difference, especially in the communities in which they lived."
Brown entered the league in 1957 and played all nine NFL seasons in his career for the Clevland Browns. A contract dispute between Brown and the Browns eventually led him to walk away from the game after nine seasons, but he is widely regarded as one of the greatest running backs of all time. Brown led the NFL in rushing in eight of his nine NFL seasons. He was one of the game's first superstars. Brown won the NFL's Most Valuable Player in 1965 and shattered the league's record books in his short career.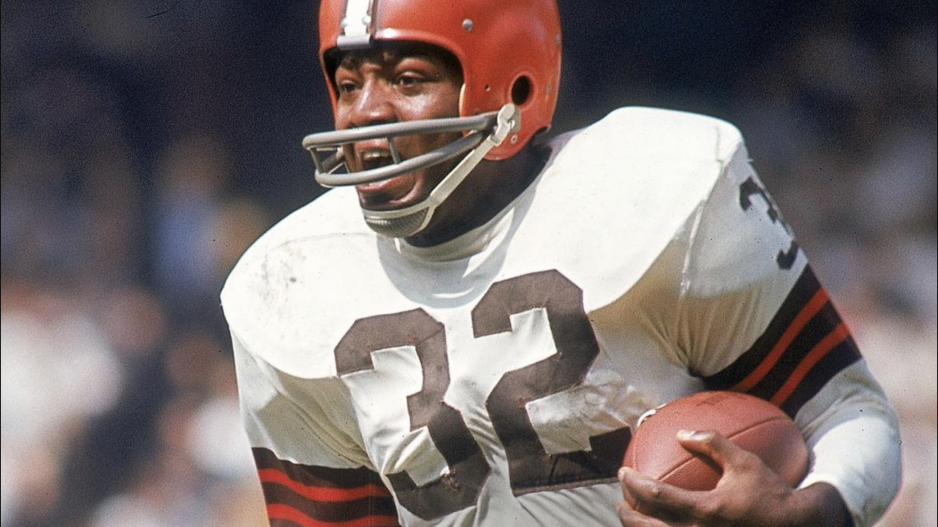 Cleveland selected Brown in the first round of the 1957 draft. He rushed for 12,312 yards and averaged 5.2 yards per carry over his career. He also was named a Pro Bowler every year he played. He led the Browns to the league championship three times, winning the title in 1964, and was named MVP three times.
He ran for at least 100 yards in 58 of his 118 regular-season games, never missing a game. He rushed for more than 1,000 yards in seven seasons, including 1,527 yards in one 12-game season and 1,863 in a 14-game season. Compared to today's 17-game season, those stats are titanic.
The running back turned to Hollywood when he was 30, at the height of his career. A contract dispute led to him hanging up his cleats to focus solely on acting. The Browns retired no. 32 after Brown's departure, and he has a statue out front of FirstEnergy Stadium that went up in 2016. The Syracuse legend played four sports at the university (football, lacrosse, basketball, and track).
Most Recent Videos