NEW YORK, NY — The NFL released the league-wide NFL schedule on Thursday night. The Houston Texans know who and where they will play this upcoming season. After they picked CJ Stroud with the second overall pick in the 2023 NFL Draft, the Texans still received the short end of the scheduling stick—nothing but a sea of noon on Sundays.
While Houston fans must be disappointed that they have no primetime games on their schedule after finishing 3-13-1 a season ago, it is somewhat bizarre that the Texans play 15 out of 16 scheduled games at noon. They have one random 3:05 matchup against the Denver Broncos in Week 13, but other than the possibility of a move to primetime, Houston is out of luck. 
Their Week 18 contest against their divisional opponent Indianapolis Colts is still to be determined. If Houston's record is anything like last season's, do not expect a primetime slot there. The decision to not give Houston at least one primetime game after the optimism heading into 2023. With the addition of new head coach Demeco Ryans and 2nd overall pick CJ Stroud, the Texans might generate some additional buzz if they create any early success for the organization.
Houston's notable matchups include the entire NFC South, Aaron Rodgers, and the New York Jets in Week 14, and home games on both Christmas Eve and New Year's Eve against the Cleveland Browns and Tennessee Titans, respectively. The Texans' divisional schedule looks packed towards the end of the year, with three out of their last four games of the season against divisional opponents. In fact, after Week 4, the Texans do not see another member of the AFC South until they host Jacksonville in Week 12.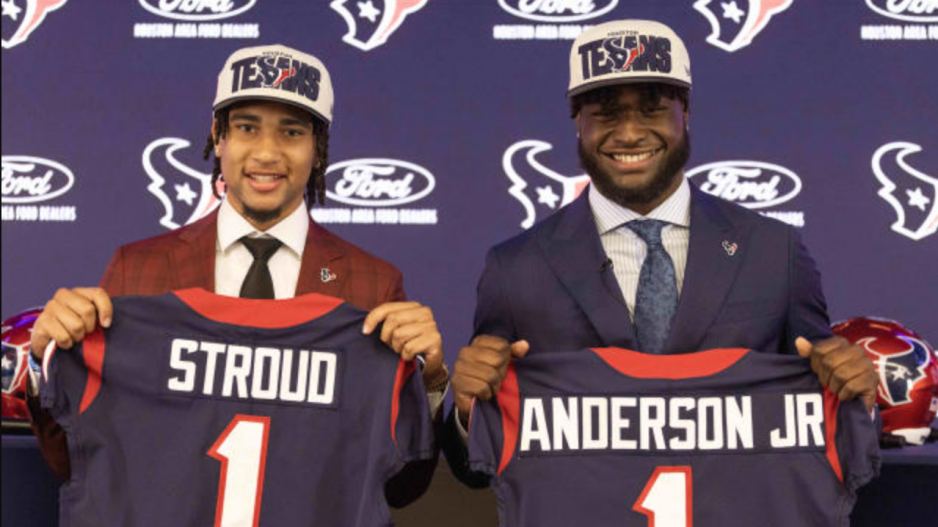 Check out the Houston Texan's full schedule here. Home games are highlighted in bold:
Week 1: at Baltimore Ravens (Sun. 9/10, 12 p.m.)
Week 2: Indianapolis Colts (Sun. 9/17, 12 p.m.)
Week 3: at Jacksonville Jaguars (Sun. 9/24, 12 p.m.)
Week 4: Pittsburgh Steelers (Sun. 10/1, 12 p.m.)
Week 5: at Atlanta Falcons (Sun. 10/8, 12 p.m.)
Week 6: New Orleans Saints (Sun. 10/15, 12 p.m.)
Week 7: BYE
Week 8: at Carolina Panthers (Sun. 10/29, 12 p.m.)
Week 9: Tampa Bay Buccaneers (Sun. 11/5, 12 p.m.)
Week 10: at Cincinnati Bengals (Sun. 11/12, 12 p.m.)
Week 11: Arizona Cardinals (Sun. 11/19, 12 p.m.)
Week 12: Jacksonville Jaguars (Sun. 11/26, 12 p.m.)
Week 13: Denver Broncos (Sun. 12/3, 3:05 p.m.)
Week 14: at New York Jets (Sun. 12/10, 12 p.m.)
Week 15: at Tennessee Titans (Sun. 12/17, 12 p.m.)
Week 16: Cleveland Browns (Sun. 12/24, 12 p.m.)
Week 17: Tennessee Titans (Sun. 12/31, 12 p.m.)
Week 18: Indianapolis Colts (TBD)
Pre-Season
Week 1: at New England (TBD)
Week 2: Miami Dolphins (Sat. 8/19, 7 p.m.)
Week 3: New Orleans Saints (Sun. 8/27, 7 p.m.)
Most Recent Videos