COLLEGE STATION, TX — The San Angelo Central Lady Cats Gymnastics Team just brought home a state championship. At the Texas High School State Meet in College Station on Friday and Saturday, April 28-29, the Bobcats and Lady Cats competed against 11 other schools. While the Bobcats placed 7th overall, the Lady Cats came home as State Champions.
After trailing by less than a point after Day 1 (.075), the Lady Cats showed up and dominated the competition to take home the title on Day 2. Overall, the Lady Cats won the competition with a 233.70 final score. Rockwall High School took second place with a 233.250, and Trinity High School came in third with a 232.30. 
Girls Team Results
1. 233.700 San Angelo Central
2. 233.250 Rockwall High
3. 232.300 Trinity
4. 231.700 Heath
5. 230.350 L. D. Bell
6. 228.150 Round Rock
7. 226.250 El Paso Eastwood 
8. 226.025 El Paso Bel Air 
9. 225.700 Boswell 
10. 225.475 Bryan Rudder
11. 224.625 Saginaw High
12. 218.350 Kingwoo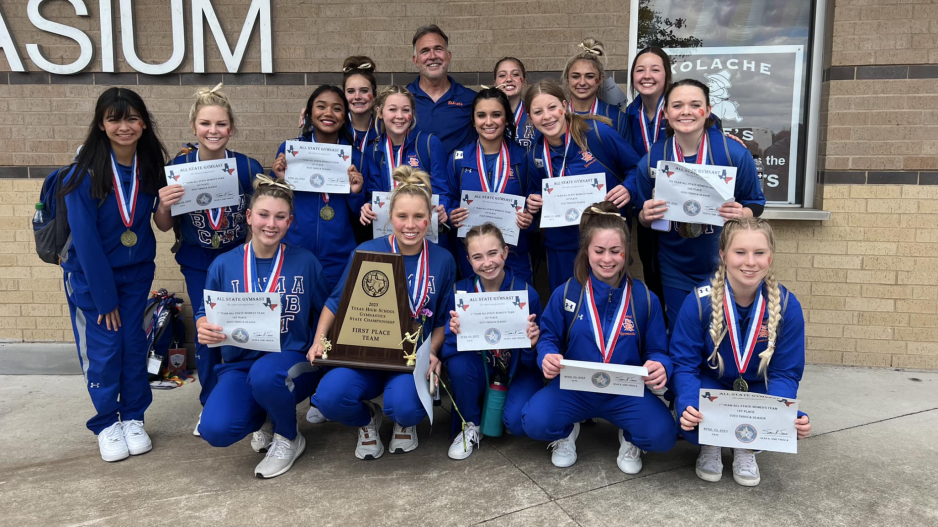 Kara Baker placed second in the All-Around, missing out on first place by a mere 0.3 points. She finished with a combined score of 77.875 over the 2-day meet. Caroline Steele placed 10th overall in the All-Around.
The Bobcats performed well throughout the meet but did not manage to claim the state championship. However, the boys did place in the Top 10. Central placed 7th overall with a 312.75 final score. The Rockwall boys took home first place. 
Boys Team Results
1. 338.350 Rockwall High 
2. 334.850 Saginaw High 
3. 331.350 Highland Park
4. 331.100 Kingwood 
5. 326.550 Chisholm Trail 
6. 315.300 Lakeview Centennial
7. 312.750 San Angelo Central 
8. 309.500 Permian 
9. 304.350 Boswell 
10. 302.450 Heath 
11. 298.350 Bryan Rudder
12. 296.700 Trinity
Most Recent Videos