HOUSTON, TX — After two action-packed weeks of March Madness Basketball, the original field of 68 national title hopefuls narrowed down to the Final Four. The last two Big XII teams fell over the weekend, but plenty of exciting basketball remains.
The group features a traditional power in No. 4 seed UConn, a surprise participant in No. 9 seed Florida Atlantic, and two other strong programs in No. 5 seed San Diego State and No. 5 seed Miami that have never won national titles.
The Final Four tips off on Saturday, April 1, at NRG Stadium in Houston. Only one team can cut down the nets on April 3.
Saturday's first game will be just the second Men's Final Four matchup between non-major conference opponents as San Diego State and FAU square off for a spot in the title game. The Aztecs won the Mountain West regular season and conference tournament titles, while the Owls emerged as the regular season and tournament champions of Conference USA.
The second game on Saturday features the only two major conference teams remaining in the tournament. UConn attempts to win its 5th title in 24 tournament appearances while the Hurricanes, who just reached their first Final Four, try and win the first National Championship in school history.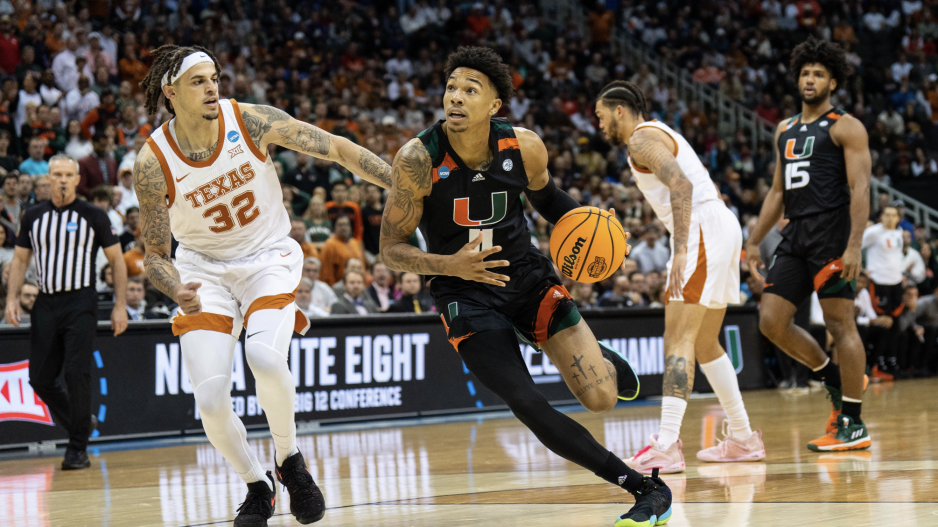 (5) San Diego State vs. (9) FAU
Date: Saturday, April 1 | Time: 6:09 p.m.
Location: NRG Stadium in Houston
TV: CBS | Streaming: March Madness Live    
San Diego State defeated Creighton in the Elite 8 on Saturday, March 25. The Aztecs also make their first Final Four appearance in history this weekend.
Picked to finish 5th in the Conference USA, FAU defied all expectations to dominate their conference and every opponent so far in the tournament. The Owls defeated Kansas State to reach Final Four with a 35-3 record. 
(4) UConn vs. (5) Miami
Date: Saturday, April 1 | Time: 8:49 p.m.
Location: NRG Stadium in Houston
TV: CBS | Streaming: March Madness Live
UConn won its four tourney games up to this point by 15 or more points. Easily the hottest team in College Basketball, the Huskies dismantled Gonzaga on Saturday 82-54. Climbing as high as No. 2 in the AP polls this year, a string of losses dropped the Huskies out of the top 10. People seemed to forget how good UConn is this year, but they remember now.
The Hurricanes eliminated the last Big XII team left in the tournament on Sunday. Although the Texas Longhorns led for more than 80% of the contest, the failure of the coaching staff to adjust to the Hurricanes' strategy down the stretch cost Texas a ticket to play this weekend. Miami has elite guards and can run the floor with anyone.
Most Recent Videos