SAN ANGELO, TX – Citizens across San Angelo are mourning the loss of a longtime YMCA football coach recently.
Daniel Martinez has been a football coach for San Angelo YMCA program for over 30 years. During that time he not only taught the kids from the Northside the game of football but was a father figure to many.
The CEO of San Angelo's YMCA, Angel Flores, says that Martinez will be dearly missed. 
"Daniel Martinez was a volunteer of the YMCA Youth Football Program and an advocate of youth for decades. A selfless spirit, he acted as the head volunteer coach for many teams usually residing in the Northside of San Angelo and taking the name of the Chiefs," said Flores. "He helped to mold generations of young athletes by sharing his knowledge and love for football. I am blessed to have had the opportunity to meet and know Daniel. While he will be dearly missed, his legacy of service will endure for years to come."
Other members of Martinez's family and friends also made public statements on the loss.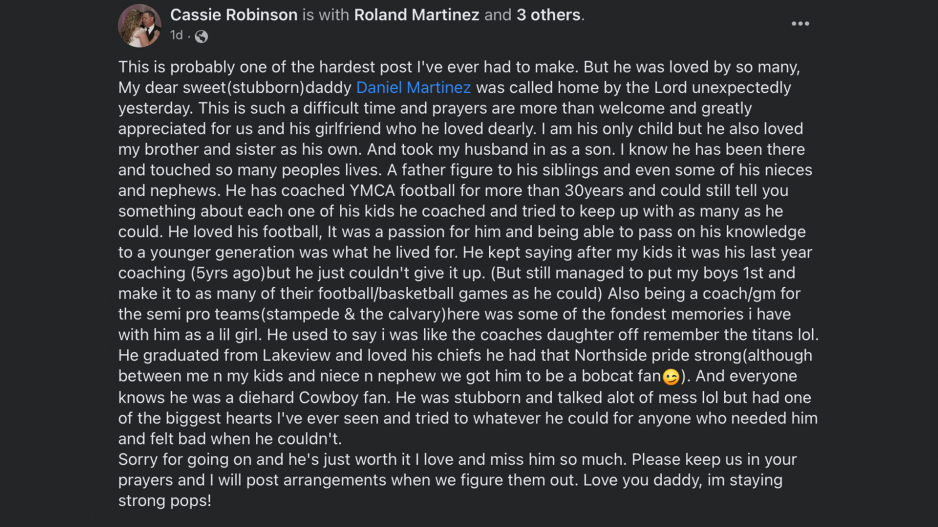 Martinez went to Lake View High School and graduated in the 80s. Since graduating, Martinez dedicated a portion of his life to help guide boys in Lake View on and off the football field. 
Here are a few pictures shared on social media of Martinez and his team.
For more check out the GoFundMe published by the family. The fundraiser will help the family pay for the funeral and any other costs associated with his death.
Most Recent Videos