WALL — The Wall Hawks (10-1) travel to Sweetwater on Friday, Nov. 25, to take on the Idalou Wildcats (9-3) in the third round of the 2022 UIL Texas High School Football 3A Div II playoffs at 1 p.m. After defeating the Childress Tigers last week, 44-10, another win would slingshot the Hawks into the state quarterfinals. 
Offensively, Wall's well-oiled triple-option machine continues to churn. The Hawks completely wore down Childress midway through the 3rd quarter before completely running away with it, 44-10. If the Hawks can control the time of possession throughout the game, they should have little difficulty securing victory. 
Nathan Pepper and Gunner Dillard lead the Hawks' rushing attack with over 1500 yards on the ground and 22 touchdowns. Look for the Hawks to lead the way once again versus Idalou.
Wall only runs into trouble offensively whenever they get behind on the scoreboard early. If they are far behind, they must change their identity and throw the football. While the Hawks like to throw in a pass to keep opposing defenses from completely crowding the box and blitzing the run, they are not well suited to the task.
The Hawks have a great chance of advancing because of their tough defense. On the year, Wall has only allowed 80 points across 11 games; that is only 7.27 points per game. Junior Logan Thomas leads the Hawks in tackles with 66 total. Sophomore Brylan White leads the team with his teammate, Dylan Gidney. Both Hawks have eight sacks on the season.
Wall's defense faces a tough test this week as Idalou, like Wall, runs the triple option attack. This mirror match will be further affected by winter weather during the game.
The weather forecast predicts cloudy skies and rain. The temperature will be in the low 40's to the high 30's. The cold temperatures will make every hit given and taken sting more than usual. The ball is harder to hold on to, tougher to throw, and much more difficult to catch in these conditions. 
Head Coach Houston Guy says that despite the conditions, his players are excited and ready to go. "Our kids are looking forward to it. It will be wet and miserable, but tough teams win tough games," he said.
"We played Idalou back in 2013, and it was sleeting and 17 degrees. It won't be that bad Friday," commented Coach Guy. He says his team is ready, and if the Hawks win, they will play in December.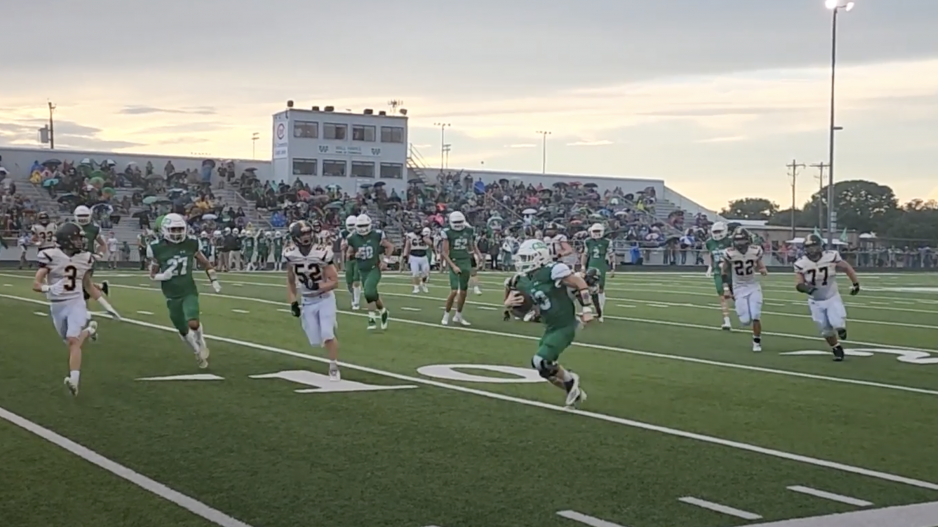 Most Recent Videos