WATCH: Takeaways from San Angelo Central Spring Game
SAN ANGELO, TX -- The San Angelo Central Bobcats gave the Concho Valley their best taste of football to tame the area's rabid appetite for the sport with their annual spring game on Thursday.
Coming out of the four weeks of practice, head coach Brent Davis said this was the best he had felt after a spring game. The head coach saw plenty of new faces step up and veterans do what was expected of them.
The offense vs defense scrimmage favored the defense, who started the scrimmage with a 28-0 lead and had to try to hold the offense under 28 points. When it was all said and done, the offense won 29-28 after four quarters, but everyone won tacos.
"We were just gonna give tacos to the winner, but the defense played so well, we're gonna give tacos to everyone," Davis said.
Here's what we saw:
Brown Turning into Dual Threat for Central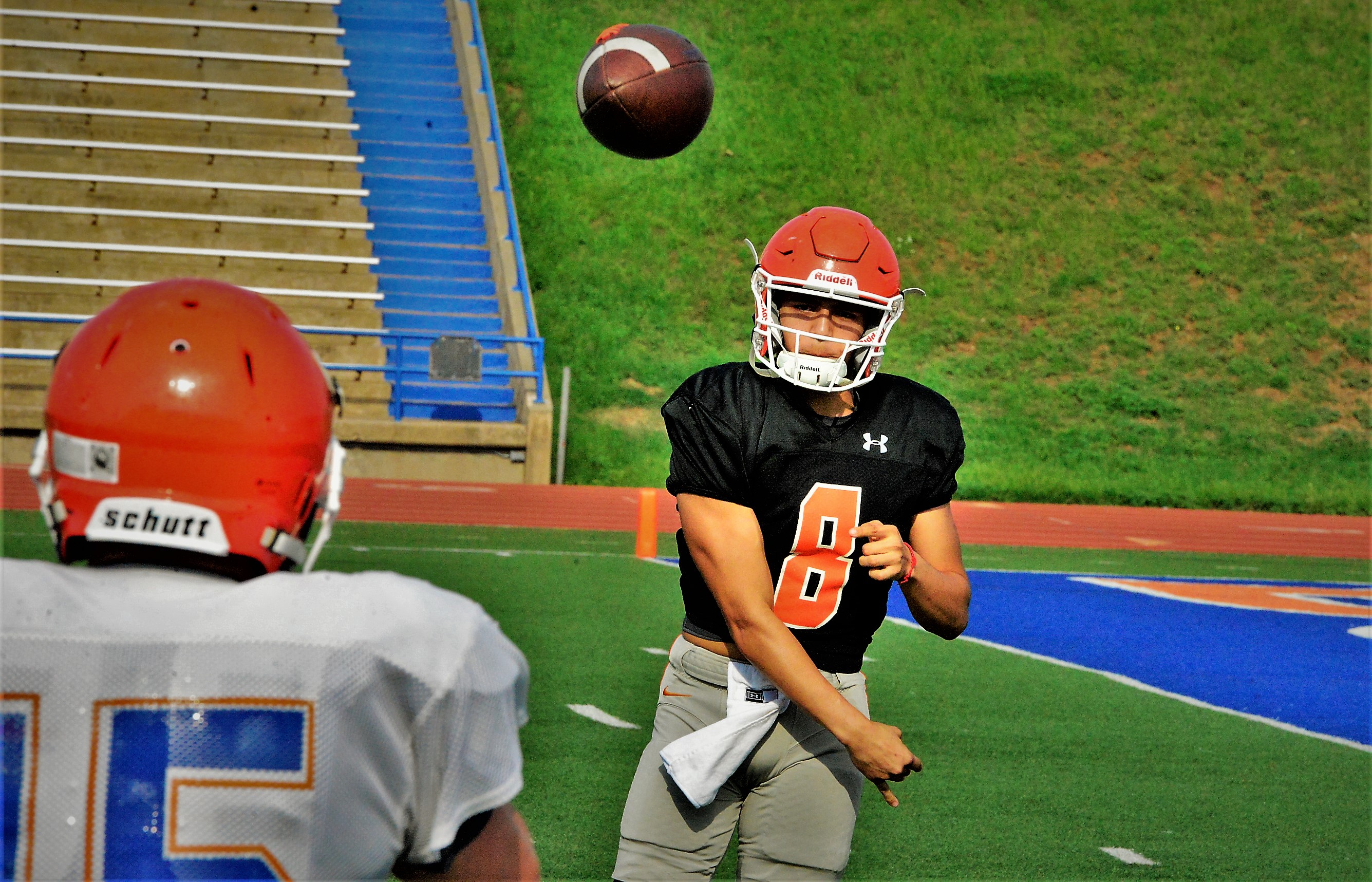 Above: Central's Malachi Brown warms up before their spring game. May 23, 2019 (LIVE! Photo/Sam Fowler)
Last year, Brown was known for his footwork, leading the Bobcats in rushing and posting a school record with more than 300 yards rushing against El Paso Pebble Hills in his second career start.
So, knowing he can run, the Bobcats set out to fine tune his passing ability and make him even more of a threat. The change in one full offseason as a starter is stark, Davis said.
 "Getting thrown into the fire last year, he got better and better each week," Davis said. "But now he's had an offseason and a spring and he's night and day. I mean, he's running our offense the way we want it ran. He's throwing the ball well and just the leadership that we're getting from him. He's vocal. He's what you want your quarterback to be."
Having two options out of the backfield certainly helps matters, too. Incoming junior Kris Jackson proved he has the potential to play opposite of senior Bobby Pena come the fall.
"Kris Jackson's coming around. He had a really good spring," said Davis, who also serves as Jackson's position coach. "He's just a young man off of our JV. We always knew he had some raw talent. He just put it together. He's had a really good offseason. I had a lot of talks with him in the offseason about stepping up. He's done it here (on the field) and in the classroom. He's gonna be a count-on guy."
Paulk Embracing Defensive Leadership Role Entering Final Season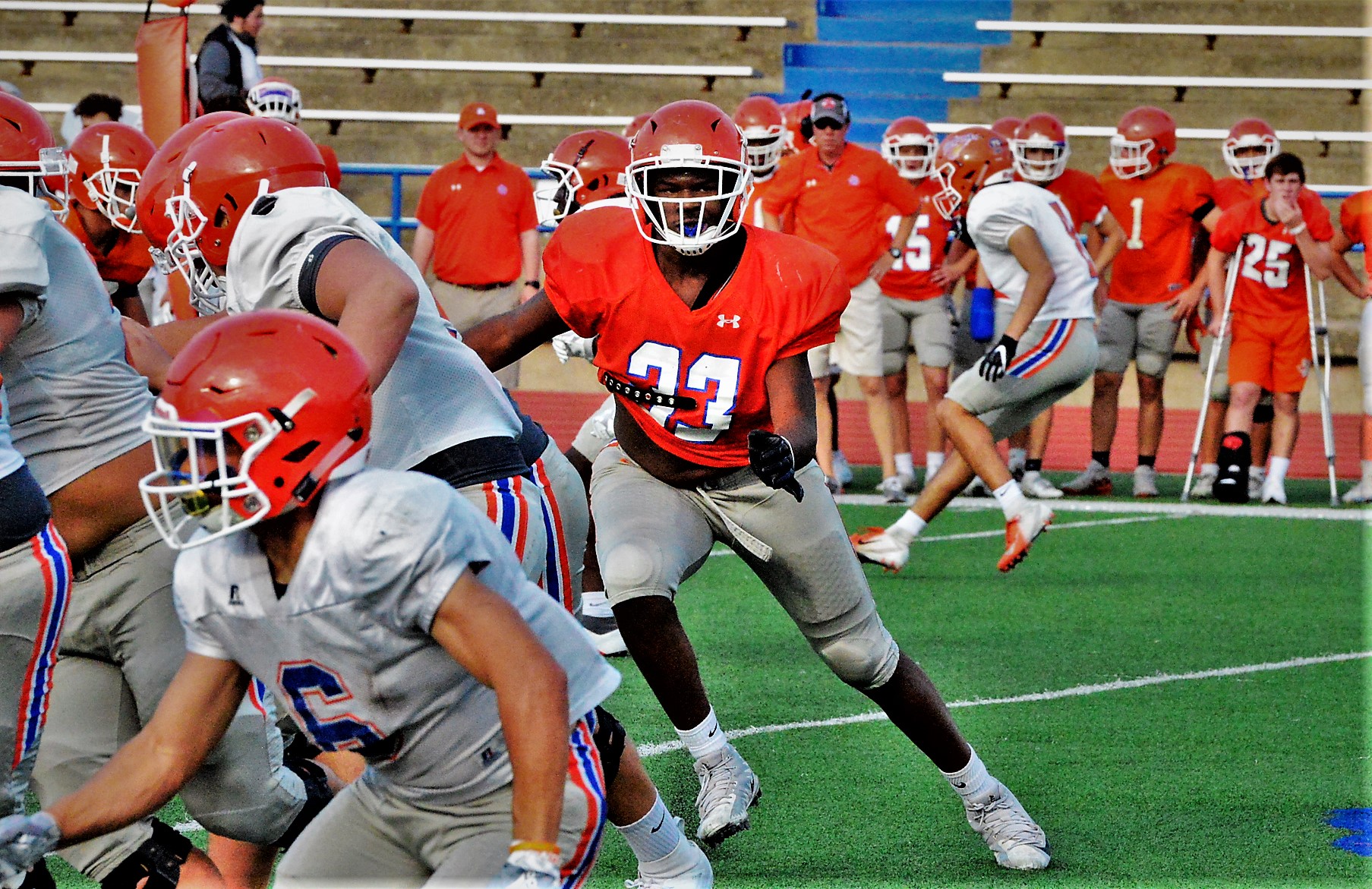 Above: Central's Xy'Kerion Paulk eyes the backfield during the Bobcats' spring game. May 23, 2019 (LIVE! Photo/Sam Fowler)
Incoming senior Xy'Kerion Paulk has aspirations of playing at the next level. He knows that won't come without hard work and a little bit of leadership.
So, the former defensive tackle embraced the grind this year and has slimmed down, toned up and gotten meaner ahead of his senior year. That's led to a move from the interior line to the edge as a defensive end for Paulk, who is embracing his role on defense.
"Big," was what Davis used to describe the implications of Paulk's offseason transformation. "He's leaned up and had a really good offseason. He has desires to play at the next level. If he continues to work like he has been, I think he'll be able to."
Davis is thankful the relentless pass rusher is on his team and not anyone else's.
"Xy's had a great spring. Xy can be as good as he wants to be," Davis praised. "We can't block him. If we were playing him, we'd have to double team him. We'd have to have a plan for him. We moved him outside to defensive end so he can play in space more and help us. We're gonna play him on both sides and make him try to be a nightmare for people."
What's his name?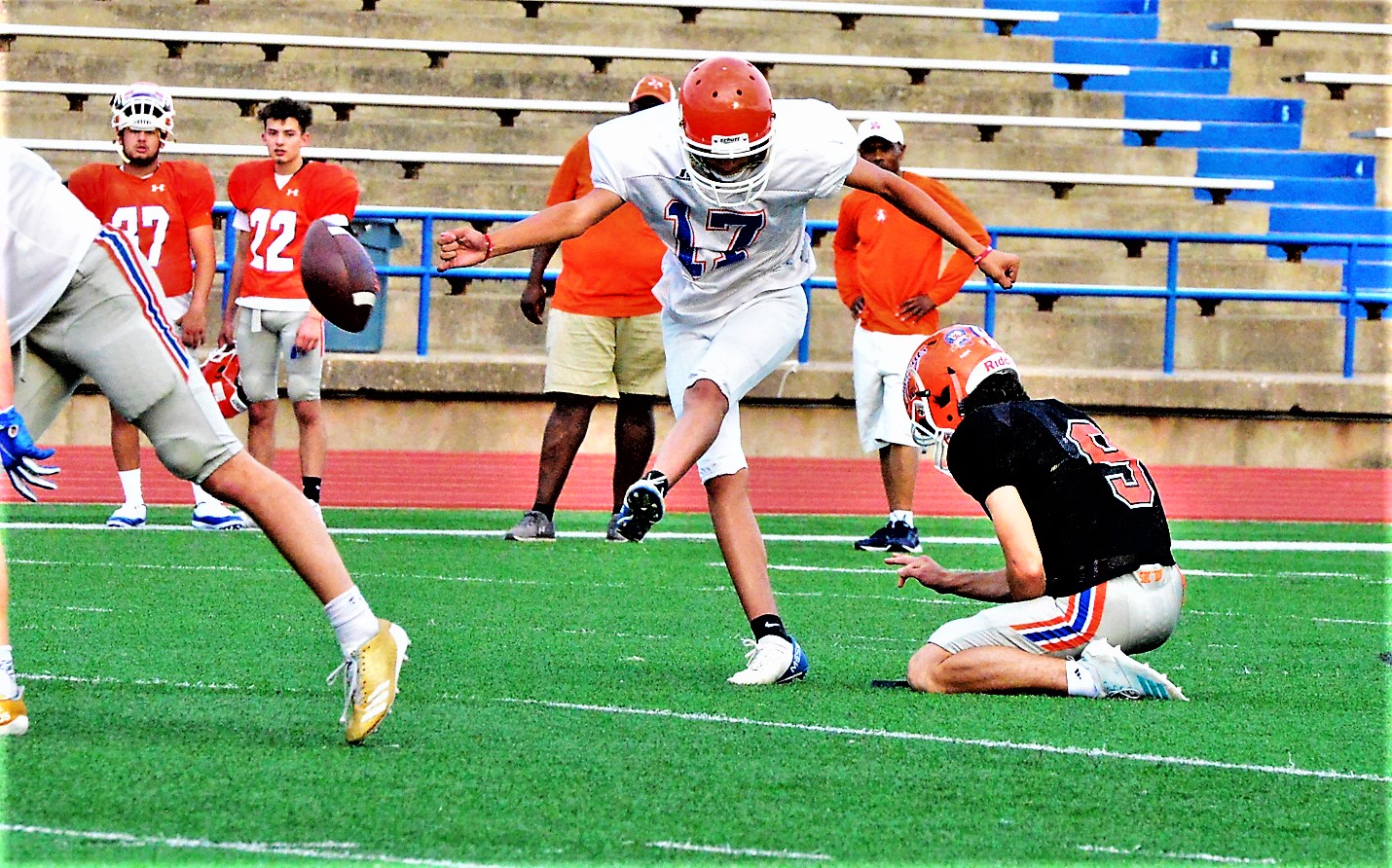 Above: Central's Eric Rodriguez tees up a 47-yard field goal in their spring game. May 23, 2019 (LIVE! Photo/Sam Fowler)
The Central Bobcats are in the market for a kicker with senior Miles Houser set to graduate in a week.
His name is Eric Rodriguez, an incoming sophomore with a cannon attached to his left foot.
The current freshman impressed fans, going 2-for-2 on field goals with a 47-yard try and a game-winner.
Story by Sam Fowler. Video by Manny Diaz.
Get more stories like this by signing up for our daily newsletter, The LIVE! Daily.