All-Concho Valley MVP: Ashlynn Box Saves Best Work for Last Season at Wall
WALL, TX -- With her high school career in the books after 102 career games, Wall senior infielder Ashlynn Box left an indelible mark on the Lady Hawk softball program.
Box, an Angelo State University softball signee, finished her high school career on a 52-game on-base streak and 26-game hit streak. She finished her final season batting .600 with 19 RBIs, three home runs and 24 runs scored in 13 games played.
The streaks speak to the seniors work ethic, head coach Steve Bain said.
"I don't think people realize, or really know how much work you have to put in to be successful, to be able to do those things," Bain said. "She's definitely done that. I think that shows her work ethic, her mental approach at the plate, just the knowledge of the game -- knowing what to look for, what they're gonna throw at her next. It means a lot. It shows how good of a player she is."
Above: Wall's Ashlynn Box hits a grand slam against Crane. April 25, 2019 (LIVE! Photo/Sam Fowler)
She returned to the field on March 12 against Sonora after a nearly eight-month hiatus from an ACL injury in August and the Lady Hawks snapped a 16-game losing streak, starting a 10-game streak to win district which would grow to a 12-game streak before falling to Brownfield in the area round of playoffs.
When selecting someone as Most Valuable Player, said selection should make an immediate impact in their team, which Box did. Hence why the utility infielder has been selected as the 2019 All-Concho Valley MVP by San Angelo LIVE!
"She exemplifies everything we're looking for," Bain said. "She means the world to our program."
The mark Box made is more like a piece of art that is constantly being added to. She frequently found ways to outdo herself, whether it was an inside-the-park grand slam, hitting for the cycle or sparking one of the most incredible turnarounds in school history while sidelined with an injury.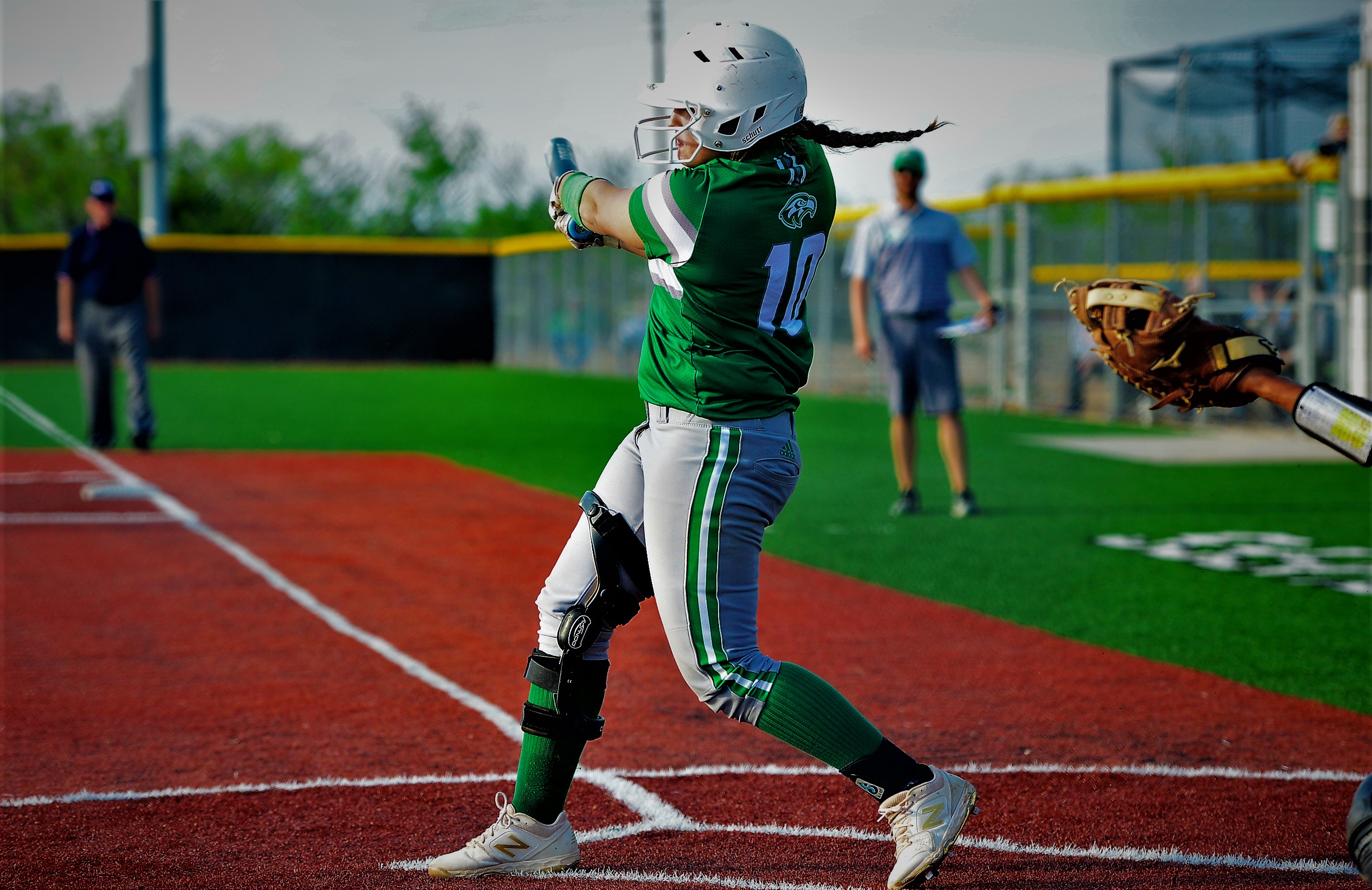 Above: Wall's Ashlynn Box swings at a pitch against Brownfield. May 2, 2019 (LIVE! Photo/Sam Fowler)
That constant drive led to Box posting a mind-boggling .558 career batting average in 342 career at-bats. She drove in 197 runs, struck out just 16 times, hit 19 home runs and tallied 81 extra-base hits over her four-year career. Box also had a nose for the postseason, hitting .622 in 17 postseason games at Wall with 37 RBIs. She was 4-of-7 at the plate with five RBIs in Wall's three playoff games this year.
In her return from an ACL injury that kept her sidelined since August, Box went 1-for-3 with an RBI, a walk and a run scored to help Wall get off their schneid with an 11-6 win over Sonora. Despite being out for nearly eight months, nothing felt like it had changed for Box.
"Softball, when I play, it's just my stress reliever," Box said. "It's my game, it's what I do. I'll go outside and hit balls just because that's what I enjoy. Coming back and hitting like I did and fielding like I did, it didn't even feel like I left. It's just muscle memory."
Above: Wall's Ashlynn Box flips her bat after drawing a walk against Sonora. March 12, 2019 (LIVE! Photo/Sam Fowler)
Yet, her most impressive work came off the field, while sidelined with her injury, which usually keeps athletes out for anywhere from seven to eight months.
Rather than waiting two weeks to have surgery, Box opted to have the surgery a week sooner than recommended so she could get to rehabbing and eventually back on the field as soon as possible.
But that still meant she was going to miss the first half of the season. So, Box, normally a leader by example, took to a more vocal leadership role and acted like a coach from the dugout for the young Lady Hawks missing their two seniors.
Above: Wall's Ashlynn Box talks to her teammate Kaitlyn Stephens. May 2, 2019 (LIVE! Photo/Sam Fowler)
"You could see (the change) definitely, as far as her helping out and coaching them up at the beginning of the season. You could see them grow a little bit at a time," Bain said. "Once she came back, it was a total change. They knew as soon as she was able to come back, once she started playing a couple of games here and there, their confidence started shooting up. Once she started playing full-time, you could totally see the change."
Toward the tail end of her rehab, Wall lost to TLCA for the first time in school history. Box and her cousin Payton knew something needed to change and quickly.
So, they had a talk as a team after that loss and discussed the team's goals. Should they be altered or stay the same? Wall opted for the latter and their path, an unbeaten run to close out district, was set following a close loss to Brady.
"When we spoke to (the team) after the TLCA loss, I think we spoke to their hearts," Box said. "They had a turnaround the next game (against Brady). I saw a lot more fight in all of them, especially when I got back. It was a whole different game being played."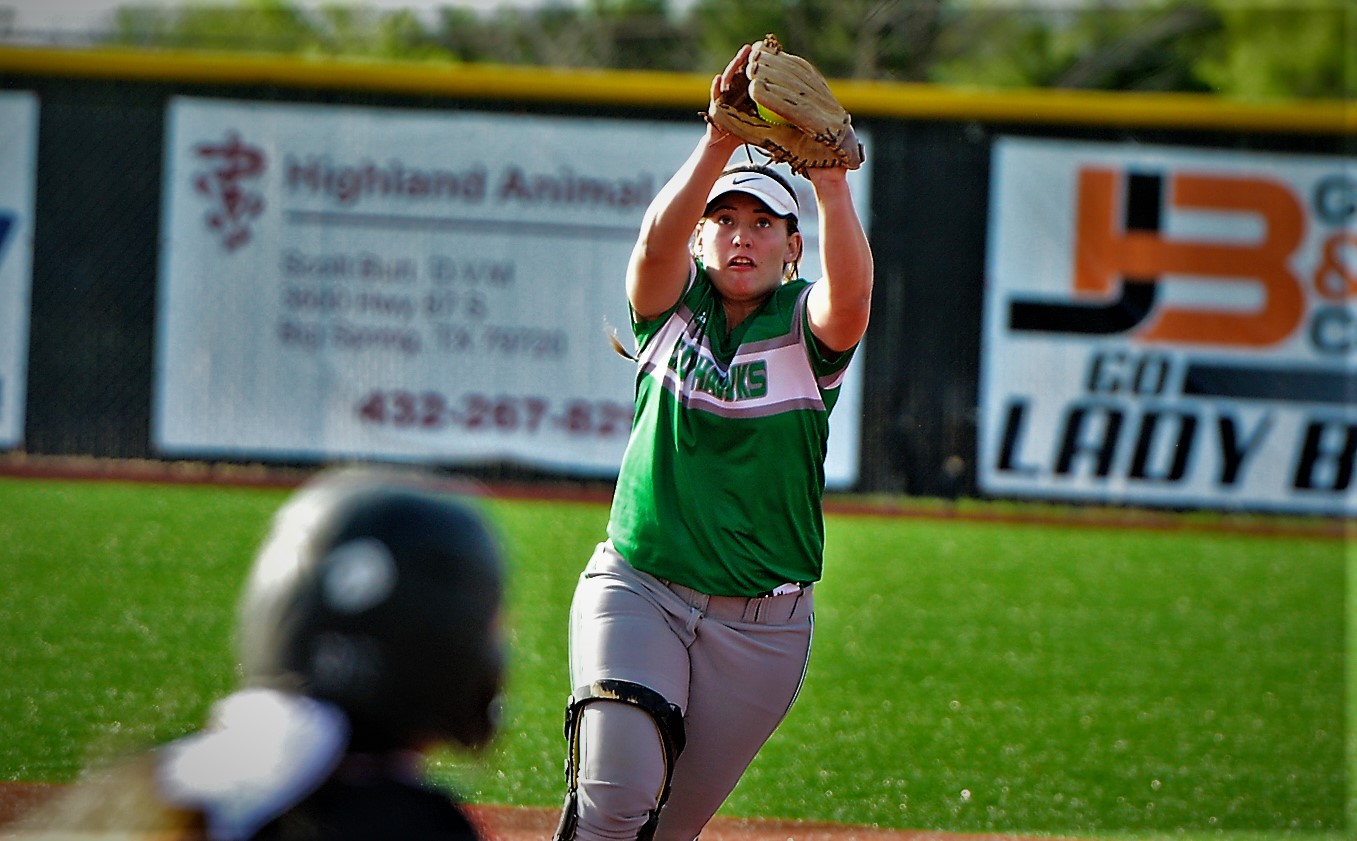 Above:  Wall's Ashlynn Box fields a pop up against Brownfield. May 2, 2019 (LIVE! Photo/Sam Fowler)
Wall then did just that, winning their remaining district games to win a second straight district title. Even though she was a part of Wall's regional semifinal run two years ago, Box feels this run is one she'll remember for the rest of her life.
"It was pretty special," Box said. "Last year, we had a great run and they were a special team with the Snyder tournament win and everything like that. A bunch of people didn't have faith. They didn't think we were gonna win district. They didn't think we were gonna make it out of district."
The Box cousins also passed down lessons learned from past senior classes meant as a way to keep Wall's winning tradition alive by mentoring young players like sophomore shortstop Taylor Hunt. Bain feels that's arguably the biggest thing his two seniors will leave with the program.
"I think (the underclassmen) will always remember that," Bain said. "I think that they're gonna pay it forward, too. With our new freshmen that come in and new kids that come in every year, I think those kids will remember that and they're gonna do the same thing. Hopefully, that tradition keeps following."
With college on the horizon, Box is excited to get to the next level. After spending a lot of time playing with and against various college commits in travel ball, Box wants to prove herself at ASU.
"I'm excited to get to ASU because I'll get to play at that higher level," Box said. "During travel ball, we play against a lot of college commits, (Division I) commits. They're all talented players. I feel like that atmosphere is the one I like to be in. I like to play in that one. ASU, they're really talented. I'm excited to see what the future holds."
The full All-Concho Valley team will be released on Wednesday.
Get more stories like this by signing up for our daily newsletter, The LIVE! Daily.