Box Cousins Honored with All-District Superlatives; Ballinger Dominates Honors
SAN ANGELO, TX -- After helping the Wall Lady Hawks to a second consecutive district championship, the Box cousins Ashlynn and Payton each received postseason superlatives in District 4-3A.
Ashlynn was named the overall MVP of the district for a second year in a row while Payton was named the co-defensive MVP with Ballinger senior Lauren Jalomo.
Ashlynn, an Angelo State University softball signee, missed the first half of the season on the mend from an offseason ACL injury. She made her season debut on March 12 against Sonora and helped the Lady Hawks snap an uncharacteristic 16-game skid.
Above: Wall's Ashlynn Box slides home against Crane. April 25, 2019 (LIVE! Photo/Sam Fowler)
The utility infielder proceeded to hit safely in all 13 games she featured for the Lady Hawks to extend her on-base streak to 52 games and her hit streak to 26 games. In that 13-game stretch, Box held a .600 batting average on 24 hits with 13 RBIs, 24 runs scored and zero strikeouts.
Payton, much like her cousin, finished on a prolonged on-base streak of 40 games and hit safely in the final 14 games of the season for Wall. Payton also missed the first half of the season due to the Wall Lady Hawks' run to the state basketball tournament.
In the 15 games she featured for Wall, Payton hit .377 with six RBIs, 24 runs scored, 13 walks and just three strikeouts. She closed out the year with 11 consecutive games without a strikeout.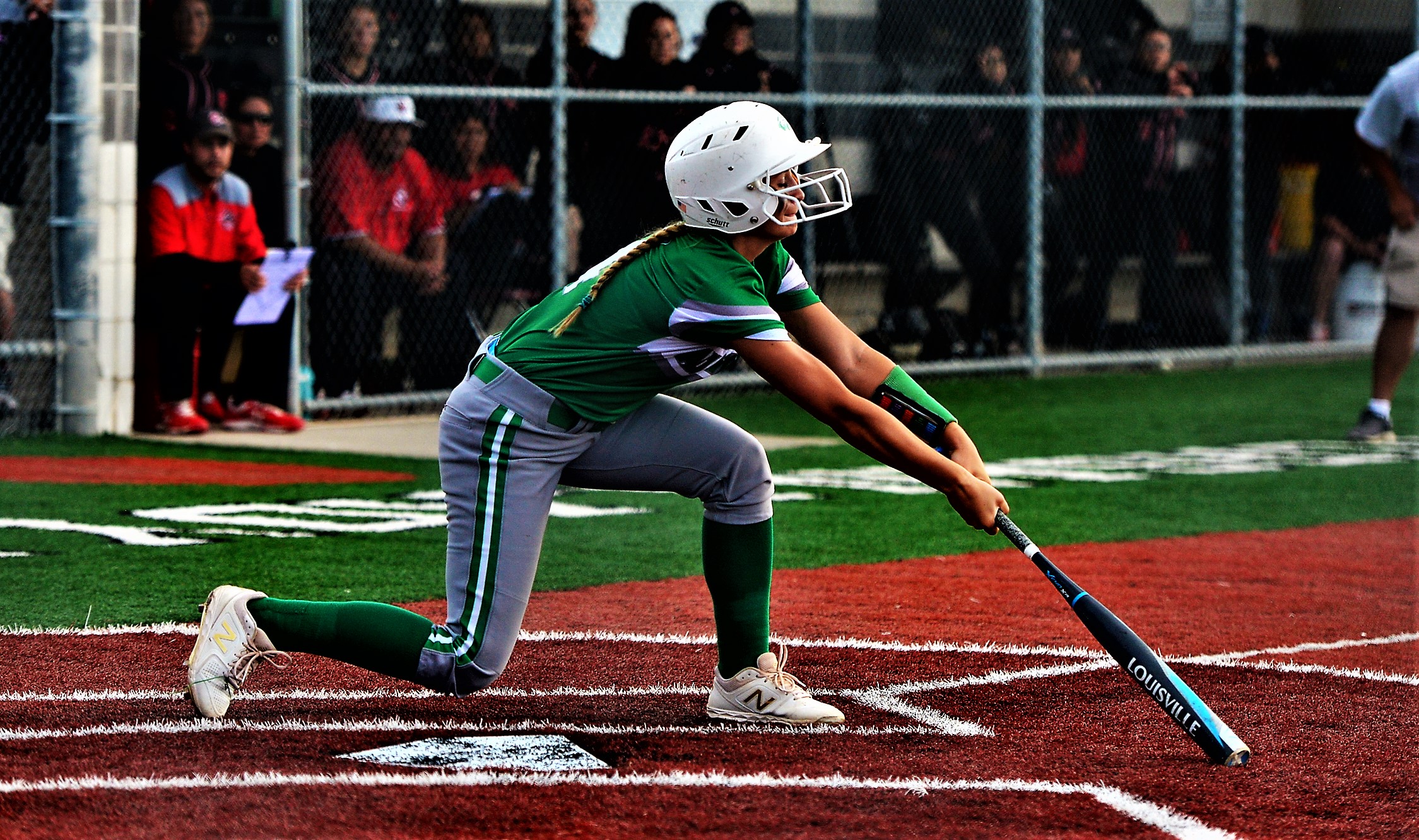 Above: Wall's Payton Box stretches down to get a hit against Brownfield. May 2, 2019 (LIVE! Photo/Sam Fowler)
Behind the plate, Payton made an immediate difference. Heading into their area round clash with Brownfield, she had gunned down seven would-be base stealers in 14 attempts. In that same stretch of 14 games, Payton committed just one error.
Wall head coach Steve Bain was named coach of the year for the district after the Lady Hawks' incredible turnaround which included a 12-game win streak.
In addition to Jalomo, Ballinger sophomore Daniella Luna was named the district's Pitcher of the Year after a stellar showing in the circle.
Above: Ballinger's Daniella Luna hurls a pitch against Reagan County. March 15, 2019 (LIVE! Photo/Sam Fowler)
Luna struck out 100 batters, including 74 in district play, and had a perfect fielding percentage. To go with her defensive prowess, she also hit .395 with 16 RBIs in district play to help her own cause.
Jalomo was a stellar battery like her counterpart from Wall. The senior had 70 putouts and one assist in 73 attempts for the Lady Bearcats this season. She also hit .515 with a pair of home runs in district.
Those two are among eight Lady Bearcats honored in the list. That mark is the most of any program. Wall is a close second with seven honorees.
Grape Creek senior Morgan Fowler was named the Offensive Player of the Year after a phenomenal year to close out her prep career. Fowler finished the year with a .350 batting average in district, team-leading RBIs, and three home runs. She also proved to be a tough opponent in the circle with 74 strikeouts and a 4.20 ERA in district
Above: Grape Creek's Morgan Fowler pitches against Wall. March 14, 2019 (LIVE! Photo/Sam Fowler)
Brady's Paige Bauer was named district Newcomer of the Year after helping the Lady Bulldogs to a third place finish in their new district.
Here is the All-District 4-3A list:
District MVP
Offensive Player of the Year
Morgan Fowler, Sr., Grape Creek
Defensive Players of the Year
Lauren Jalomo, Sr., Ballinger
Payton Box, Sr., Wall
Pitcher of the Year
Daniella Luna, So., Ballinger
Newcomer of the Year
Coach of the Year
First Team Infield
Izzy Vera, Jr., Wall
Tristen Hoelscher, Fr., Ballinger
Kayli Greer, Sr., Ballinger
Katie McAnelly, Jr., Brady
Caroline Fowler, Sr., Grape Creek
Nivea Goodloe, So., Reagan County
First Team Outfield
Cassidy Perkins, So., Wall
Elyssa Korn-Flores, Jr., Ballinger
Kelsey Hughes, Sr., Ballinger
Kaitlyn Adair, So., Brady
Dekota Morrow, Jr., Sonora
Second Team Infield
Taylor Hunt, So., Wall
Jenna Battle, Fr., Ballinger
Destiny Williams, Sr., Brady
Taigan Rivers, So., Grape Creek
Andrea Cervantes, So., Reagan County
Brae Harris, Jr., Sonora
Jackilyn Sykes, Sr., Sonora
Second Team Outfield
Kaitlyn Guillen, Jr., Ballinger
Felicity Hernandez, Fr., Brady
Nita Betts, Sr., Grape Creek
Mia Cervantes, So., Reagan County
Macy Lawdermilk, So., TLCA
Sloan Smith, Jr., Wall
Get more stories like this by signing up for our daily newsletter, The LIVE! Daily.