Parmer's Success on Court a Microcosm of Central's Selfless Run at District Title
SAN ANGELO, TX-- When he took over at the start of the 2017-18 season, Central head coach Landon Dyer knew his team would be really good with time. After the UIL's realignment last February, Dyer knew his Lady Cats could legitimately challenge for the District 3-6A crown.
Yet, they never took their eye off the process of getting to the top of the district.
"As a coach, I try to take it one game at a time. Focus on the next drill, the next part of practice, the next day, the next game," he said. "Not look too far ahead. But looking back, I think the team has made a lot of progress from where we were last year. The kids in our locker room, they knew we were gonna be good this year, they knew we had a chance to do a lot of good things."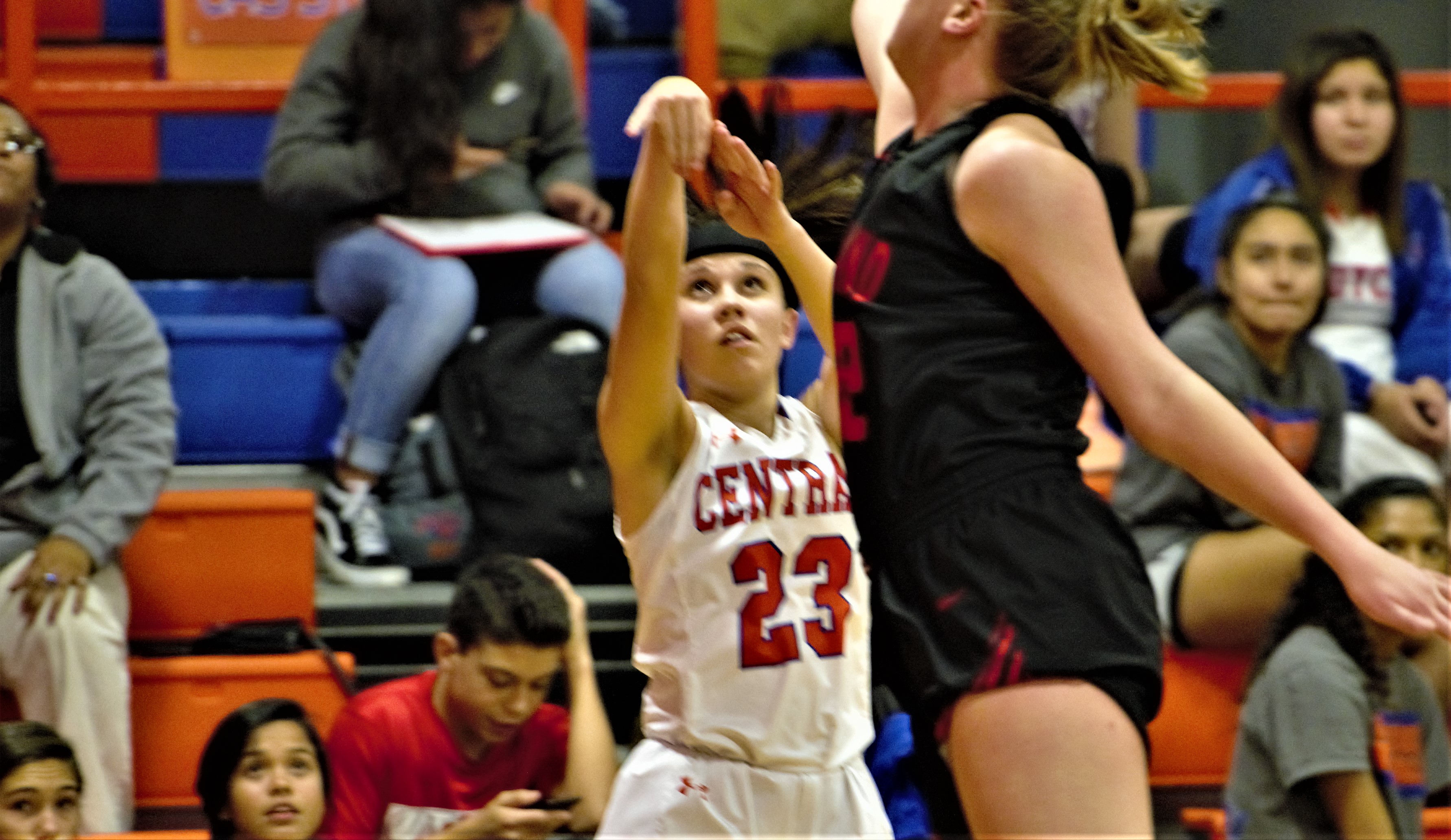 Above: Central's Morgan Walker (23) shoots a three pointer against Levelland. Nov. 19, 2018 (LIVE! Photo/Sam Fowler)
However, the Lady Cats know a tough schedule lies ahead of them. So, they aren't taking their eyes off the process that's gotten them to a 21-5 overall record and 5-0 mark atop 3-6A.
"We try to forget anything we've done so far and focus on that next game because we haven't really accomplished any of our goals, yet," Dyer continued.
The run Central is on has been a long time coming for the program, too.
"We really haven't had a run like this in a really long time," said senior point guard Morgan Walker. "So it's really nice to have something happen."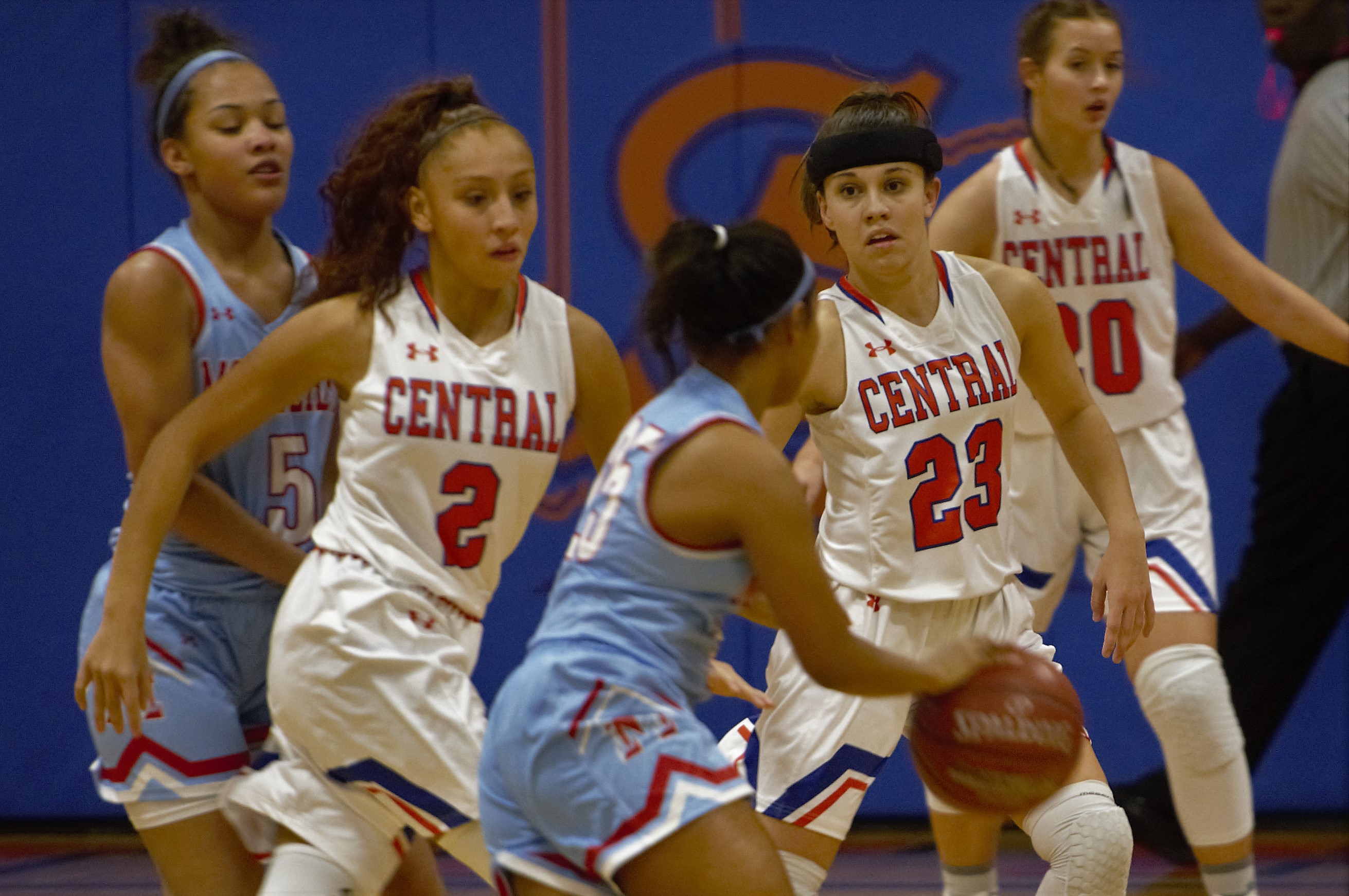 Above: Central freshman Deandra Allen (2) and senior Morgan Walker (23) defend against Lubbock Monterey. Nov. 13, 2018 (LIVE! Photo/Sam Fowler) 
When you look at the Lady Cats road to this point of the season, it's marked with senior leadership.
Seniors like Walker, Parris Parmer, Victoria Lopez and Vanessa Cabrera have been integral parts to Central's success this season, not just because of their performance in games, but their work to cement a winning culture from top to bottom.
"They fill their roles very well," Dyer praised. "Our seniors have done a good job leading, but our underclassmen. They're not necessarily leaders, but they do a good job of filling their roles. I think that's one thing that's key on this team."
Another key to Central's success so far was the team playing together on an AAU team during the offseason. With coaches having time restrictions on how long they can work with their team and when they can work with their team, building that bond outside of the walls of the Babe Didrikson Gym has proven to be vital for Central's campaign this year.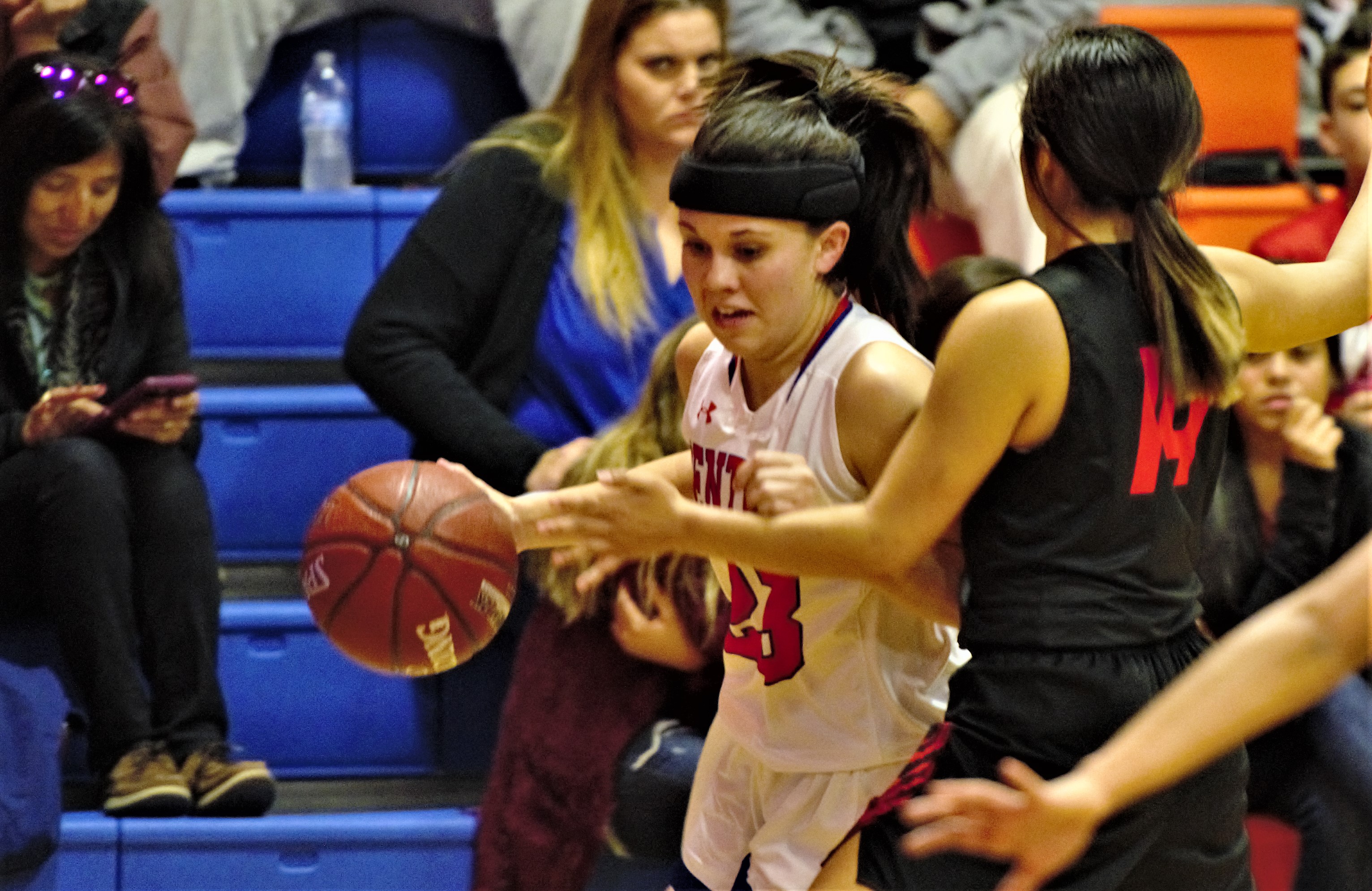 Above: Central's Morgan Walker (23) tries to dribble past a Levelland defender. Nov. 19, 2018 (LIVE! Photo/Sam Fowler)
"That was crucial because all of us hadn't played with the freshmen yet," Parmer said. "So, it's good to build chemistry with them.
"Our team is very close. If we didn't have that bond, we wouldn't be where we are this year," Walker said.
It also helps when you have a do-it-all senior like Parris Parmer. Right now, Parmer has been on a tear by scoring in double figures in consecutive games dating back to before the Caprock Classic in Lubbock.
While Dyer wants a balanced attack, that stellar run of form stems from Parmer's versatility and what opponents have given to the Lady Cats. It just so happens that the ball was in Parmer's hands most of the time.
Above: Central's Anjelina Humphreys (20) fights for possession against Euless Trinity. Dec. 21, 2018 (LIVE! Photo/Sam Fowler)
"I feel like it has to do with our offense because I play just about every spot," Parmer said. "So, let's say Morgan has the ball, I'll be at the post. So, it's easy for me to get a lot of twos. Then I'll go back to the point and hit a couple threes. We work to get each other the ball whenever possible."
The senior Parmer has stepped up to lead the Lady Cats ever since transferring in from Christoval ahead of the 2016 school year.
While at Christoval, Parmer was the lone freshman starter on then first-year head coach Scott Richardson's squad that went 31-6 and finished as a regional semifinalist.
She attributes that year's baptism by fire as a big part of her growth into the leader she is for Central today.
"It was crucial," Parmer said. "Because I was the only freshman and I had to start. So, I had to step up and learn it faster and pick things up."
Then, once she stepped foot on campus, her and Morgan Walker were tasked with starting to bring the Lady Cats back up. After all, they had similar backgrounds. Walker was a feature in her freshman year for Central under Bric Turner.
Their bond has been a big help to Dyer setting his program up to succeed in his second year at the helm.
"Me and Parris have an awesome bond," Walker said. "We've been playing together since we were sophomores when she came here from Christoval. We just click really well together. It's nice to have someone who is that close to me."
But the work is far from done for Central. They still have work to do, starting on the road with Hurst Bell (23-3, 4-1) and their highly-touted junior forward, Myra Gordon, this Friday.
The 6-foot tall forward is ranked as the 58th overall recruit in the nation and the 12th at her position for the class of 2020 by ESPN. Dyer knows their meeting on Friday could be a tall order.
"Even though we might be ahead of them in the standings, I think a lot of people might still pick L.D. Bell over us," Dyer said. "They have one of the best players in the state of Texas, maybe in the country in the junior class in Myra Gordon. It's gonna be a tough challenge."
Central and Bell are scheduled for a 5:00 p.m. tipoff from the Metroplex.
Get more stories like this by signing up for our daily newsletter, The LIVE! Daily.