Flooding Overtakes San Angelo on the Eve of Friday Night High School Football
SAN ANGELO, TX — The San Angelo office of the National Weather Service issued a flash flood warning until 8:15 p.m. for the eastern portion of Tom Green County, or where San Angelo sits. The weather is causing multiple flooding incidents throughout the area. Among thee areas to avoid:
College Hills at the Red Arroyo,
Southwest Blvd. at the Red Arroyo,
the underpass on Pulliam St.,
Howard St. at Brentwood Park,
Sul Ross at Red Arroyo,
Johnson Street at Culver Ave.,
Pecan at 3rd.
Avenue P
San Angelo NWS reported flooding at Howard St and Forest Park. About two to three inches of rain has fallen in the north side of San Angelo, near Lake View Stadium, all the way up towards Grape Creek.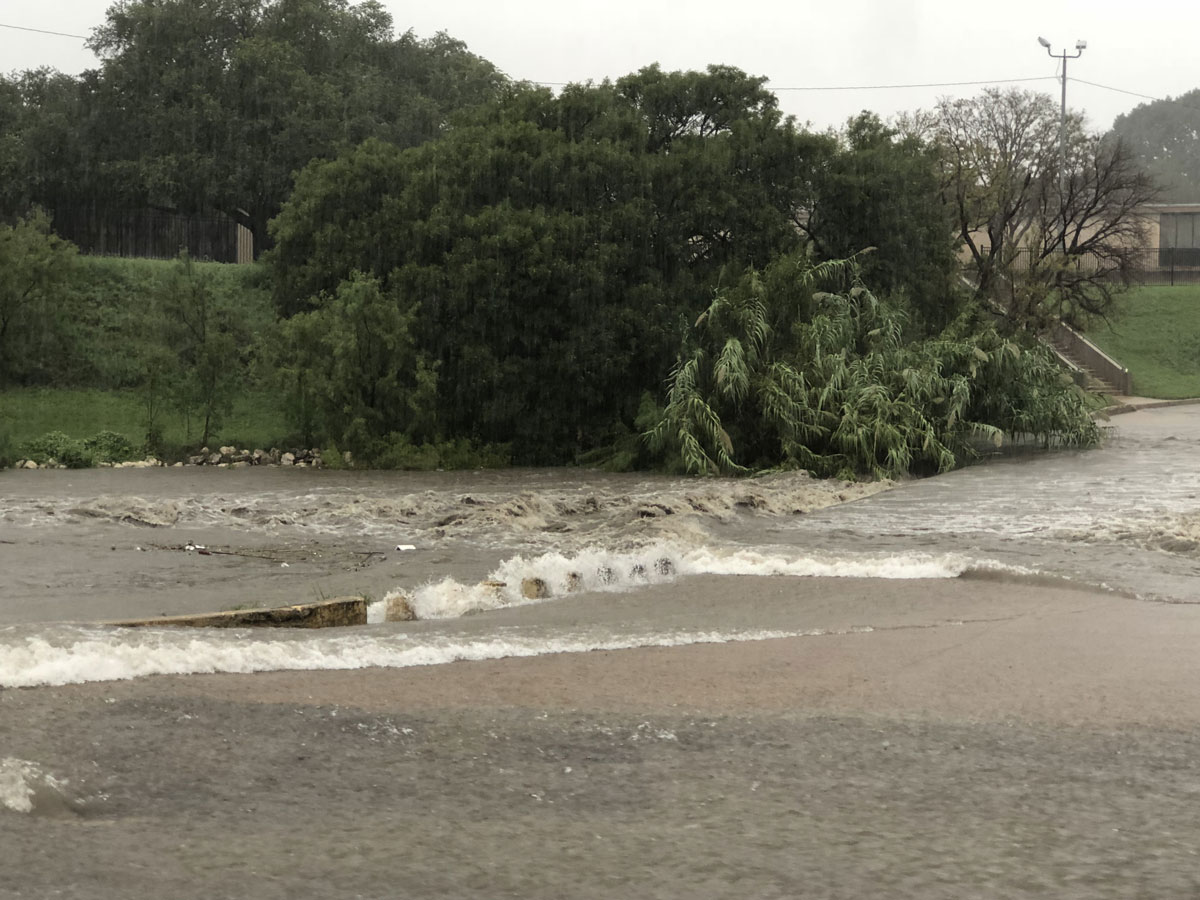 Above: Flooding near Central High School on Sept. 7, 2018. (LIVE! Photo/John Basquez)
South of San Angelo, Christoval so far has been spared the wrath of the thunderstorms, but the NWS weather briefer said it remains under the warning as well. Further south, in Eldorado, showers and thunderstorms were observed east of town at 5:45 p.m. Wall is completely flooded. Reports have come in that low visibility on U.S. 87 and standing water has traffic slowed to 20 mph in heavy rainfall.
Cancellations of high school football games:
Eden High School vs Rotan - Canceled.
Wall High School vs Cisco - Canceled
San Angelo NWS said the heavy rain should continue until at least 6:45 p.m. but the forecast calls for showers and thunderstorms in San Angelo through 11 p.m. tonight.
In Del Rio, where the San Angelo Central High School Bobcats are facing the Del Rio Rams, the weather is clear looking out a 50 mile radius from Ram Stadium there.
The NWS measures rainfall at Mathis Field on the southwest side of San Angelo There, as of 5:30 p.m. 0.65 inches of rain had fallen. NWS said great amounts have been unofficially reported inside the city, particularly north of the Houston Harte Expressway.
Update 6:35 p.m.
Lake View High Chiefs game is delayed until 7:30 p.m.
The San Angelo Police Department reported the Railroad Crossing at 6th and Bryant Blvd is disabled until further notice due to the weather. The lights and arms will not function.
The SAPD reported high water at 29th Street from Martin Luther Kind Blvd to Chadborune is closed due to high water.
Get more stories like this by signing up for our daily newsletter, The LIVE! Daily.