Prediction: Can the San Angelo Central Bobcats Really Defeat the Mansfield Tigers?
SAN ANGELO, TX— When the San Angelo Central Bobcats (11-0) travel to Vernon Newsom Stadium this Friday to take on the Mansfield Tigers (10-1), it could very easily be their toughest game against the best team Central has faced all year.
The Area round matchup between the two is one of the most anticipated in the Region 1 side of the Class 6A Division 2 bracket. The Mansfield Tigers are winners of eight straight games, where they beat a good Cedar Hill team. Central has yet to drop a game and has looked strong as of late
But could Central lose? Let's look at the stats before a prediction is made.
Offense: Advantage Central 
Looking at Mansfield on film, they look big and quick. Looking at their stats, their offense isn't the entire reason the Tigers are 10-1 on the year. Central has the advantage in all but one category going into this game, rushing yards per game. Mansfield has 242.5 yards per game compared to Central's 149.9. But, in past performances, Central's defense thrives against run-heavy teams, like Mansfield.
Mansfield's rushing attack goes through senior Avery Chatman. Chatman has carried the ball 157 times for 1,129 yards and 13 touchdowns. The amount of carries and yardage are both strong stats for Chatman. However, a 5-foot-9, 260-pound senior named Theo Owens is a clinical short-yardage back for Mansfield. Owens has only carried the ball 37 times for 209 yards, but leads the team in rushing touchdowns with 14.
The passing game for Mansfield, averaging 137.2 yards per game, is led by senior QB Shawn Hartsfield. Hartsfield has thrown 152 of Mansfield's 160 attempted passes and completed 79 of those attempts. To go with that low 52 percent completion rate, Hartsfield has put up less than half of the passing yards the Bobcats have in 2017.
Central, behind quarterback Maverick McIvor, has put up video game numbers all season. In fact, the junior gunslinger is just four yards away from 3,000 yards passing this season. This would mark the third consecutive season in which a Central quarterback has thrown for 3,000 yards in a season. 
Central's pass game has been almost unstoppable and that is where the game will hinge against Mansfield's defense.
Defense: Advantage Mansfield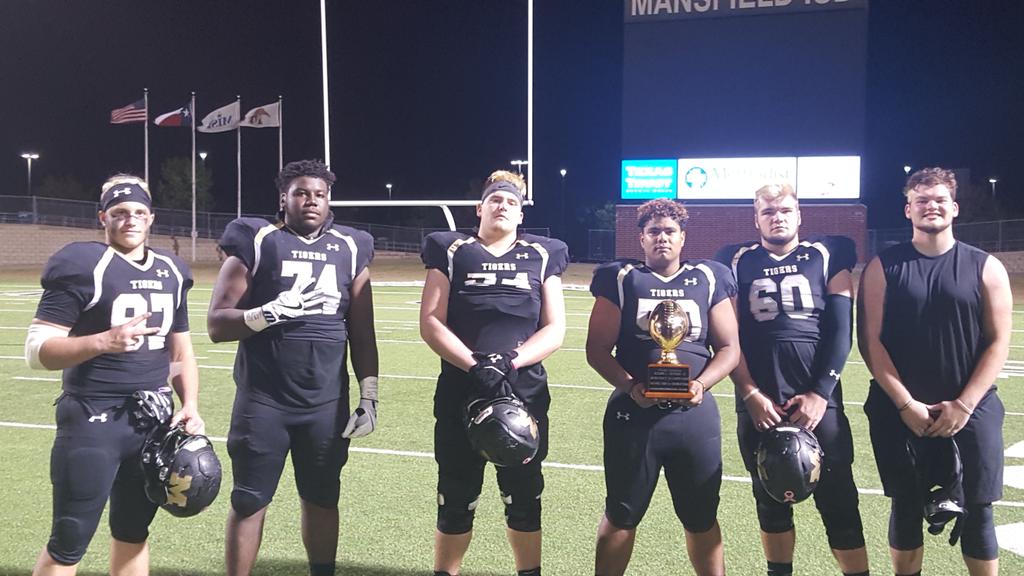 Above: The Mansfield Offensive Line (On Da Marc Sports Marchem44 on Twitter)
Central's defense has done well against the run the last few weeks and should continue that trend this week. However, Mansfield's defense, at 10.5 points allowed per game, is allowing twice fewer points than Central's defense at 20.8.
Last week, Mansfield limited Keller Central to just a field goal. Over their last five games, Mansfield has allowed an average of just 5.5 points per game.
Central's defense last week was good at getting into the El Paso Pebble Hills backfield and disrupting the play. But this offensive line the Central defensive front will face this week is stout.
Mansfield is a tough team to face, but they lost to a 4-6 Flower Mound Marcus team early in the year. While I'll overlook the early loss, I still don't think Mansfield wins Friday's close game.
Prediction: Central 34, Mansfield 31
Get more stories like this by
signing up for our daily newsletter, The LIVE! Daily
.