Yellowjackets Sting Miles on Homecoming
MILES, TX—Miles' homecoming game did not go as planned, as they lost to the Menard Yellow Jackets 27-6 who were led by running back Christian Salazar's three touchdowns and more than 200 yards rushing.
"[Salazar] is a player, that's it," said Miles Head Coach Chad Currie. 'We schemed them right, we fit them right, we did a lot of good things. He just made some plays, he's a very good player, so hats off to them. I was extremely proud of our defense, they just made some big runs at big times and hats off to him, but I felt pretty dang good."
Mason Bryan was the only Bulldog to find the end zone for Miles, cutting the Yellow Jacket lead in half making it 14-7 shortly before halftime.
Menard came out of the half firing on all cylinders scoring 13 unanswered points as Miles looked flat.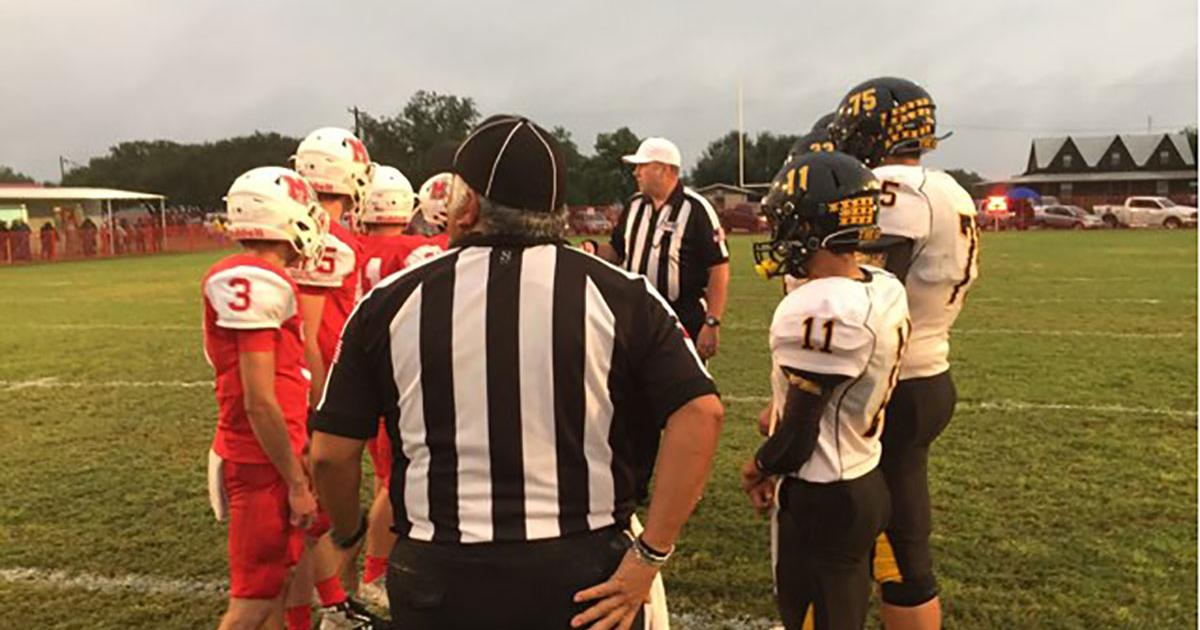 Above: The coin toss before kickoff at the Menard at Miles game on Sept. 29, 2017. (LIVE! Photo/Miguel Jaurequi)
Christian Salazar would find the end zone again in the second half after scoring twice in the first half. Fellow Yellow Jacket running back Jimmy Cervantez rushed for a touchdown as well.
The Bulldogs looked strong in the first half but lost steam in the second half as they were hampered by multiple penalties and questionable calls.
Running back Mason Bryan said, "We came out our first half, we were strong. We were hitting our blocks and everything, we had really tough backs and we got going. Then coming out in the second half, our line was a little dead, so going into next week we probably need to work on getting out blocks and just pushing the ball throughout the entire game rather than just the first half."
Two fumbles recovered by Miles were also overturned by the referees and one fumble recovery was overturned after Bulldog Gary Gabrielli was ejected due to a helmet to helmet penalty.
Coach Currie stated he's "got six guys out tonight and...had six guys last week. We're the most dangerous 1-4 team of the year. We're going to get healthy. We will all be back for Bronte, we will be ready to go. Every game has been close as how it is, because we have had a lot of guys who should be on the field over on the sideline in jerseys. So, we will be fully loaded and ready to go for Bronte. That will help us our offense out."
Watch the Menard at Miles game unfold in real time here.
On Oct. 13 the Miles Bulldogs (1-4) look to bounce back against the Bronte Longhorns (0-5) at home.
Get more stories like this by
signing up for our daily newsletter, The LIVE! Daily
.