San Saba Cross Country to Host Frosty 5K
SAN SABA, TX- Next Saturday, Dec. 17, the San Saba Cross Country team will be hosting a Frosty 5K.
At 5 p.m., for $25, anyone can come and enjoy an evening run through Mill Pond Park. This 5K is a fundraiser that will help the San Saba Cross-Country team.
Brandy Eckermann, head coach for the San Saba Cross-Country team, said, "Our park has such an amazing Christmas light display, [so] we thought it would be fun to get some people to run through the lights a little bit."
Funds that are raised will go towards shoes and uniforms for the cross-country team.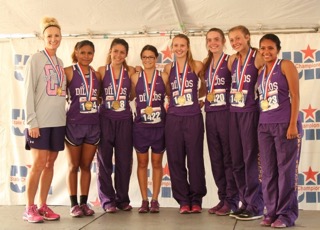 "In a way, [this fundraiser] is a chance for our kiddos to help the community, especially this year because we're hoping to draw in some kids," Eckermann added. "Santa is going to be there, so hopefully that will attract some people to the park to see the lights for years to come.
After the run, until 7 p.m., kids can hang out with Santa. Other activities will be available for kids to do, including cookie and ornament decorating, as well as making S'mores by the fire.
To explain what this fundraiser will mean to the team, Eckermann said, "[This 5K] will also give us the ability [to help out students]. Some kids don't always have the money to purchase proper running shoes, and to take care of themselves during the running season. So it gives us a chance to help them out, to give them some nice things and nice equipment that they normally wouldn't have."
Get more stories like this by
signing up for our daily newsletter, The LIVE! Daily
.