3 Goals Coach Cinco Boone Has for the Angelo State Rams Basketball Team
SAN ANGELO, TX — "My name is Cinco Boone, and probably the number one question I get all the time is, 'Is that your real name?'" Coach Boone said, right after he took to the speaker's podium last Friday at the weekly meeting of the San Angelo Rotary Club. "My real name is Patrick Henry Boone, V, and, because I'm the fifth generation, they call me 'Cinco'. Some people thought my mom had five kids, but that's not it."
Coach Boone took over the Angelo State University Men's Basketball program as its head coach last season. In his first year, Boone led the Rams to a 25-7 record, 16-2 in conference, earning ASU basketball a slot in the Sweet Sixteen. Facing a tough Tarleton State team, the Rams fell 77-72 in the NCAA South Central Regional Finale on March 16, 2016.
Below, the post game press conference:
Will the same success continue? The young coach offered insight into how he builds his basketball teams. He said he has three goals for the Angelo State basketball program.
The first is he wants the student athletes to learn life skills and to make lifetime goals. He wants his athletes to learn how to deal with failure and success.
"Each and every day, we're teaching these guys something about life using basketball and help to make them better men," Boone said.
The second is to develop the athletes' work ethic. This is accomplished by rewarding them for being in the gym every day, working to be reliable teammates to one another, and working towards academic excellence.
"We talk to the team about graduation and instill in them that this ought to be a big goal of theirs', to graduate from college," Boone said.
He added, "A lot of these kids we get came here from somewhere else, as transfers, and they just want to play ball. But we teach them it's split 50-50 between athletics and a goal to graduate because, someday, that ball is going to go flat."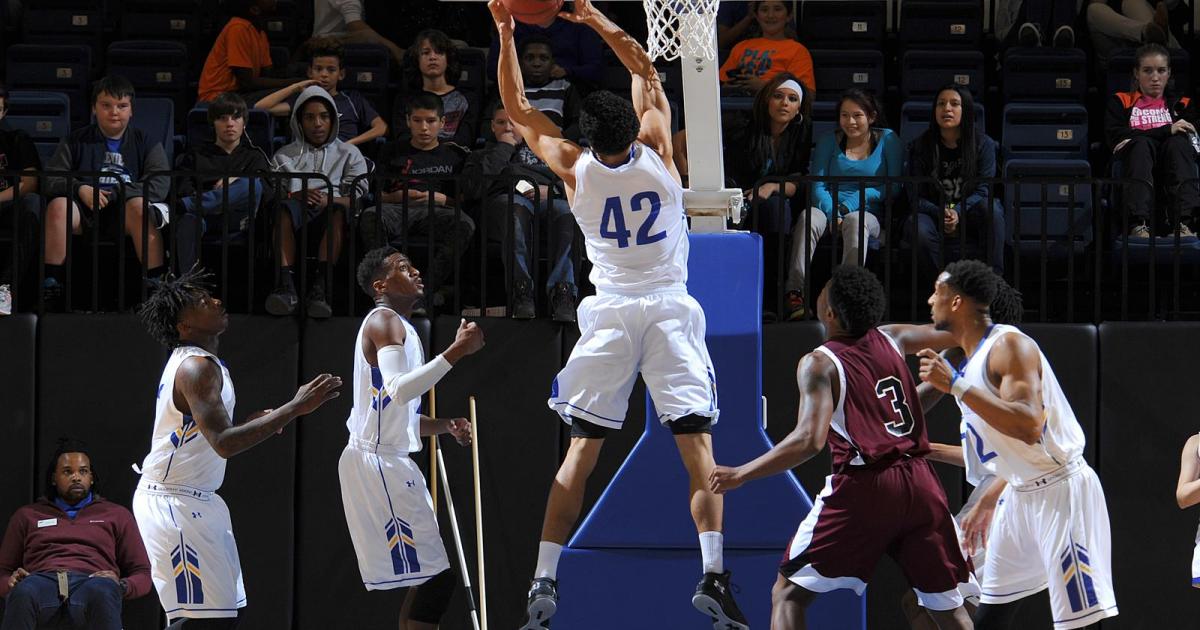 Above: Angelo State University Basketball (Contributed/Angelo Sports)
Boone said since he's been at Angelo State, the basketball program has graduated 17 out of 18 players. The one player who didn't graduate is playing professionally in South Africa, and Boone hasn't given up on his future, either. That player's intentions are to get a degree sooner or later, Boone said.
Finally, Boone wants his players to develop relationships. It includes building good relationships with teammates, co-workers, administrators, professors, and with people in the community. With Boone, building relationships starts with proper manners. He expects his players to say, "thank you," "sir" and "ma'am."
How does a calf roper from rural New Mexico recruit players who come from the urban areas, a dichotomy of locales that to each other are like another planet? Boone credits his ability to create and build relationships, and to be genuine.
"Don't be fake, tell them the truth. Be honest with them. That creates trust," Boone said.
Character development is encompassed in Boone's Goals. They are the foundation for those he recruits. All of them, he said, have skills and superior talent. Citing Midwestern University in Wichita Falls and Tarleton State University in Stephenville as benchmarks, Boone said he adopted their aggressive approach to recruiting. In Division II (DII) basketball, many of the best players are in junior college or coming from DI programs. That's where the sweet spot is for getting the skills to compete in the Lone Star Conference, Boone said.
"I get the talent first, and then we build their character. You have to have talent in order to win. If I can recruit the talent (which he has), and then get them to buy into the character development side of the program, we'll thrive," Boone explained.  "I want them to be selfless, not selfish."
Boone said he rolled the dice leaving a comfortable position in Abilene at McMurry University where he was slated  to be the head coach when Coach Chris Beard left to assume the head coach position at Angelo State University in 2013. But many things about San Angelo tugged on his heart. He's not a stranger to our city. He said he has been coming to the Concho Valley since he was a kid, usually with his father and grandfather, who were PRCA champion ropers.
"I love the town; I love the facilities at Angelo State," he said recounting his decision.
Besides, Coach Beard asked him to come with him. Boone hasn't looked back since.
He is an unlikely basketball coach, he admits. He grew up on a sprawling cattle ranch encompassing 85 sections of land in rural New Mexico. In college, he competed as a calf roper on the college rodeo circuit.
His love for basketball, however, ran parallel to his calf roping. In 2001, his senior year in high school at Portales High School (south of Clovis on U.S. 70), he was on the state championship basketball team. While in college at Eastern New Mexico University, Boone said he moonlighted as an assistant high school basketball coach every winter.
"It finally got to a point that I knew I wasn't going to make a living roping calves," Boone said. At that point, he decided to pursue a coaching career in basketball.
When he earned a degree at ENM, he moved to Abilene and began work on a master's degree at Hardin-Simmons University, where he also coached.
After getting his advanced degree, Boone moved around from a head-coaching job at Jacksonville College, coach's assistant at Stephen F. Austin University, until finally hooking up with Coach Chris Beard as his assistant coach at McMurry University back in Abilene.
He followed Beard to Angelo State and was his assistant for two years until Beard landed the head coaching job at Texas Tech in 2015. Boone was named Beard's replacement at Angelo State then.
The Angelo State Rams Men's Basketball opens its home game season this year on Nov. 18. But before that, Boone said the Rams will have two challenging games, facing the University of Texas Longhorns in Austin Nov. 2 and then University of Houston Cougars on their home turf Nov. 16.
So how can you help support the ASU Rams?
"Come to our home games. Come see us play. Come cheer us on," Boone said. "Bring a couple friends."
ASU is ranked number 5 in the country in Sporting News.
Boone's wife Michelle is an attorney at Angelo State University.
Get more stories like this by
signing up for our daily newsletter, The LIVE! Daily
.