SAN ANGELO, TX — A $24,820 grant from the Lower Colorado River Authority will help the Grape Creek Volunteer Fire Department buy new self-contained breathing equipment to replace the department's air packs, which are older than some of the firefighters who depend on them.
The Community Development Partnership Program grant, along with $119,000 in matching funds from the Grape Creek VFD, will buy 15 new sets of self-contained breathing apparatus air packs to replace all of its old SCBA air packs. It also will help buy 30 sets of masks, 30 sets of 45-minute air bottles, six spare batteries and a battery charger.
The Fire Department's air packs are more than 20 years old and are becoming unreliable, Deputy Fire Chief José Rivera said.
"This grant will help us buy the air packs needed to replace all the sets we carry on our six firetrucks to keep volunteers safer with better, more reliable equipment," he said. "Having new air packs also means we can work more effectively to save as much of a structure as possible because we can aggressively attack fires from inside a building instead of being forced to fight flames from the outside through the windows."
The new equipment also benefits community residents during emergencies by helping the firefighters provide a better rescue response in addition to improved firefighting capabilities.
"These new packs will improve our communication during emergencies because the new masks have built-in microphones, eliminating the need to take off our oxygen masks and yell to one another like we do when using our current air packs," Rivera said. "Plus, the 45-minute air packs will give us more search-and-rescue time in smoky environments, contributing to the best response we can provide to people in situations where we are rescuing them from the worst day of their life."
Grape Creek VFD provides fire, medical and other emergency services to a 220-square-mile area near San Angelo that includes subdivisions, industrial sites and high-traffic roadways.
"Our number of calls is going up with the increase in population and traffic associated with the oil and gas activity in the Permian Basin," Rivera said. "We also have farms that can result in agricultural emergencies due to fertilizers, and the O. C. Fisher Reservoir and Dam, and we even have a solar farm being constructed here. We are planning a training session at the solar site to familiarize ourselves with the facility and learn how to approach it safely and work with facility personnel in the event of an emergency."
Grape Creek VFD also serves as a mutual aid partner for the San Angelo Fire Department, and the new air packs will be compatible with San Angelo's gear.
"It's a huge achievement to be able to respond to an incident with the same SCBA air packs that our largest mutual aid partner, San Angelo Fire Department, uses," he said. "Our new SCBA air packs will be completely interchangeable with their SCBA equipment, plus the new equipment will allow us to refill our SCBA air packs from their SCBA air packs and SCBA refill station, making for a more efficient and effective coordinated response."
The Grape Creek VFD has about 25 volunteers, and Rivera is hoping news about the new safety equipment will help generate interest among others to join them.
"A lot of people are surprised we are a volunteer Fire Department because they see the high level of service we provide and how seriously we take this job," Rivera said. "We are always looking for new ways to make our community safer."
Rivera started volunteering with the Grape Creek VFD at age 17, and this year marks 20 years he has been with the Fire Department.
"For me, it was a calling – I feel fortunate and privileged to help my community in this way," he said. "It's very rewarding, and I invite anyone who is interested in joining us to stop by, visit with us and find out more about all the things we do."
The community grant is one of 34 grants awarded recently through LCRA's Community Development Partnership Program, which helps volunteer fire departments, local governments, emergency responders and nonprofit organizations fund capital improvement projects in LCRA's wholesale electric, water and transmission service areas. The program is part of LCRA's effort to give back to the communities it serves.
Applications for the next round of grants will be accepted in July. More information is available at lcra.org/cdpp.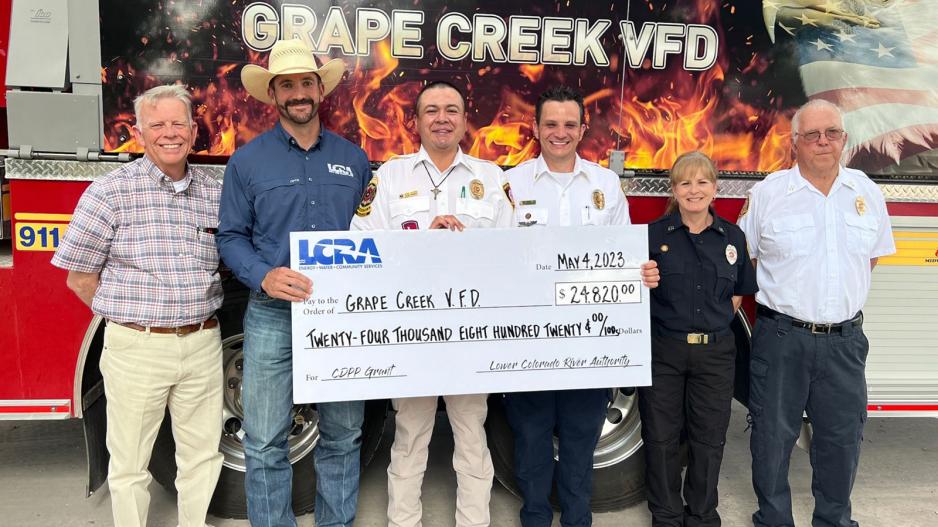 Most Recent Videos