SAN ANGELO, TX – When Chadbourne Street was shredded in a huge project to rebuild downtown, steel tracks uncovered during the street's demolition brought back memories of what once was in San Angelo. 
According to reports stored in the Tom Green County Library, in 1908, E. E. Bailey and Charles T. Paul purchased 320 acres in Tom Green County and created a subdivision called "Lake View." This was completely separate from the city as the Lake View subdivision was not inside San Angelo's city limits.
The developers wanted to provide newly minted Lake View homeowners transportation from downtown to their new Lake View neighborhoods. So, the developers devised a plan to provide transportation for people moving into homes up north. In 1908 the two built a railway through downtown San Angelo that stretched all the way to where the coliseum is today, at 43rd Street. 
Unfortunately their plan had many flaws. The trolley only went north and east but was landlocked by the Concho River preventing laying rail heading south or west. To the south, a low water crossing at Chadbourne, similar to the current Randolph Street low water crossing, was the only way to cross the river to the south. Westbound, a wooden bridge on Beauregard was the only way west. This limited the number of people who could use the trolley as a convenience.
Another blow to the trolley business model was the 1908 Model T. The automobile made it virtually impossible to run a successful mass transit system. A rumor and another reason the trolley failed was due to a crash between an automobile and a trolley. A mural exists painted on the side of a building in downtown San Angelo depicting the irony — that a crash into a private automobile ended forever any dreams of a successful trolley line in the city.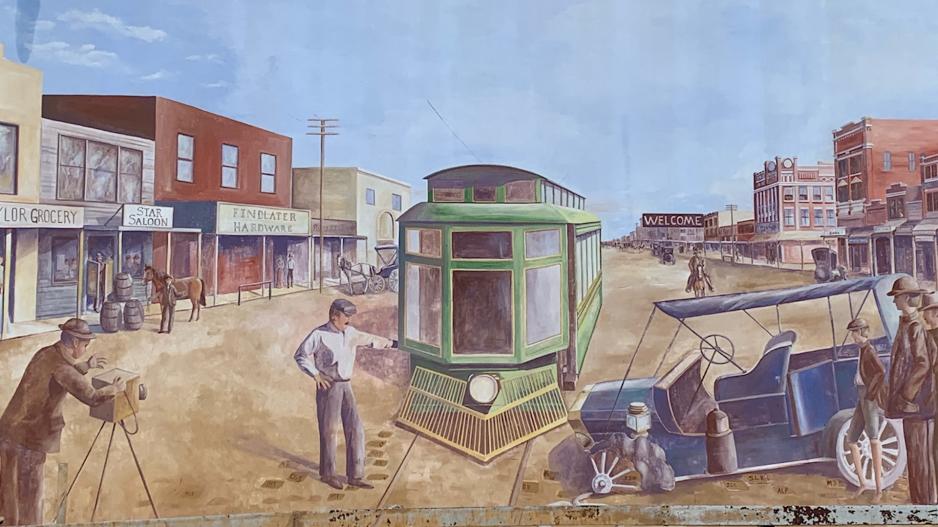 Trolley partners Bailey and Paul went bankrupt. Sam Crowther bought the railway and sold it to the San Angelo Street Railway Co. 
Once they had possession of the railway, the Vice President of the Railway Co., J.D. Sugg, offered the railway to the city hoping that in the publics' interest the bureaucrats would take it off his hands. City leaders refused since they did not want it to begin with.
By 1920 Sugg had sold a majority of the rails to the Orient Railroad for $30 a ton. He didn't sell it all, though, and by 1924 it changed hands again. This time it was sold to the West Texas Utilities Commission.
Those rails remained in San Angelo until 2021, though hidden under the street by years of repaving projects. The reconstruction of Chadbourne St. calls for removing all pavement in the roadway, down to the dirt below. Not only were the remaining trolley rails exposed but we learned that at one time brick was used as the pavement.
According to reports, the San Angelo trolley only operated for approximately seven years.
Most Recent Original Videos