City Projects Giant Reduction in San Angelo Hotel Occupancy Tax Revenue
SAN ANGELO, TX – The City of San Angelo Council discussed major losses expected for their new budget including an expected 50 percent year-over-year reduction for the remaining months of the year. 
According to the City Director of Finance Tina Dierschke, as of May 19, the city has lost nearly 10% of their expected yearly hotel occupancy tax money. For 2020, they budgeted for $2,298,769 and are only expecting $2,081,510, or a shortfall of over $217,259.
Every Summer, the City projects revenue from all sources and sets that as a budget for the next fiscal year that spans from October through the end of September.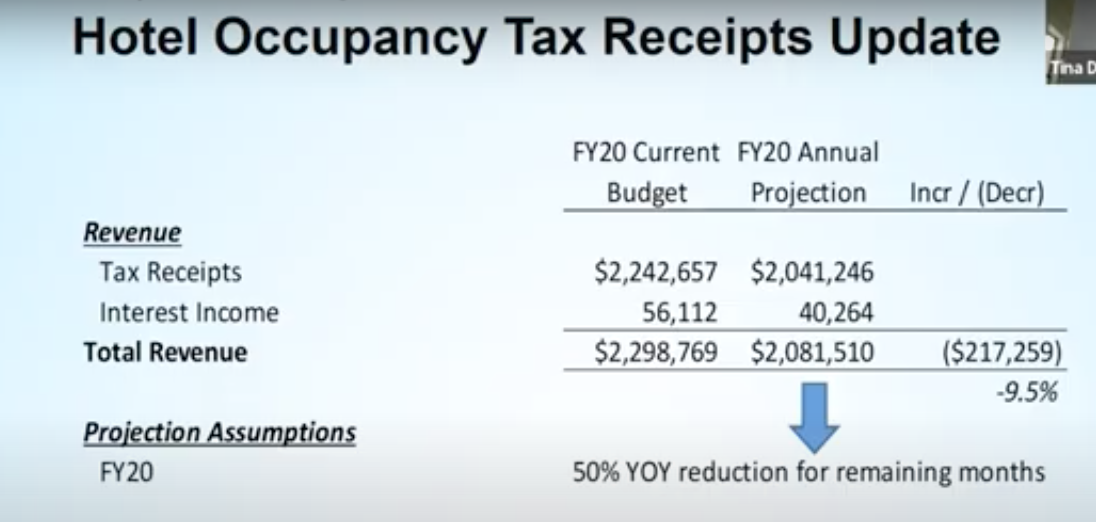 Hotel numbers are expected to be down by 50 percent but it is not all due to no one traveling during a worldwide pandemic. "One of the other issues is that many of the people staying in the hotels right now are staying more than thirty days which means there is no hotel occupancy tax collected on them," said Mayor Brenda Gunter. Companies contract with hotels for long term stays for seasonal or temporary workers.
For the 2021 fiscal year, the City expectseven bigger losses. Compared to the 2020 budget's total of $2,298,769 they are projecting $1,839,732. A 38 percent year-over-year reduction for the months of October-March and a 25 percent year-over-year reduction for the months of April-September.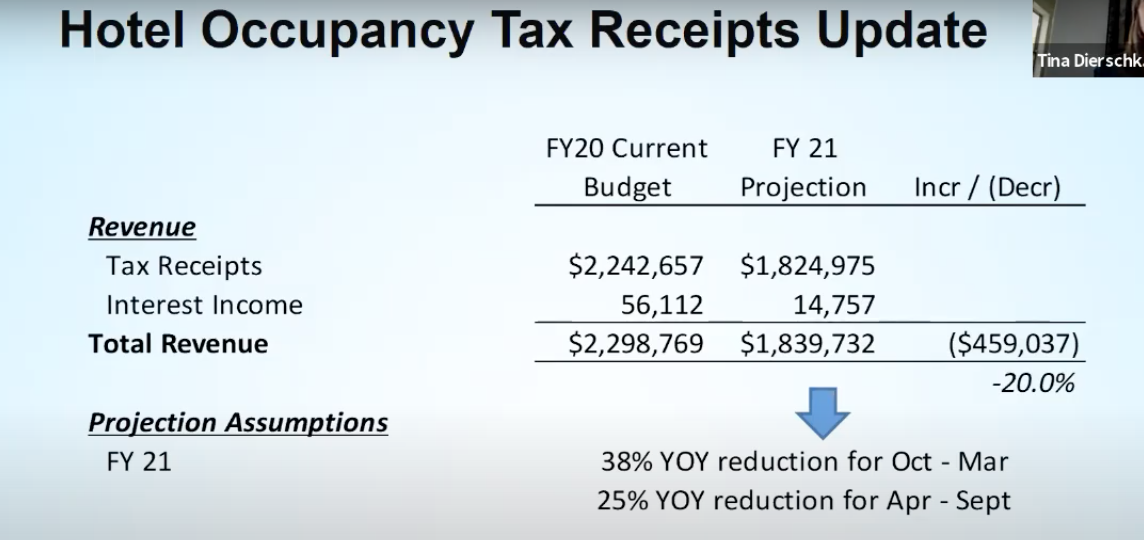 The loss will be managed with the available funds. The City currently has $801,648 available funds and are expecting to loose $348,830, ending the 2021 year with $474,681. 
The options given to cut back on spending and manage losses presented by Dierschke are as followed: 
Reduce spending levels

Monitor receipts and adjust accordingly

Draw down fund balances 

Hotel Occupancy Tax Fund
Civic Events Fund

As hotel occupancy tax receipts recover, return spending to prior levels
Hotel Occupancy Tax, called HOT, is used to fund the Conventions and Visitors Bureau that is managed by the Chamber of Commerce. Other recipients of that money include the City's Civic Events for upkeep of its venues and the Texas Bank sports center, Fort Concho, and various arts organizations. The money is generally intended to promote tourism and visits to San Angelo that will increase the number of room nights in San Angelo hotels and motels.
The city council will meet again to discuss changes that will be made to the 2021 budget next week. 
Get more stories like this by signing up for our daily newsletter, The LIVE! Daily.