Fire Department: San Angelo Rosa's Cafe Fire Started at Fajita Grill
SAN ANGELO, TX — "As soon as the manager realized the fire was out of control, she made a quick decision to evacuate the restaurant," said San Angelo Fire Department Battalion Chief Fred Barnett. Barnett credited her decision and training for making a timely and correct decision.
Barnett said the two-engine fire at Rosa's Cafe on Sherwood Way started at the fajita grill. (See first story with video of the fire breaking out.) The grill has its own vent and flue and it was overcome with flames.
Inside the restaurant, Barnett said he could tell the restaurant was busy. Patrons left their food on their tables when they evacuated the premises. San Angelo police moved the crowd further away from the building as flames were seen on the rooftop.
Barnett said Engine 5 saw the fire on the roof first and directed their efforts to extinguishing it. The firefighters from Engine 2 tackled the heavy smoke inside the restaurant.
Their combined efforts may have saved Rosa's. The fire was mostly contained to the flue extending through the roof from the fajita grill inside. Some of the flames were able to spread onto the tar and rubber on the roof just before firefighters extinguished it.
Barnett said Rosa's will be closed for a while. Damage was done primarily by water. The fajita grill's vent and flue will need to be repaired or replaced and undergo building code inspections before the grill can be operational again. Some of the food in the preparation area also sustained water damage, Barnett said.
Rosa's Café employees spent the rest of the evening cleaning up inside the restaurant.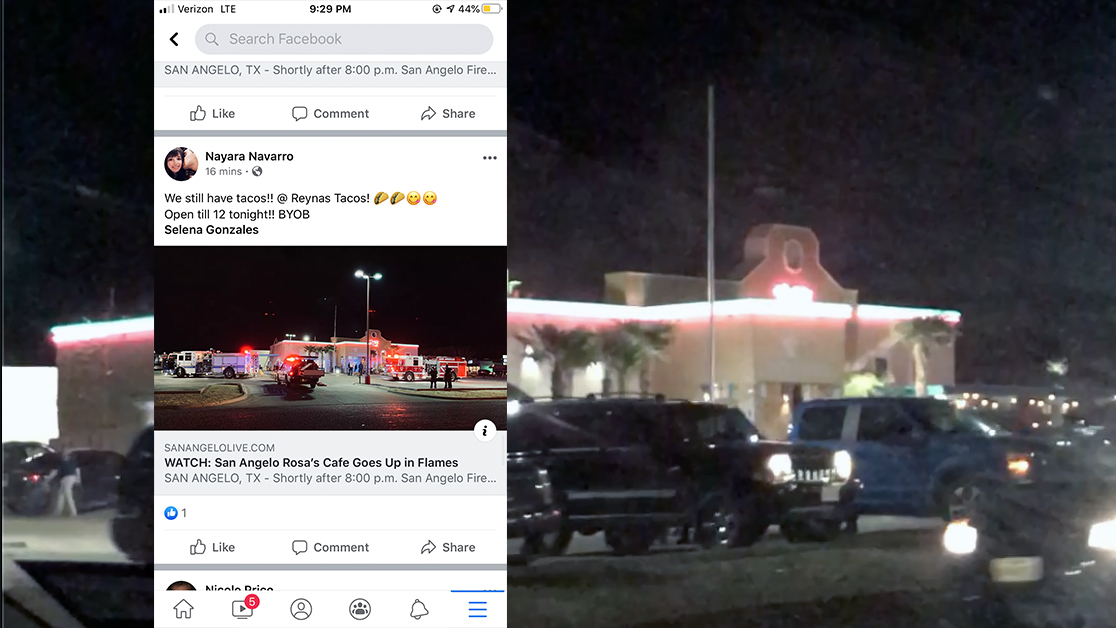 Above: Reyna's Taco's shameless plug. 
In the meantime, Nayara Navarra from the food truck Reyna's Tacos wasted no time using the unfortunate fire at her competitor's establishment to get more business.
"We still have tacos at Reyna's Tacos. Open until 12 tonight. BYOB," she stated in a post where she shared our Rosa's fire story.
Update 11:30 p.m. — Reyna's Tacos responds. It was an employee. She made a mistake. The post is removed, they said.
Get more stories like this by signing up for our daily newsletter, The LIVE! Daily.