How the Crew of San Angelo's Medic 5 Saved This 10-Year-Old Boy's Life
SAN ANGELO, TX — Last Tuesday, April 24, was one of the scariest days ever for a family in San Angelo. The Copes Family were winding down for the day, when suddenly Joseph Copes heard his youngest child screaming from his room.
He ran in the room to find his 10-year-old son, Scott, covered in blood from a deep cut that was from under his armpit to the center of his chest. "The amount of blood was crazy and I just knew that I had to put pressure on it to stop the bleeding or he would have bled out in minutes," said Joseph Copes.
The oldest daughter in the Copes family called 911, then dispatch operator alerted the ambulance crew of Medic 5 of the San Angelo Fire Department. The EMS crew received a report of an accidental injury in the 1900 block of Spring Creek Drive.
In San Angelo, the Emergency Medical Services, or EMS crews are assigned to ambulance vehicles with the name "Medic" followed by the crew number lettered on their vehicles, hence the name "Medic 5." EMS crews are operated by the San Angelo Fire Department and operate out of the public safety budget of the City of San Angelo's general revenue fund. The ambulances operate to far-flung places out in the county as well as inside the city limits. They'll go wherever they are needed to save lives. Not all ambulance runs are costing taxpayers cash. EMS services generate about $3 to 5 million per year in revenue for the City.
"The whole family was shaken up. He is only about a 50-pound kid and there was so much blood that Scott looked white as a ghost," said Joseph. "I put the pressure on the wound while my wife watched outside and waited for the first responders."
According to Joseph, the glass window in Scott's bedroom shattered somehow and the glass cut Scott deeply.
From the time the call was placed into dispatch to the time the first responders delivered Scott to the emergency room at Shannon Medical Center's Emergency Room was 12 minutes.
"It was a perfect instance of 'controlled chaos'," said Oscar Luz, a member of Medic 5 who helped Scott that night. "We got there and got him (Scott) loaded in great time. Shannon did an amazing job getting him in there and working fast to save his life."
On the crew for Medic 5 that night were Oscar Luz, Larry Russell, James Neeley, Chad Greaves, and Justin Strube. The medical training and expertise that these men so quickly implemented saved Scott's life.
"I just can't thank them enough for everything they did to save Scott," said Joseph. "I know how much these first responders care about what they do because they also kept checking up on Scott as he was recovering."
Scott is a 10-year-old fourth grader at Fannin Elementary School and is recovering fully. Scott mentioned his arm still being a little numb and he is going to be attending to six weeks of physical therapy.
Scott and the rest of the Copes family wanted to thank all the first responders who helped save Scott's life that night, the EMT crew, the San Angelo Police officers who escorted the crew, and the Shannon medical staff. "I would just like the rest of San Angelo to know what great first responders we have in this community. If it wouldn't have been for them and the doctors and nurses at Shannon hospital our son would not be here today," said Joseph. "We are beyond grateful."
During the reunion Thursday at the Central Fire Station, Scott and Joseph got to personally thank the EMS crew that saved him. "We assumed Scott wouldn't remember any of us because of everything that was going on," said Oscar Luz. But Scott claims he remembers everything and thanked the whole crew for everything they did for him.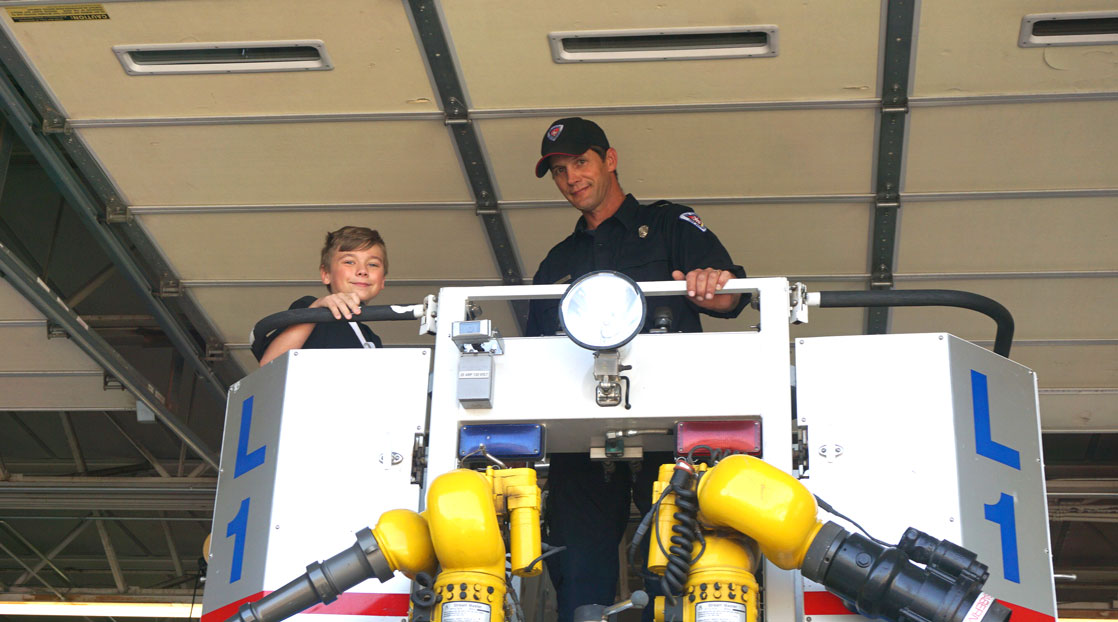 Above: 10-year-old Scott Copes reunites with Medic 5 on Thursday, May 3, 2018. (LIVE! Photo/Zoey Hanrahan)
Scott was moving around and climbing on the fire engine with ease. That was a sight everyone was happy to see.
International Firefighters' Day is Friday, May 4. The day is to show our appreciation for everything these brave men and women do to keep their communities safe. So, remember to show some love to your local fire stations tomorrow.
Get more stories like this by signing up for our daily newsletter, The LIVE! Daily.