At the Wall, a San Angelo Vietnam War Vet Relives Flying Secret Missions
SAN ANGELO, TX — Tom Nurre, CMSgt (R), USAF, and Vietnam War veteran, is the chairperson who, representing the Freedom Through Vigilance Heritage Foundation, has led the effort to bring the Wall of Healing to San Angelo.
This is the replica of the Vietnam War Memorial that stands on the National Mall in Washington D.C. The memorial is a black granite wall with the names of 58,318 soldiers who died in combat during the war in Southeast Asia since 1965.
Along with J.J. Graham, president of the Freedom through Vigilance Heritage Foundation, plans have been in the making for about a year to bring The Wall That Heals to San Angelo.
Nurre shies away from the word spy, but he spent his time in the Vietnam War flying in an EC-47 over enemy territory, listening for information that would benefit troops on the ground.
For the first time in 50 years, Nurre was able to talk about the inner-workings of the operations he took part in as the information has only now become declassified.
When asked if there was other information out there that remains classified, Nurre said, "In my view none of the technology or techniques that we used in Vietnam still warrants classification."
 "We are still going through the declassification process, and Angelo State University is helping us do that through the Freedom of Information Act process."
"But, it is only now that I can talk about it."
"We flew out of Nakhon Phanom, Thailand on missions over Laos. Along with the pilot and copilot, on board the plane would be a navigator and at least two radio operators, sometimes as many as five.
"There was a linguist on board who translated, and someone who knew Morse code. We listened to the enemy's communications, fixed on their transmitters and determined their intentions, if possible. When we learned their intentions, we would transmit all of this to our combat units on the ground or in the air."
"Whoever has information has the advantage."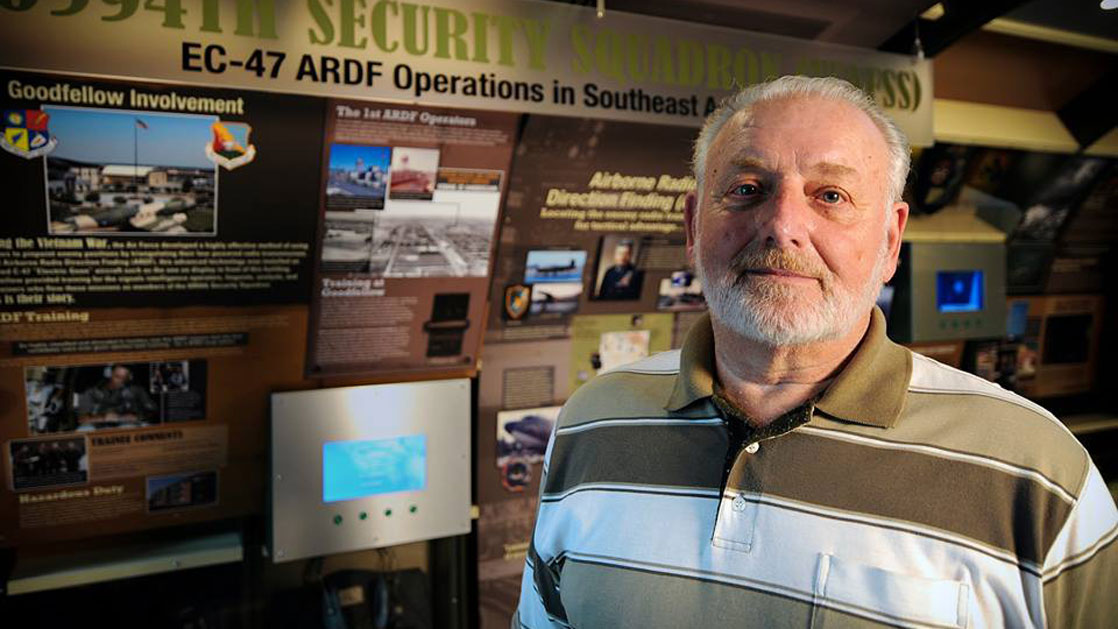 Above: Tom Nurre (Contributed/Tom Nurre)
"Let's say we find a resupply depot where the North Vietnamese had shipped in tons of food, equipment or other provisions for the Viet Cong. We would give that information to the folks who flew the B-52s and they would go in and destroy all that.
"If they (Viet Cong) had big guns we would contact our Air Force buddies who would go in with strike aircraft and make those guns disappear."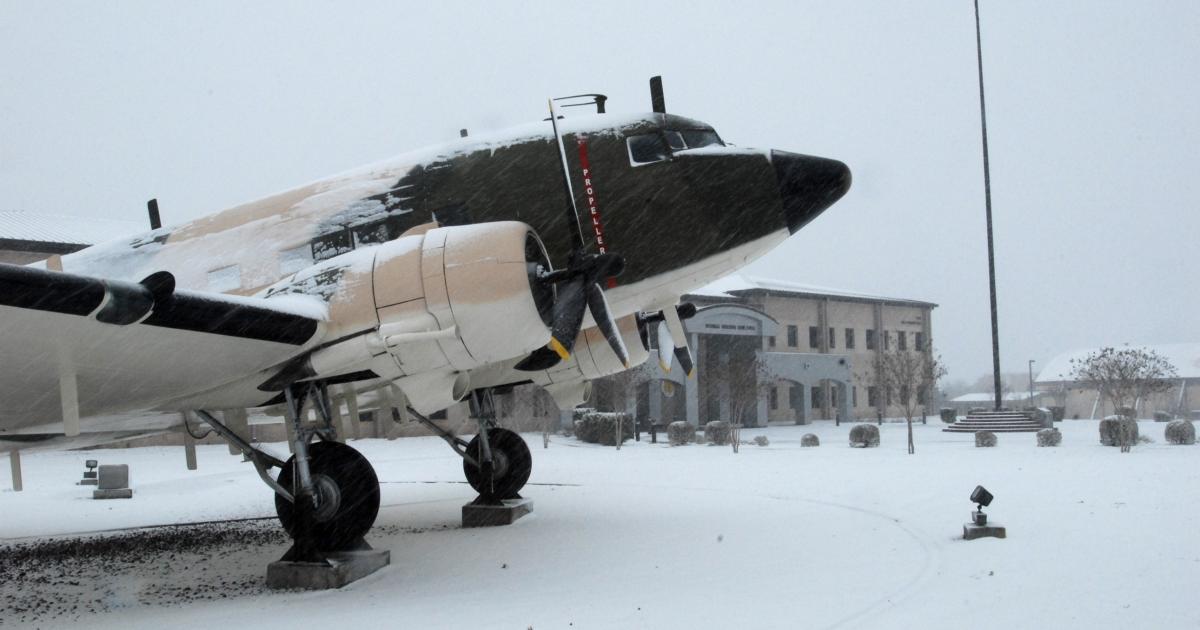 Above: A Douglas EC-47Q Electric Goon, no on static display, stands poised as snow collects on its frame and covers the ground around the Norma Brown Building Feb. 23, 2010. It was snowing the day this photo was taken. (Contributed/Goodfellow AFB)
In terms of Vietnamese who became casualties possibly as a result of that information, "I would prefer to think that we were saving our guys on the ground by giving them this information."
"I've had many ground troops come up to me when they found out I was one of the guys giving them information, and tell me they used the information that was given to them to change plans and save lives."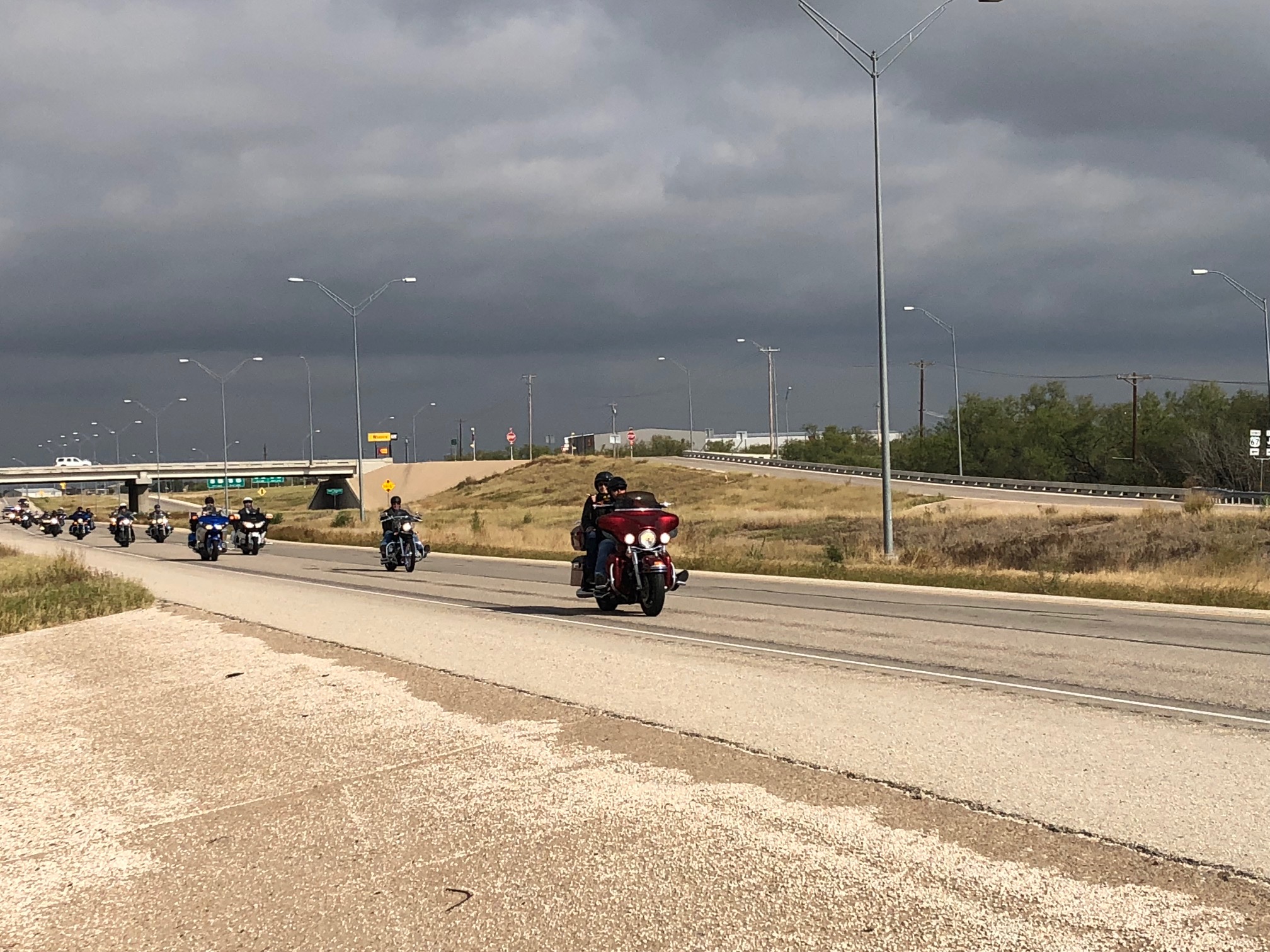 Above: The Vietnam War Memorial replica was escorted into San Angelo. (LIVE! Photo/John Basquez)
In response to the question about personal risk, Nurre said that the military prepared them for survival or capture should their plane go down in enemy territory.
I went to Jungle Survival training in the Philippines, and Water Survival School in Panama City, Florida.
"We even had a replica POW training camp set up with fences, loud speakers, isolation rooms, and punishment pits. There were also devices  that would test your physical and emotional strength."
But at the age of 25 or 26 he "felt invincible."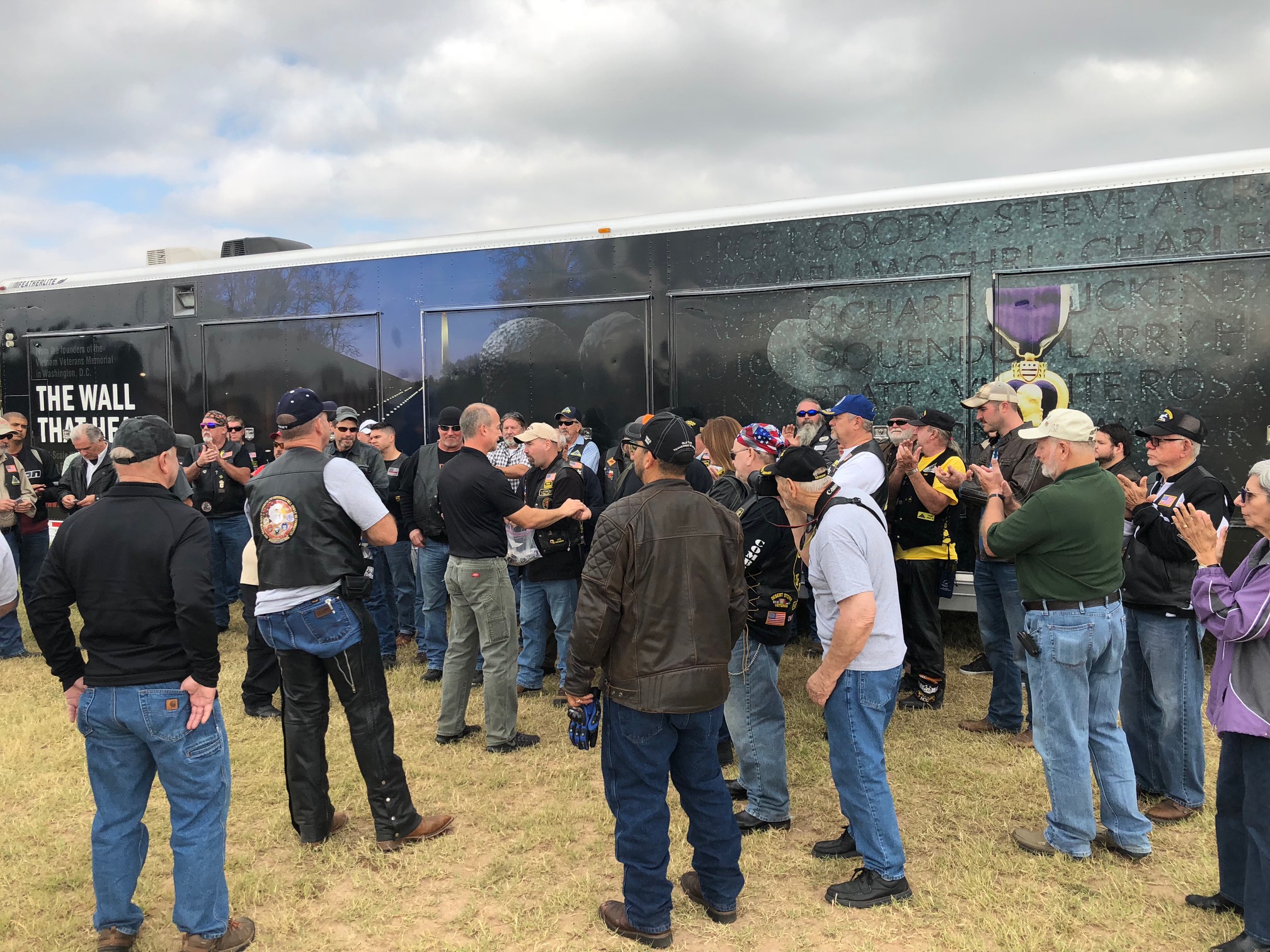 Above: Friends and families gathered to welcome the traveling replica of the Vietnam Memorial at Fort Concho on Nov. 15, 2017. (LIVE! Photo/John Basquez)
The Pinning Ceremony that will take place on Saturday, at 2 p.m., honors Gold Star families—those who have lost a relative in the Vietnam War, and also Blue Families—those surviving spouses of Vietnam veterans who have died since the end of the war.
"About 50 people are eligible to be pinned this year" Nurre said.
Nurre wanted to make some important points about Saturday's Pinning Ceremony: " The Wall and the ceremonies are not about invoking the anger or sorrow from 50 years ago. It's about celebrating the lives of those who served in Vietnam and welcoming them home the way they should have been 50 years ago.
"The difference between now and then is that we finally understand you can hate the war, but not the people who served."
Obviously we have matured. About 20 Marines from Goodfellow Air Force base volunteered to set up the wall.
Said one Marine, "It's an honor to do this. I wanted to be here." And another, "it gives me goose bumps just to be here."
Nurre retired in San Angelo from Randolph Air Force Base in San Antonio in 1994.
The Wall That Heals will be open to the public Nov. 15 through 19 at Fort Concho. It is accessible 24 hours a day.
Get more stories like this by
signing up for our daily newsletter, The LIVE! Daily
.