Raw 1899: Abstract Art Accompanied with Wine
SAN ANGELO, TX – Raw 1899 is a new art gallery and wine bar in San Angelo, and it's gearing up to show citizens their unique vision for art appreciation during their grand opening on July 1st.The grand opening celebration will extend throughout July.
Owners Lisa Curry and Nathana Cox invite everyone to come and visit the art lounge located at 38 North Chadbourne St. Raw 1899 features art on century-old rock and brick walls, wine, beer and, a menu of "small bites."
"This area deserves Raw 1899," Curry said. "It's comfortable and elegant – a place to revive and replenish, and relax."
The setting of the art lounge welcomes customers with hanging chandelier lights described as "halos," Cox explained. The purpose, to create an environment that's both inviting and pleasing, is for patrons to sit down and enjoy the art spread out along the walls in their various seating areas. Central to the the seating areas is a wine bar and outdoor patio.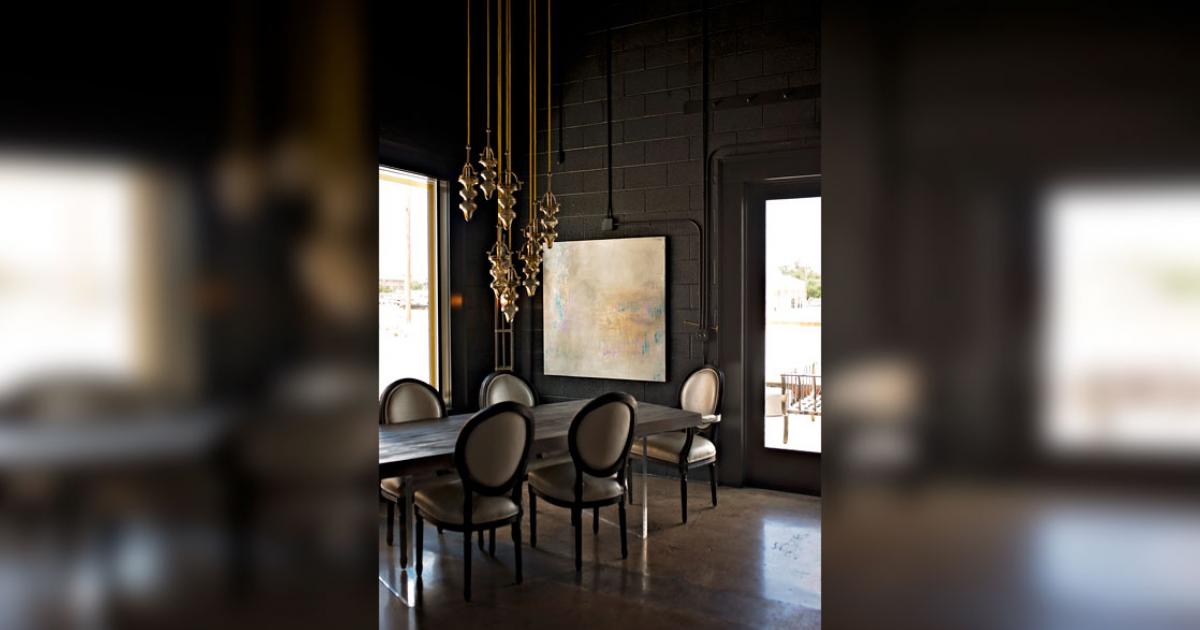 Above: One example of seating in Raw 1899 (Contributed/LaRae Russell)
 "The walls are filled with amazing abstract art by area artists and beyond, some well-known, and others hoping to be," a Raw 1899 press release states.  "All art is available for purchase for home or office, where it will provide a lifetime of enjoyment."
Their first art show is titled, "First. Love. Abstracted." and features art from local artists and some from faraway places. One painting included in the collection comes from an artist in Germany.
"We named it this because it's our first-ever art show, abstract art is our first love, and 'abstracted' is an art term that also means 'lost in thought,' which is what happens when viewing the magnificent art on our walls," Curry explained.
Three hundred pieces of art were submitted for the Raw's Grand Opening by more than 90 artists.
Both Curry and Cox are seasoned artists with various pieces of their own art on display at the lounge. They both think abstract art will be a welcomed art style in San Angelo.
 "The start of all this was Lisa and I like to paint," Cox said. "We wanted to find a place where we could go and not have to worry about getting paint on the floor, so [the solution] was to find and old run down building to paint in."
The chosen location was formerly owned by the First Baptist Church San Angelo, with its century-old walls, original tin ceiling, and cement floors made with Concho River sand, creating the backdrop for what Raw 1899 is today. They named the space Raw 1899 to honor it's rough-hwen (not smooth surface) walls and approximate date of origin. The building was originally a schoolhouse.
"The space and our thinking evolved," Curry said. "As we chipped away at [the building] we discovered more of its beauty, and we knew we needed to share it."
On June 3, 2016 both Cox and Curry purchased the corner building from David Mazur, owner of David Mazur Construction in San Angelo. The renovation effort helped keep the traditional feel of the turn-of-the-century schoolhouse, while also introducing abstract style art for the visitors to enjoy. 
The idea was finalized when Cox and Curry purchased the adjoining space to make their vision of having an art studio combined with an art gallery and lounge.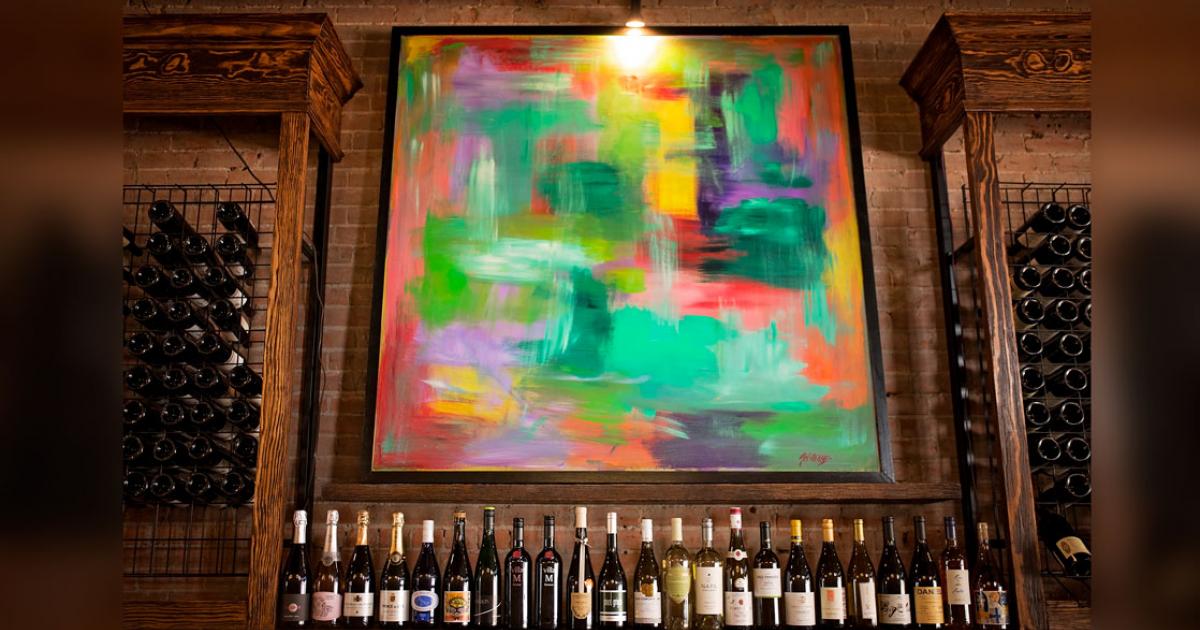 Above: Wine bar with assortment of wines and an art piece (Contributed/LaRae Russell) 
 "Abstract art is well-suited for this area," Cox said. "It is a genre that perfectly fits San Angelo—it allows the same strong freedom of expression that we West Texans highly value."
In addition, Raw 1899 will be available for rent for birthday parties, wedding receptions, reunions, business meetings, bridge or mahjong games, or just about any celebration or group gathering.
"The opening of Raw 1899 should be an encouragement to all to sweep off the dust of everyday living and act on that one desire that lives inside you. Be fearless and go for it," Curry stated.
Raw hours will be 4 p.m. until 10 p.m. Thursdays and Fridays, and 10 a.m. to 10 p.m. Saturdays. The Chamber of Commerce will be hosting a ribbon cutting ceremony at 10 a.m. Saturday, July 1st.
Raw's art will be switched out tentatively every three months. The September art show, "Finding Balance in the Unknown," will feature assemblages by Elise Techentine of Granbury. Assemblages are art pieces created by assembling disparate elements. The October art show will be "Drawn to Abstraction," featuring paintings by Abilene artist Patty Rae Wellborn.
Curry is owner of The Waterford Wellness Spa in San Angelo, where she serves as an Advance Practice Nurse in Cosmetic Dermatology. She has worked in the beauty industry for more than 32 years. Cox works as a Laser Technician at The Waterford Wellness Spa, and has worked there for 15 years.
Get more stories like this by
signing up for our daily newsletter, The LIVE! Daily
.