Public Invited to Attend The Second Annual OCS Recognition Ceremony This Saturday
SAN ANGELO, TX -- Last May, LIVE! brought you the story of an extraordinary group of area high school graduates who were recognized with a special ceremony for their recent career choices. (click here)
In conjunction with the San Angelo Chamber of Commerce, 'Our Community Salutes' (OCS) hosted the event to honor several upstanding young men and women, thanking them for their pledge to serve our country.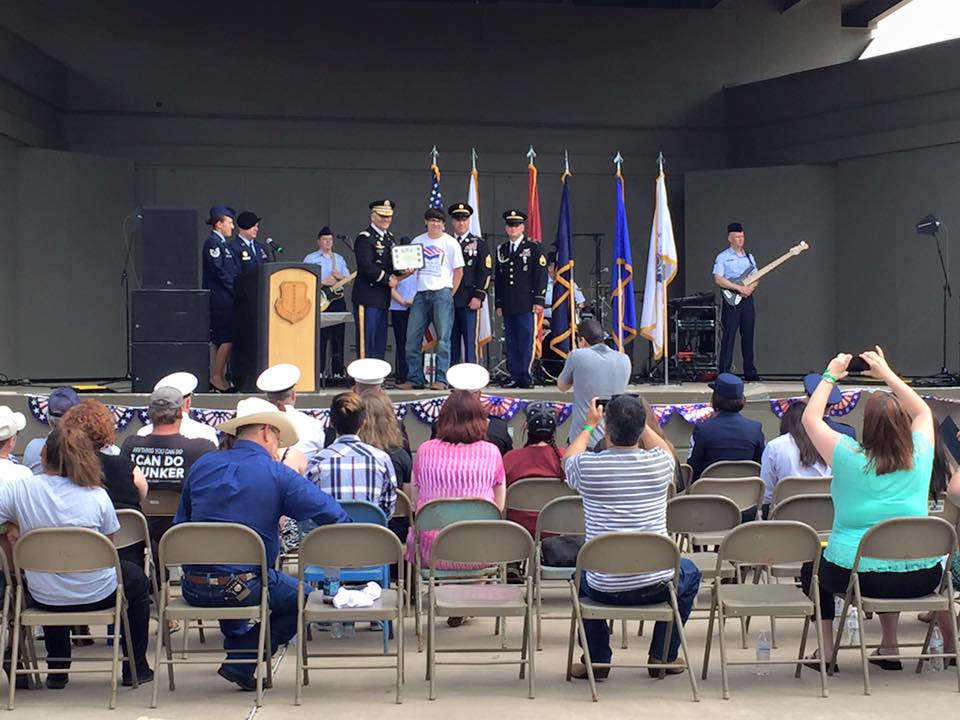 Above: 2016 ceremony at the San Angelo River Stage. Friends and family members of inductees proudly clap and snap photos of their loved ones.
OCS is a national, non-profit organization, whose mission is to help communities recognize, honor and support high school seniors, who after graduation intend to enlist into the U.S. Armed Services.
This Saturday, May 20, OCS will be hosting its second annual event here in San Angelo.
Marla Ferguson, spokesperson for the San Angelo Chapter of OCS,  said "last year, we had the event at the San Angelo River Stage, but we're having to change the venue for this year because of the weather." The new location will be in the auditorium of the Central Freshman Campus, located at 218 N. Oakes Street. The ceremony will be held from 10 a.m. to 11 a.m..
The 2016 ceremony also recognized Military Appreciation Day, with numerous Goodfellow Air Force Base members participating in the event. This year, however, due to time and space limitations and the fact that some of the families won't be able to access the base, the two events will take place in separate venues.
"Last year, we also had a variety of booths and food for the military personnel, inductees and their families, Ms. Ferguson said. She emphasized that this year, they will have a cake reception for the enlistees and their families. Then armbands will be given ahead of time to the participants so they can go to the pool and the museum without a charge."
Additionally, she said, "last year, we combined the two events because they were military related. The Chamber has been hosting Military Appreciation Day for years, but last year, was the first time we held both events together at the River Stage." It was such a great success combining the two," she said, underscoring that she is a little saddened that it didn't work out this year, and that they had to do some last minutes changes..
"My husband Master Sergeant Blake Ferguson and I are a military family from Hawaii.  We had actually started an OCS chapter there and when we moved here, decided to start a chapter here as well. It's such a special event for the kids and their families and we're just thankful to be a part of it," Marla Ferguson said.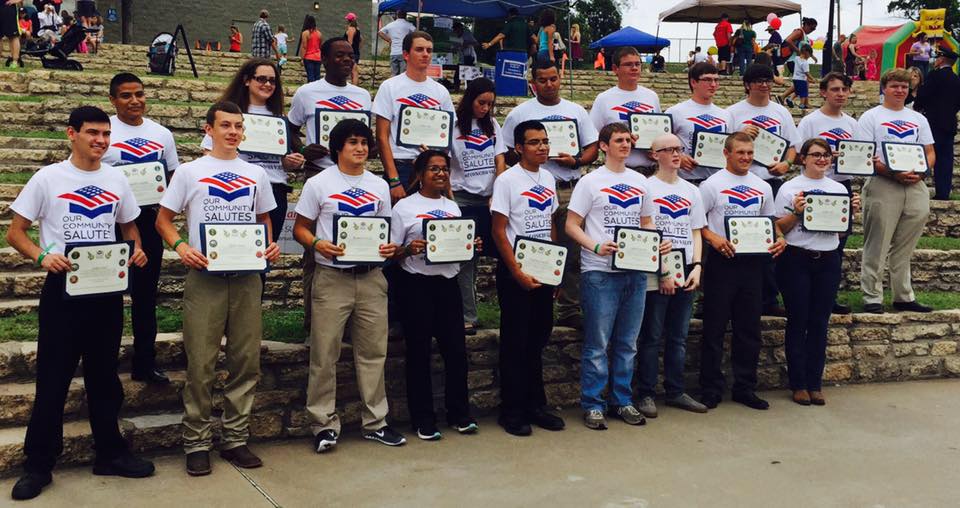 Above: A few of the 2016 inductees patiently posing for friends and family to photograph.
"The guest speaker for this year's ceremony will be Colonel Michael Downs, Base Commander, and we will have 35 [young men and women] who will walk the stage, representing all branches of the military ,coming from the surrounding area high schools," she added.
This ceremony is open to the public, and all are invited to come show their support and encouragement toward these brave young men and women.
For more information check out OCS on their Facebook page (click here) or the website http://www.ourcommunitysalutes.us
Get more stories like this by signing up for our daily newsletter, The LIVE! Daily.