SAN ANGELO, TX — Friday morning, six upcoming graduates from Angelo State University's Class of 2017 were commissioned as Second Lieutenants in the U.S. Air Force in a commissioning ceremony in the  CJ Davidson Conference Center.
The graduates, Benjamin Carney, Todd Duquette, Matthew Eddins, Jake Jackson, Alex Lennarson, and Edward Reyes were greeted by friends and family who came to witness their accomplishment.
The six individuals were all full-time students at Angelo State University (ASU) and Reserve Officer Training Corps Cadets, training to become officers in the Air Force, over the past few years. 
Yesterday's guest speaker, Major General Warren D. Berry, spoke to the new officers and told them to cherish the special day and to prepare for a bright future in the Air Force.
"You will have some incredible opportunities in your Air Force," Gen.Berry told the graduates. "Our Air force will give you plenty of opportunities to succeed, excel, and to grow."
His parting advice had two lessons: Not to be shy, and to strive to make a difference in the world.
"Many in this world do what they must, but don't do what they should," Gen. Berry emphasized. "I charge you to do what you should, and do what you can to make a difference."
After the speech, the cadets were called up one at a time to be read their oath of office. Next, their family members came up to help pin on their 2 Lt. rank, or "butter bars" as they are more commonly known for new officers.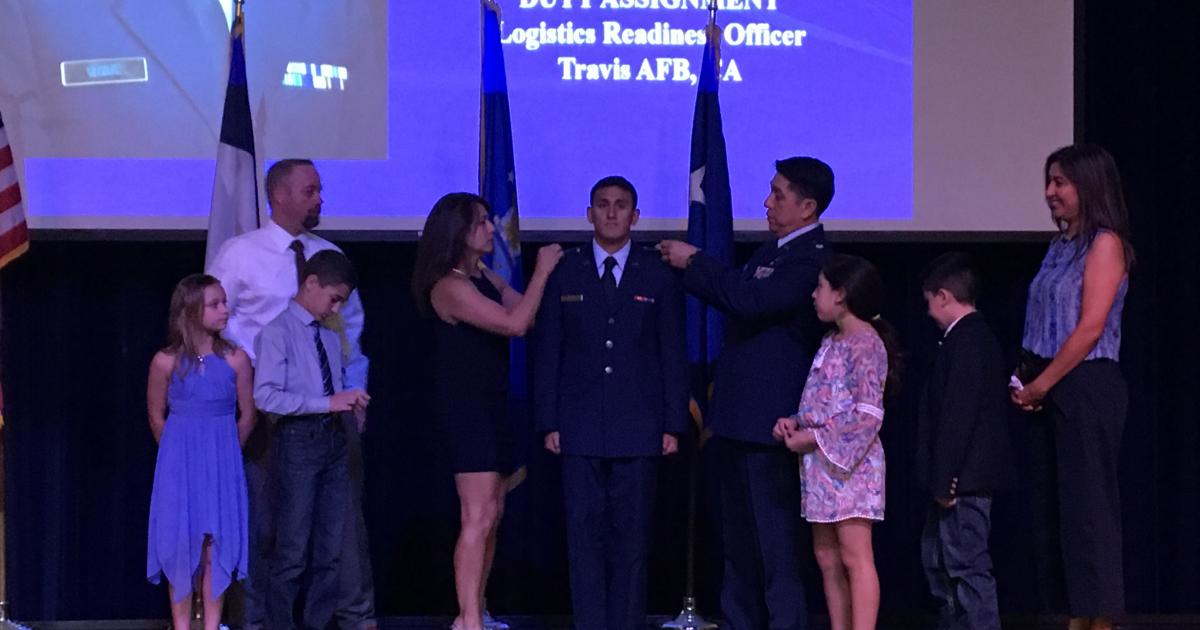 Above: New 2nd Lt. Edward Reyes has his ranks pinned on by father Lt. Col Raul Reyes and mother Elizabeth Kemp
The final part of the commissioning ceremony had the new officers receive their first salute from an enlisted military member. The salute symbolizes respect for the new leader. The new leader then hands a silver dollar to the enlisted member who gave them their first salute. This tradition symbolizes the birth of a new leader who has earned their position and is ready to embark in the profession of arms.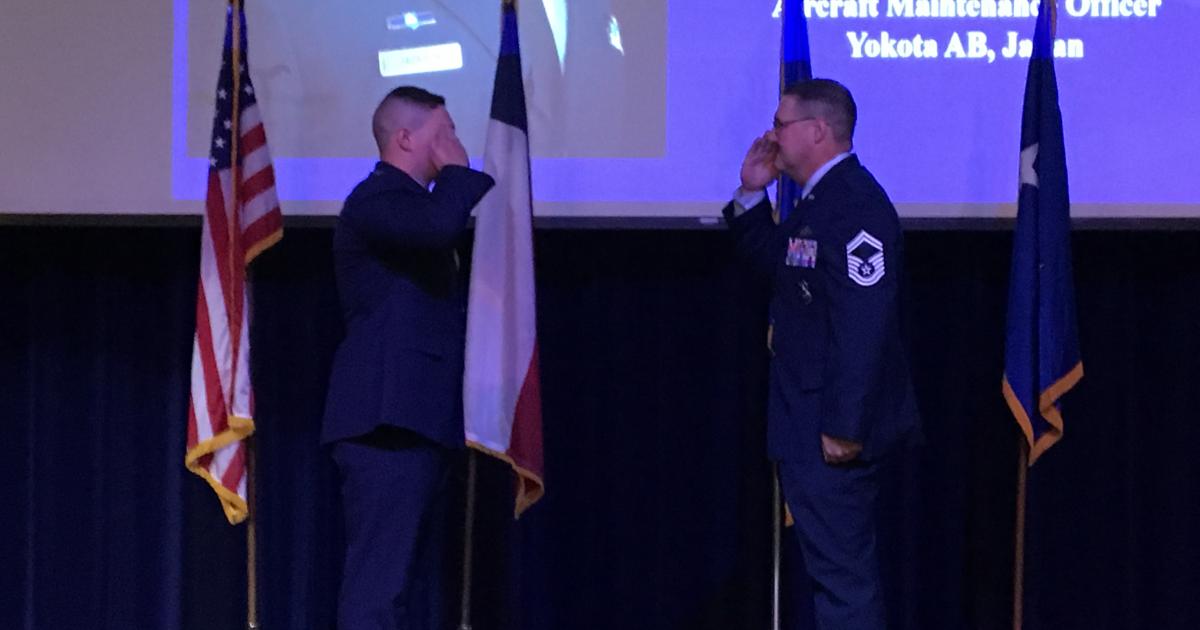 Above: 2nd Lt. Jake Jackson receives his first salute from SMSgt James Jackson, USAF Retired.
"The only reason I came to college was so I could be an officer in the Air Force," 2nd Lt Jackson said. "Being here [today], I have [accomplished] that goal I set four years ago."
Lt. Jackson learned a lot about managing his weight through the program and feels he developed a stronger work ethic. Lt. Jackson also advised to always keeping the end goal in mind when pursuing a dream.
Another new officer, 2nd Lt. Matthew Eddins, spoke about the excitement of accomplishing his dream of becoming an officer in the Air Force.
"It feels pretty good to finally accomplish something that you've worked so hard for," Lt. Eddins said. He mentioned that having his family being there to support him made the experience all the more worthwhile.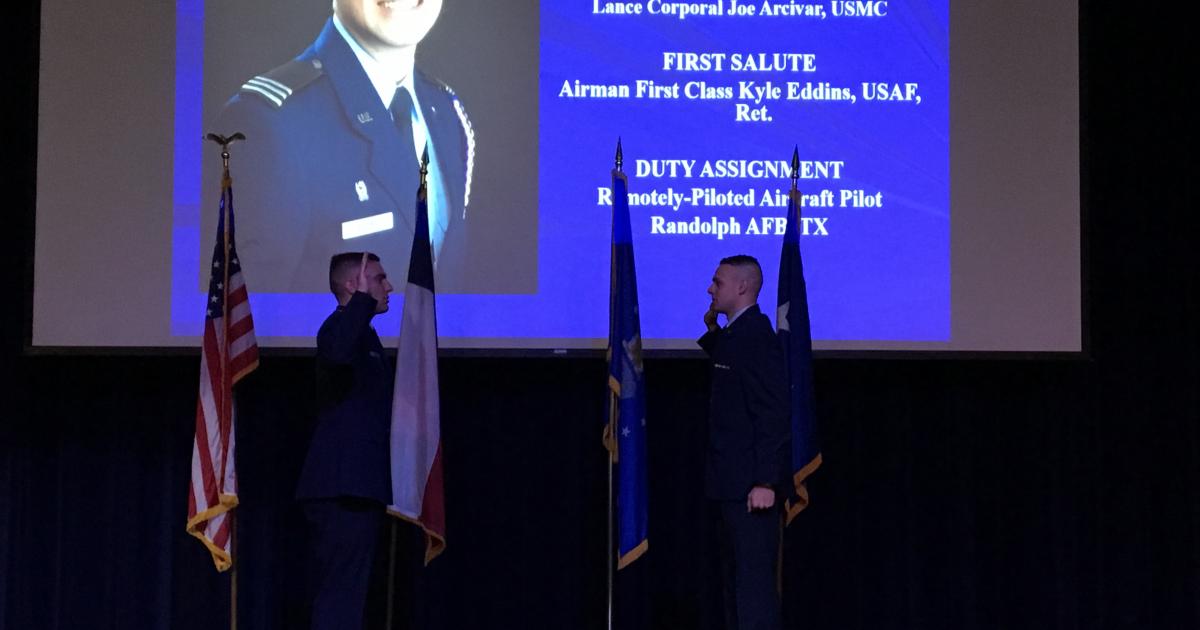 Above: 2nd Lt. Matthew Eddins is read the oath of office by Capt. Jacob Glantz, USAF.
"This isn't the end, we've [all] reached a milestone, but we definitely need to keep pushing ourselves," Lt. Eddins explained.
As parting advice to new cadets pursuing a commission, Lt. Eddins recommended finding a quote from a book or movie that would keep them motivated.
"In times of doubt just look at that, and let it push you forward," Lt. Eddins added.
The following is a list of the officer's assigned careers, and where they will be stationed:
2nd Lt/ Carney: Logistics and Readiness Officer at Ramstein Air Base, Germany.
2nd Lt/ Duquette: Intelligence Officer at Goodfellow Air Force Base (AFB).
2nd Lt/ Eddins: Remotely-Piloted Aircraft Pilot at Randolph AFB, Texas.
2nd Lt/ Jackson: Aircraft and Maintenance Officer at Yokota, Japan AB.
2nd Lt/ Lennarson: Cyberspace Officer at Keesler AFB, Mississippi.
2nd Lt/ Reyes: Logistics and Readiness Officer, Travis, AFB, California.
The cadets ended the ceremony by leading the crowed in the singing of the Air Force Song. The last words sang by each new officer were, " Nothing'll stop the U.S. Air Force." 
Most Recent Original Videos