Cyberbullying: The Growing Problem and Taking a Stand
SAN ANGELO, TX- In November 2016, an 18-year-old teen from Texas City, Brandy Vela, shot herself in the chest in front of her family. Her father, Ruben Vela, told CBS Houston affiliate KHOU-TV that she had been receiving abusive text messages from bullies for months from an untraceable smartphone application. Additionally, someone made a Facebook page of Vela, eventually pushing her over the edge. Vela emailed her family and told her she was going to kill herself. When they got the email, they rushed home and found her alive, but not for long.
"We tried to persuade her to put the gun down, but she was determined," Raul Vela told KHOU-TV. "She said she'd come too far to turn back. It was very unfortunate that I had to see that. It's hard when your daughter tells you to turn around. You feel helpless."
Unfortunately, the family had to watch as their daughter, who was cyberbullied primarily because of her weight, took her life. 
The number of suicides occurring across the nation and Texas because of cyberbullying is a growing problem. According to meganmeirefoundation.org, an organization devoted to inspiring action that ends all forms of bullying, approximately one in four youths are affected by bullying. The site also defines bullying as an aggressive behavior that involves an imbalance of power or strength. Traditional bullying is repeated over time and can take many forms, such as hitting, punching, or shoving; however cyberbullying takes a none-physical approach instead and attacks the victim's character through various electronic media.
Cyberbullying is typically referred to as "a communication or posting by one or more minors using cyber technology or digital media designed to hurt, threaten, embarrass, annoy, blackmail, or otherwise target another minor."
A study conducted by the Cyberbullying Research Center in 2015 showed that a random sample of 457 students, aged 11 to 15, were asked about cyberbullying. The study showed that approximately 43 percent of the middle school students reported experiencing cyberbullying during their lifetime and 15 percent of students admitted to cyberbullying someone in their life.
A contributing factor to this increase of cyberbullying is the younger generation having access to technology, like cell phones, that allow them to use social media more frequently.
Below: Graphs from research (click here for full report).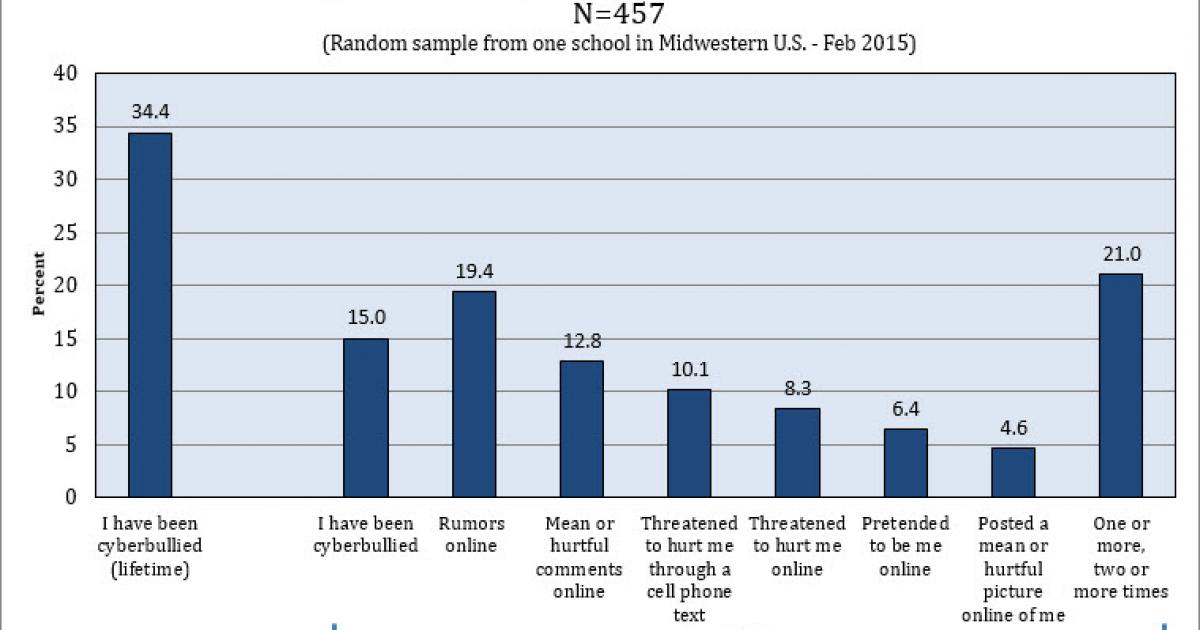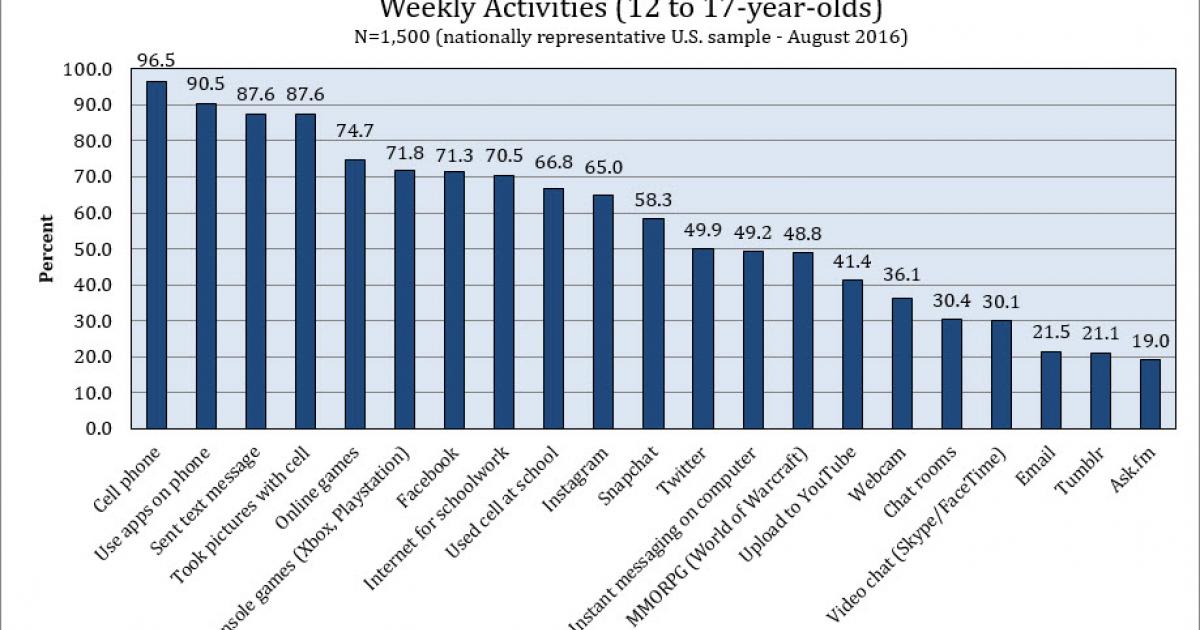 The case study shows that a larger portion of middle school students now have access to social media, like Instagram and Facebook. Cyberbullying plays out as a willful and repeated bullying behavior that takes place using electronic technology, and can be done within a wide variety of technology, such as social networking sites, email, cell phones, websites, according to meganmeirfoundation.org.
Taking a Stand Against Bullying
There are organizations, like Stand for the Silent (SFTS) and meganmeirefoundation.org, that are dedicated to bringing awareness to all forms of bullying by giving informative presentations at schools across the nation.
"ALL bullying is wrong and all can lead to serious and sometimes fatal consequences," said Kirk Smalley, president of SFTS. "Raising awareness to what bullying can and does cause is critical. We try and get the young people in communities to help spread our message around their area and have them help get the adults involved as well."
Over the last four years, Kirk and Laura Smalley have traveled to over 1,000 schools and have spoken to over 1,000,000 children, adults, and faculty about the grueling reality of bullying.
At the beginning of each SFTS presentation, a biography of a bullying victim is read to show the harsh reality of a student who has taken his or her own life because of bullying. The reason this organization is so important to the Smalleys is because there son was a victim of bullying. At 11 years old, Ty Filed-Smalley took his own life after being suspended from school for retaliating against a another student who had been bullying him for over two years. Kirk and Laura continue to pursue their mission to change kids' lives by informing them about the harsh reality of bullying.
​Below: A video footage of a SFTS presentation.
Taking Action in Tom Green County
According to the San Angelo Independent School District, (SAISD) staff actively report all cases of bullying and cyberbullying by recording all known cases across all SAISD campuses. Investigations are conducted on those reports that involve school administrators and councilors.
"All reports of bullying, to include cyberbullying, are tracked by each campus, where they are logged and recorded," said Jamie Highsmith, Public Information with SAISD. "SAISD takes all allegations very seriously as we strive to provide a safe and secure learning environment for all students."
The San Angelo ISD student handbook defines bullying as: a student or group of students engages in written or verbal expression, expression through electronic means, or physical conduct that occurs on school property, at a school-sponsored or school-related activity, or in a vehicle operated by the district and a school district's board of trustees or the board's designee determines that the behavior:
1)  Has the effect or will have the effect of physically harming a student, damaging a student's property, or placing a student in reasonable fear of harm to the student's person or of damage to the student's property; or
2) Is sufficiently severe, persistent, and pervasive enough that the action or threat creates an intimidating, threatening, or abusive educational environment for a student. 
The administration at SAISD encourage that students and parents report any alleged incidents of bullying to a teacher, counselor, principal, or other district employee. 
Other ways of combating bullying in Tom Green County is by informing all student and parents about the seriousness of bullying. Many parents have contacted LIVE! about cases of bullying and cyberbullying, and have complained that enough is not being done. For those who feel that way, there are steps parents can take to help combat this problem.
For instance, 121help.me. is a website dedicated to informing students and parents about the effects of bullying and cyberbullying. It highlights the way to address various issues relating to adolescent growth, and helps with understanding social issues, like peer pressure and depression. 
Also, families can click here and here to read more about meganmeirefoundation.org and Stand for the Silent to find out more about taking a stand against cyberbullying in communities.
Get more stories like this by signing up for our daily newsletter, The LIVE! Daily.