Construction on Bell Street to Officially Begin in Fall 2017
SAN ANGELO, TX -- Yesterday evening, District 3 City Councilman Harry Thomas held a town hall meeting in the City Council chambers of the McNease Convention Center to update the public and to answer any questions or concerns on the upcoming street renovations to Bell Street.
The Bell Street project is the second project in a 10-year, $80 million plan to rebuild the worst streets in San Angelo. Martin Luther King Boulevard was the first project, and the first to make use of a federal grant. These projects come after Fugro Roadware conducted a technical analysis of 660 lane miles of city streets. The results showed that San Angelo's streets had earned a pavement condition index of 45.9 on a 100-point scale. The study further showed that Bell and 29th Street, MLK, College Hills and Southwest Boulevards and Avenue N and Glenna Drive required total reconstruction, as well as rebuilding of roadway bases. These findings prompted the City Council to commit to issuing $16 million in bonds every other year over the upcoming decade to finance these street projects. As a quick reminder, the debt accumulated will not impact property tax rates, city officials said.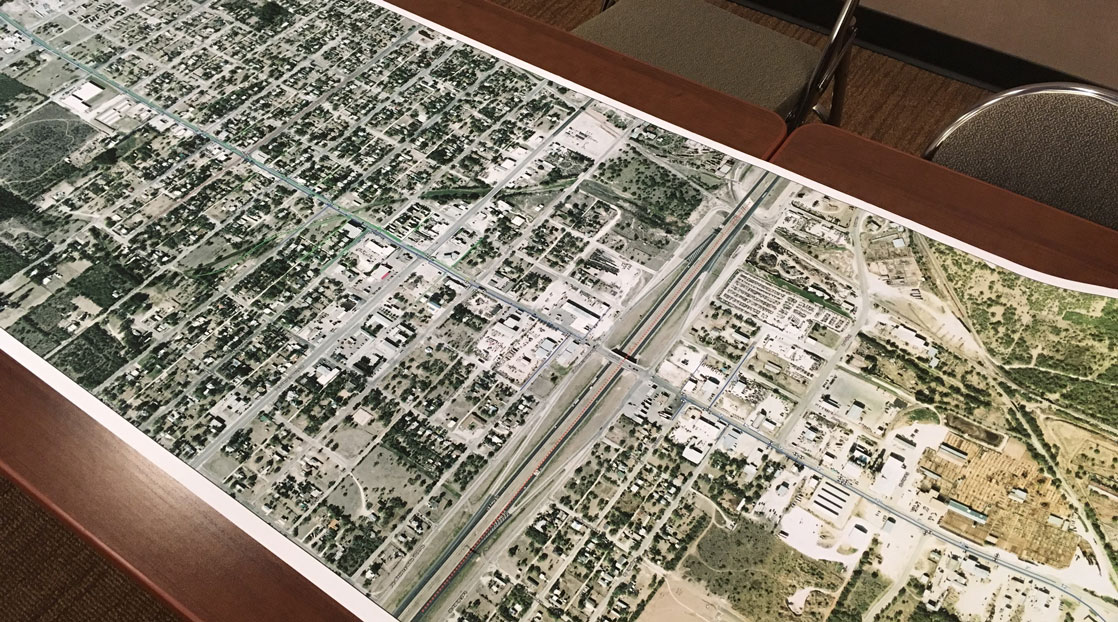 Currently, the city is focusing on Bell Street. Bell Street will be rebuilt from Rio Concho Drive to Old Ballinger Highway in three stages. Construction is slated to begin fall of 2017. Councilman Thomas said in a statement, "This is something I have been trying to work on for a few years, and long before I was campaigning to be on city council." He added, "I am pleased that we are finally at this stage, and we are going to move it along as quick as we can."
The first phase will focus on the stretch of Bell Street between Rio Concho Drive and Harris Avenue. As of right now, the project design of the first phase is only 90 percent complete. The delay is due to some complicated issues with property lines along Bell Street. The design team is currently in negotiations with the owners. As soon as the designs are complete, the project will be open to contracting bids. Construction for the first phase will take approximately 18 months.
The second phase of the Bell Street project will focus on the area between Harris Avenue and Loop 306, while the third phase of the project will focus on the area between Loop 306 and the Old Ballinger Highway.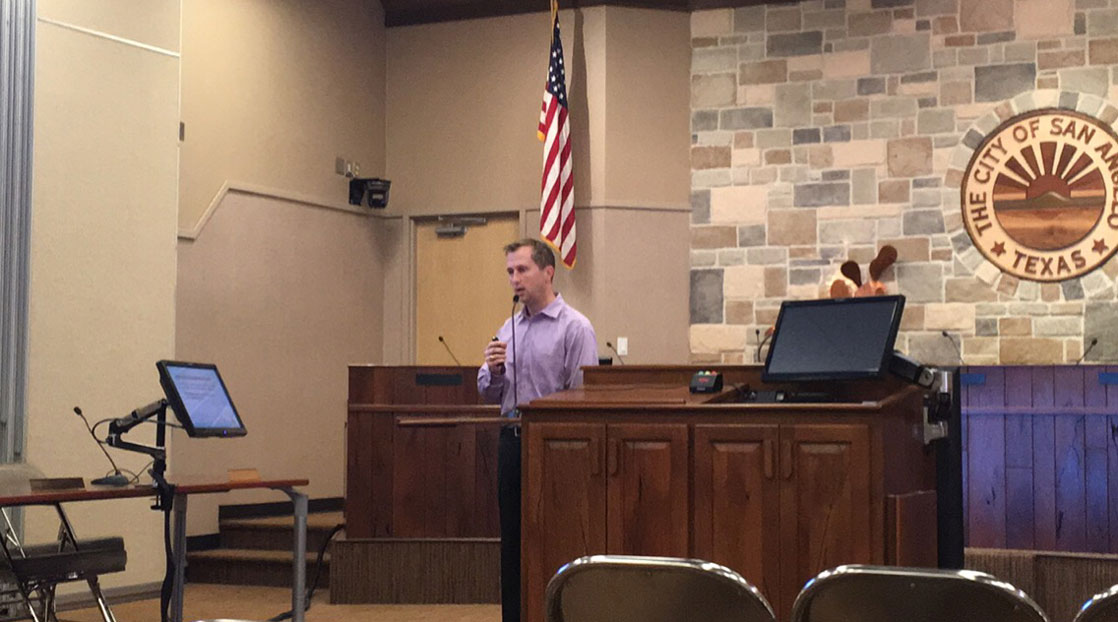 Russell Pehl, City Engineer, gave several reasons as to why Bell St. is being reconstructed in three phases during last night's meeting: "one being funding, but also so that the entire stretch of Bell Street is not torn up at one time." Pehl added that the three phases would aid in easing traffic.
"Some things we are looking at are curb and gutter improvements. We'll be looking into driveway replacement, and we'll also be adding new sidewalks," announced Pehl.
For those citizens who walk in the evening, new streetlights are not a part of the new construction plan, but the streetlights that are currently located on Bell St. will not be moved during reconstruction. Furthermore, the existing water infrastructure that goes directly underneath Bell St. "will be moved behind the curbs," Pehl continued. However, the sewer lines will most likely remain under the streets. New traffic signals are planned for the intersections of Bell St. and Rio Concho Dr. and Harris Avenue. The light at the Pulliam Street intersection will remain as is.
Also during the three-phase construction project, sidewalks will be implemented on the east side of the street between Rio Concho to Harris and between Harris to the Loop; the side walk is planned to be built on the west side.
Below are two lists outlining tentative dates for other construction projects scheduled for the streets of San Angelo to begin.
Further construction areas and dates for phase-one projects are listed below:
MLK from Loop 306 to 29th – October 2016 to April 2018
Bell St. from Rio Concho Drive to Harris Street – Fall 2017
Bell St. from Harris to the Loop – 2019
Bell St. from the loop to Old Ballinger Highway – 2020
Southland Boulevard between Sherwood Way and the Walmart entrance is scheduled to be widened and rebuilt –January 2017 to August 2017
Proposed construction dates for first mill-and-overlay projects are listed below:
South College Hills from the Loop to Valleyview Boulevard -- October 2016 - March 2017
South Chadbourne from West Avenue B to East Avenue L, North Chadbourne from U.S. Highway 67 to East Concho and from Loop 306 to 43rdStreet -- tentatively from February 2017 - May 2018 
Councilman Thomas announced at the end of the town hall meeting there may be a possibility of a second town hall meeting on this subject once more specific details are available.
Additionally, residents who attended the meeting voiced their concerns over flooding and draining issues, commitment from contractors, and the safety of walkers and possible bikers along Bell Street after construction.
For more on what happened during yesterday's town hall meeting, please visit the city's YouTube website. For more information on San Angelo's street construction in the coming years, please visit here.
Get more stories like this by
signing up for our daily newsletter, The LIVE! Daily
.