Shakey's Pizza: A Long Lost San Angelo Tradition
Shakey's Pizza, formerly at 20 Howard St., the intersection of Sherwood Way and Howard, was regarded by San Angeloans who remember it as the best pizza that has ever graced the Concho Valley.
According to the official chain's website, Shakey's began in 1954 when the owner, Sherwood "Shakey" Johnson, opened the first Shakey's pizza parlor in Sacramento California. Then known as "Ye Public House," the parlor offered pizza and beer along with live swing and jazz music.
Eventually the Shakey name became popular, as did the tagline, "World's Greatest Pizza." The establishment ultimately changed the name to Shakey's Pizza Parlor, which is a name that strikes the heartstrings of many San Angelo residents.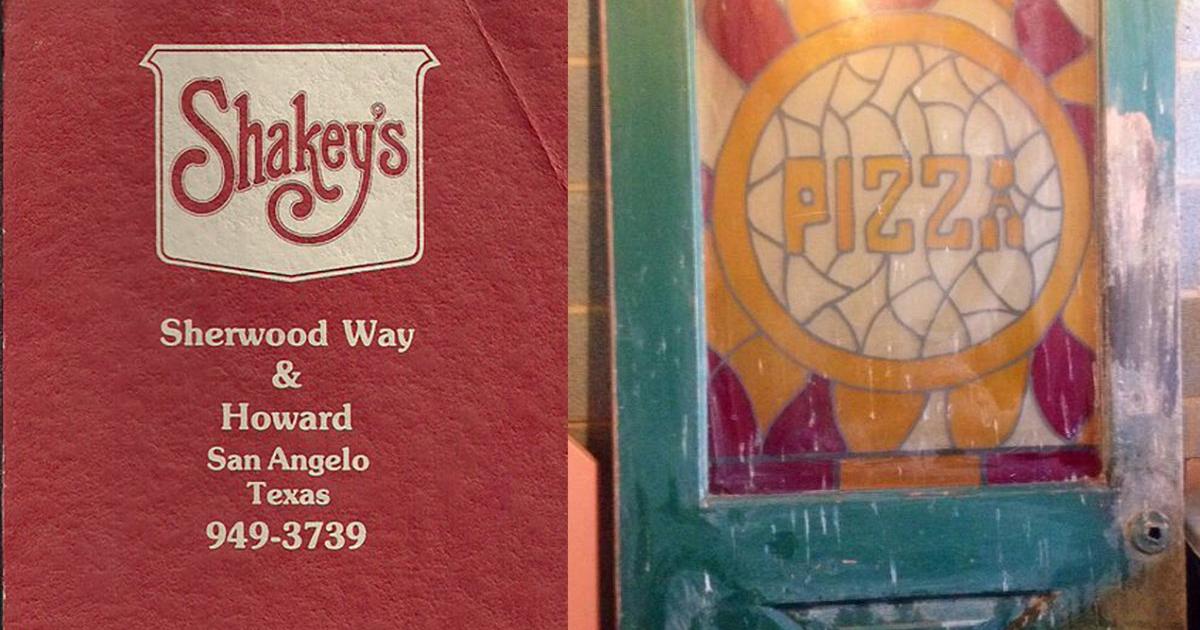 Above: Left: the menu from Shakey's Pizza Parlor in San Angelo; Right: The door from the Shakey's Pizza as sold last year on San Angelo Swap and Sell by Amy Kernion. (Contributed, Facebook)
Shakey's Pizza in San Angelo opened in the 1960s and was the most popular place for San Angeloans to flock to for pizza. Unfortunately, the parlor closed in the late 1990s, but longtime residents have certainly not forgotten it.
Shakey's Pizza Parlor Gang, a group on Facebook, is dedicated to reminiscing on the local Shakey's Pizza.
Many on the page have posted their memories of Shakey's. Stories of birthday parties, family dinners, and of course, stories about Shakey's storied pizza and Rojos, flood the page.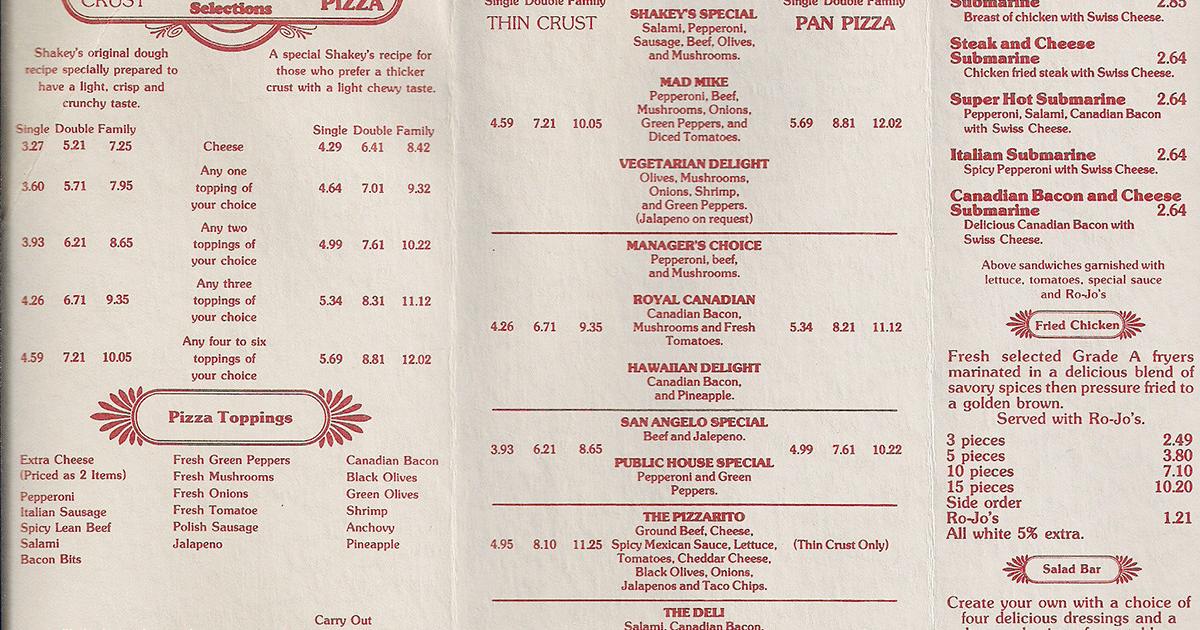 Matthew Jost, a former Shakey's patron, even discusses plans of making a road trip to a "state with a Shakey's." According to Jost, the "Mad Mike" pizza that was on the menu in San Angelo was not featured at a Shakey's he once visited in California.
Robert Baxter, another member of the Facebook group, explained that the "Mad Mike" was unique to the San Angelo establishment and was named after an employee who created it. Unfortunately, that employee, Mike Rowden, passed away some time ago; however, his legacy remains in tact with those who remember the "Mad Mike." 
Another user, Michelle Vu, noted that she actually met her husband there. Vu remembered that everyone "loved the food" and that "it was always great after a football game."
It seems that Central High School alums have a particular fondness for Shakey's. Shay Galvan, a CHS alumni, loved going there during lunchtime for "Brunch-o-lunch," Shakey's buffet. It is said that the Shakey's parking lot was a free-for-all during lunch as dozens of San Angeloans flocked to the establishment to enjoy the all you-can-eat pizza buffet.
But what made the Shakey's the go-to place for pizza in San Angelo? In most patron's eyes, it was the simplicity and the integrity of the ingredients that made their food so memorable.
Shakey's featured build-your-own pizzas that guests could either order with pan or thin crust and customize their toppings. Hungry customers could get anything from traditional pepperoni, to fresh green peppers, or more adventurous toppings like pineapple and shrimp.
Shakey's favorites also included their "San Angelo Special", topped with beef and jalapeno, and the "Shakey's Special," which was their version of a supreme pizza.
But Shakey's didn't just offer pizza. In fact, most folks you talk to will probably remember Shakey's famous Rojos (fried potatoes). Most of the comments on the Shakey's Pizza Parlor Gang Facebook page pays homage to Shakey's Rojos, and while many San Angelo business have attempted to recreate the original recipe, there is simply nothing like the original Rojo.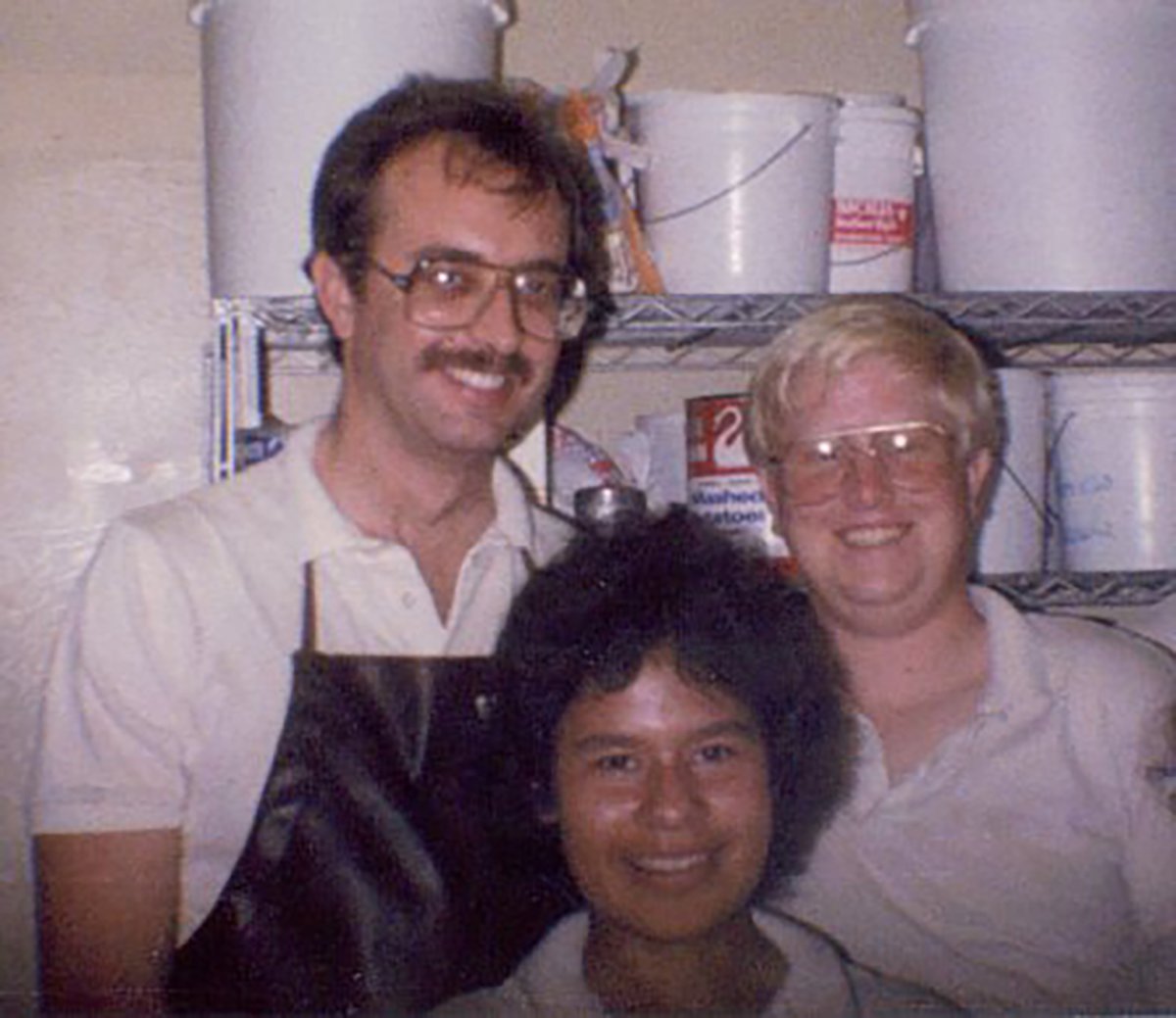 Above: Former Shakey's Employees. (Picture by Michelle Vu/Facebook)
Ken and Carol Granzin, owners of the Ideal Food Store in Miles, fondly remember San Angelo's Shakey's Pizza. Carol Granzin was just a child when she first began frequenting Shakey's.
"I loved going in there on a hot day, and I especially remember the cartoons they would play. You could also watch them make pizza. There would be kids lined up just watching the employees make their pizzas."
Shakey's was certainly known for the cartoons they played. Ken and Carol's son, Hunter Granzin, a former Marine, remembers watching Three Stooges reruns when he visited Shakey's. 
On top of that, Shakey's had a sensational arcade for its day, and boasted live music in its earlier days that was later replaced with a self-playing piano. All in all, Shakey's Pizza was a place for families and friends to gather 'round the table, enjoy great food, great company, and a great atmosphere, and since its closing, no other restaurant has been able to take its place.
Although there have been rumors of reviving Shakey's Pizza in San Angelo, there are no concrete plans to do so at this time. However, if you find yourself craving the old Shakey's flavor, there are sixty establishments across the country. The closest Shakey's Pizza to San Angelo is in Auburn, Alabama, but there are also several locations in California and as far south as Tlapaln, Mexico. You can visit their website at: www.shakeys.com.
Get more stories like this by signing up for our daily newsletter, The LIVE! Daily.