School's out for summer. Hearing the last bell of the school year blaring through classrooms and down school hallways is the sound of gold to a child's ears. They fly out into their summer vacation worlds free of homework and teachers; visions of barbeques, swimming, fishing, vacations and summer camp racing through their heads.
Inside the school the teachers rejoice, a break from state requirement testing standards and overcrowded classrooms, no more students dirty looks.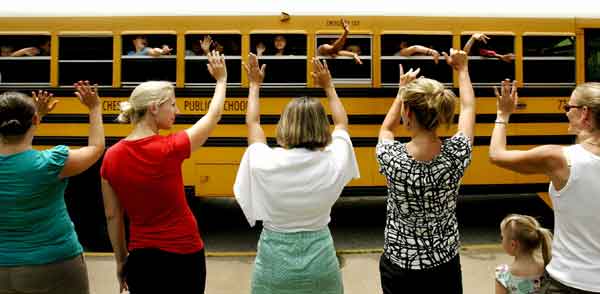 Parents prepare themselves for inevitable phone calls from home at work. "There's nothing to eat." "I'm bored, there's nothing to do."  If you have more than one child, the complaint calls are upgraded.  "Sally looked at me. Bobby won't let me watch my show. The dog won't leave me alone."
 Summer really makes parents appreciate school; education is a very important thing. Many have proposed year round schooling with two week breaks here and there as an alternative to the traditional two months of parent torture.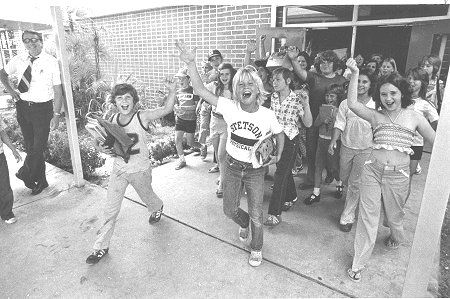 Luckily, San Angelo has some camps that offer an excellent chance to beat the summer blues and keep Mom, Dad, and everyone sane until vacation time, or until the bell rings school in session once again.
The YMCA is offering a couple camps that begin registration this week.
Football clinic registration begins June 1 - July 22 for 3rd-6th grade students. The camp dates are July 27 - July 30.  The program fees are: $35 for members, $45 Non-members. Additionally, a $10 discount is applied to each camp if the child registers for three or more camps. Camp takes place Monday - Friday from 9:00 am - 10:30 am at the YMCA.
The YMCA Youth Football League registration also begins today, June1 and runs through August 3.  The YMCA Youth Tackle football program is for 3rd - 6th grade students. It is split in two divisions, Central and South Division. Central division consists of teams from San Angelo, Ballinger, Wall and other small cities surrounding San Angelo. South Division consists of teams from Big Lake, Sonora, Eldorado, Menard and Ozona. The registration fees are $67 for Y-Members and $82 for non-members.
Equipment rental is not required, participants may purchase their own equipment, but the YMCA provides rentals for helmets at $20 and shoulder pads for $17.50. The YMCA staff evaluates all equipment prior to practicing. Season starts in August and runs through November.
 Howard College hosts a unique summer camp tailored to upcoming high school sophomore and junior students. The three day program will run June 4-6. It will provide students the opportunity for hands on exploration of science, technology, engineering, and mathematics (STEM). STEM camp is completely free, including transportation. The camps will be held on the Howard College campus in San Angelo and in Big Spring. San Angelo participants will be housed in the ASU dorms; Big Spring participants will be housed in Howard College dorms on campus. FMI visit website.
The ASU Department of Computer Science is registering junior high and high school students now for its annual ASU Code Camp.  The camp will run June 8-19 in the Mathematics-Computer Science (MCS) Building, 2200 Dena Drive, on the ASU campus.
Registration fee for the camp is $30 per person, and advance registration is required.  Attendees will learn to design, implement and test computer code using the Java programming language and the Unity3D Game Engine. They will also learn the basics of computer science as they work in groups to implement a variety of applications. No programming experience is required, and students with prior programming experience or who have attended previous ASU Code Camps will work on more advanced projects. To register for the Code Camp, contact Nancy Weller in the Computer Science Department at 325-486-5447 or [email protected] or visit website.
The ASU Belle Volleyball Camp is June 6 -7. Grades 4- 7 camp will be from 9a.m. to noon and grades 8-12 will run from 1p.m. to 4p.m., the cost is $100, each camper will receive a camp t-shirt. Both camps will focus on individual skill training as well as team concepts. Campers will learn fundamental skills in the areas of passing, setting, hitting, serving, and defensive positioning. There will be individual awards given out to the camps best passer, hitter, server and the player with the best attitude.
For more information please visit the Belle Volleyball Camps website.
The Love Municipal Pool opens for the summer tomorrow, June 2. Pool hours will be Tuesday through Saturday from noon to 6p.m. Admission is $5 for ages 3 and older. Children 2 and younger are admitted free. Seniors 65 and older pay $3. A season pass can be purchased for $75 per person or $200 for a family of four, add $25 for each additional family member over four.
Most Recent Videos