SAN ANGELO, TX – First-year ProRodeo cowboys aren't supposed to do the things that Keenan Hayes is doing. He is dominating the Resistol Rookie of the Year bareback riding standings with more than $85,000 in earnings. He's also No. 2 in the world standings, besting most of the established veterans in the most physically demanding events in the sport.
On Saturday night, Hayes made two world-class rides to walk away with the San Angelo Cinch Chute-Out title and $7,500. He packaged that with his victory a year ago at the San Angelo Stock Show and Rodeo when he was on his permit, a qualifying level in ProRodeo that he maintained while setting new earnings records.
"I love the energy in this place," said Hayes, 20, of Hayden, Colorado. "I was 110 (percent) the whole time."
He rode Championship Pro Rodeo's The Crow for 80.5 points to win the long round, then matched moves with Pickett Pro Rodeo's Top Notch for 89 points to win the title. He added $7,500 to his already solid winter campaign, where he sits second in the world standings behind Texan Leighton Berry, who earned a share of the San Angelo rodeo's bareback riding title Friday night.
"I was really excited to get on that horse," he said of Top Notch, which has been a fixture at the National Finals Rodeo for several years. "It was really fun.
"I had good luck here last year and was lucky enough to continue this year. This is one of my favorite rodeos, so it's an awesome place to do it."
The Chute-Out features a unique format. Ten contestants compete in the opening round, with only the top three advancing to the championship round, where the top score or fastest time wins the title and the lion's share of the money. Hayes wasn't the only top dog to find his way to the title Saturday night: He was joined by No. 1 steer wrestler Dalton Massey of Hermiston, Oregon, and Stetson Wright of Milford, Utah, who leads the all-around race, is second in saddle bronc riding and is fourth in bull riding.
Wright qualified for the three-man finals in both of his events, winning the bronc riding crown with a 91-point ride on Pete Carr Pro Rodeo's Larry Culpepper. Massey stopped the clock in his final bulldogging run in 3.3 seconds to win the top prize.
"It was a tough group of guys, and it went my way," said Massey, who won RodeoHouston a few weeks ago to move into the standings lead. "I had a great steer. I knew I had one of the steers I really wanted. I got a great start; I knew he was going to let off, and Remey Parrott hazed for me, and Tanner Milan's horse worked great. Everything worked out for me."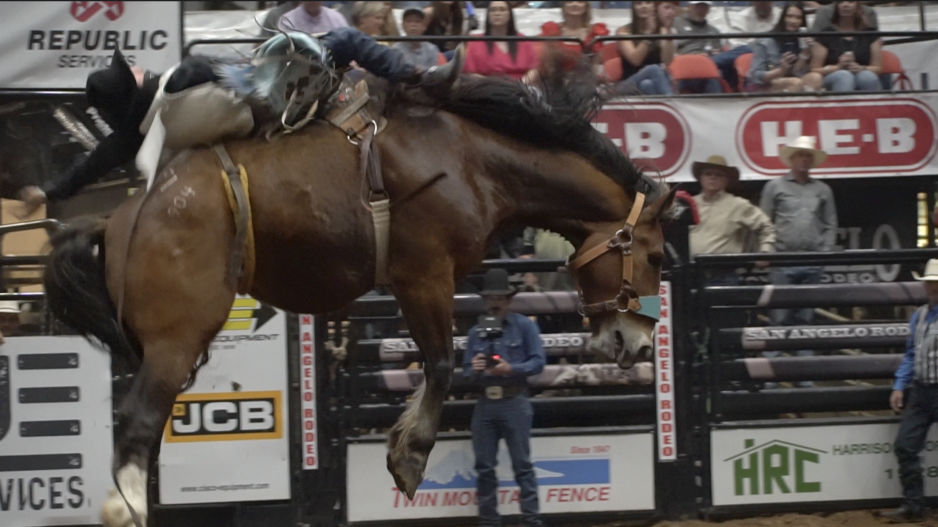 It also worked out well for tie-down roper Riley Pruitt of Gering, Nebraska. Pruitt, who won the NFR average title in 2016, won the long round in 7.4 seconds. In the Chute-Out, Michael Otero posted a 7.7-second run. Pruitt raced through his tie and, despite fumbling his wrap, stopped the clock two-tenths faster.
"When I threw my hands up, I knew it would be close," said Pruitt, who is 10th in the world standings. "Luckily, I was going fast enough that I made up for a couple of them bobbles."
Other winners on the final night of the San Angelo Stock Show and Rodeo inside Foster Communications Coliseum were team ropers Dustin Equsquiza, and Levi Lord, bull rider Jeff Askey and barrel racer Lindsay Sears, a two-time world champion who last won ProRodeo gold in 2011.
San Angelo Stock Show and Rodeo
Cinch Chute-Out Results
April 15
Bareback riding:
1. Keenan Hayes, 88 points on Pickett Pro Rodeo's Top Notch, $7,500; 2. Jayco Roper, 87.5, $3,000; 3. Taylor Broussard, 87, $2,000.
Steer wrestling:
1. Dalton Massey, 3.3 seconds, $7,500; 2. Jacob Talley, 3.4, $3,000; 3. Stockton Graves, 4.0, $2,000.
Team roping:
1. Dustin Equsquiza/Levi Lord, 4.0 seconds, $7,500; no other qualified runs.
Saddle Bronc riding:
1. Stetson Wright, 91 points on Pete Carr Pro Rodeo's Larry Culpepper, $7,500; 2. Kade Bruno, 89.5, $3,000; no other qualified rides.
Tie-down roping:
1. Riley Pruitt, 7.5 seconds, $7,500; 2. Michael Otero, 7.7, $3,000; Riley Webb, 8.8, $2,000.
Barrel racing:
1. Lindsay Sears, 13.80 seconds, $3,000; 2. Jordon Briggs, 14.42, $2,250; 3. Sherry Cervi, 19.48, $1,500; 4. Hailey Kinsel, 25.99, $750.
Bull riding:
1. Jeff Askey, 88 points on Pete Carr Pro Rodeo's Bandit, $7,500; no other qualified rides.
Most Recent Videos