SAN ANGELO, TX – Wyatt Casper is on the lookout for a new favorite rodeo.
He might have found it Thursday night, when he rode Lancaster & Jones Rodeo's Angel Fire for 86 points to move into second place in saddle bronc riding during the fifth performance of the San Angelo Stock Show and Rodeo.
"San Angelo is a lot like a mini-NFR in a way," he said, referring to the National Finals Rodeo, the grand championship in the sport. "You've got that tiny arena, and that crowd is right there. You're also in Texas, so everybody there loves that rodeo. The town is really good about coming out and supporting that deal.
"If I can do well again next weekend, it'll be up there on the list of my favorite rodeos."
That's saying quite a bit for the Miami, Texas, cowboy, who won $600,000 a The American in 2020 and has qualified for three straight trips to the NFR. But in all his years of competing inside the Foster Communications Coliseum, he has never earned a trip to San Angelo's championship round, which features only the top 12 contestants through the preliminary performances and is scheduled for next Friday, April 14.
Heck, he's never scored above 80 points in this west Texas town, about 330 miles from his home in the Panhandle.
"It feels good to finally break that ice," Casper said. "It makes you feel good when you draw a horse like that. If you screw up one like that, all your buddies are going to laugh at you, so there's a little bit of nerves knowing you should do good on that horse. I feel like I'm to the point where I should ride a horse like that pretty good.
"I've always wanted to get on that horse, and I'm glad I finally got to at San Angelo. That's a really nice horse you get to go out there on and do your job. It makes bronc riding fun when you get on one of those."
He will have to wait out five more performances to see where his score falls on the leaderboard, but an 86-point ride in bronc riding should go above just getting him back to the short round; it also should secure him a pretty good first-round payout. In recent years, cowboys that scored 86 points placed second or third in the go-round.
Most importantly, Casper knows where he will be in a week.
"That rodeo has a bunch of (performances), and that would be pretty tough for one stock contractor to be able to handle all that," he said, noting that the primary producer is Dallas-based Pete Carr Pro Rodeo. "Pete does a good job of bringing other contractors in, and they're all bringing their best stuff. It makes it good for the cowboys that way."
Casper was one of two Panhandle cowboys to find success Thursday night. Quade Hiatt, a 23-year-old tie-down roper from Canyon, Texas, stopped the clock in 7.9 seconds to move into fourth place in the opening round. He will make his second-round run Saturday night.
Hiatt is among the to 35 in the world standings, and doing well in San Angelo would go a long way to helping him move up the standings. He finished the 2021 season 31st on the money list and was 29th last year. He comes from a rodeo family. His father, Chad, won the intercollegiate tie-down roping national championship 31 years ago while attending Oklahoma Panhandle State University, and his maternal grandfather, Butch Myers, and uncle, Rope Myers, were world champion steer wrestlers.
Quade Hiatt also felt a bit of relief by finally finding success in San Angelo.
"I finally drew (a calf) that was pretty good, and I used him," he said. "Chisum Allen let me ride his good horse, Rolex."
It all added up to a solid chance to finish strong for the Texas Panhandle cowboys.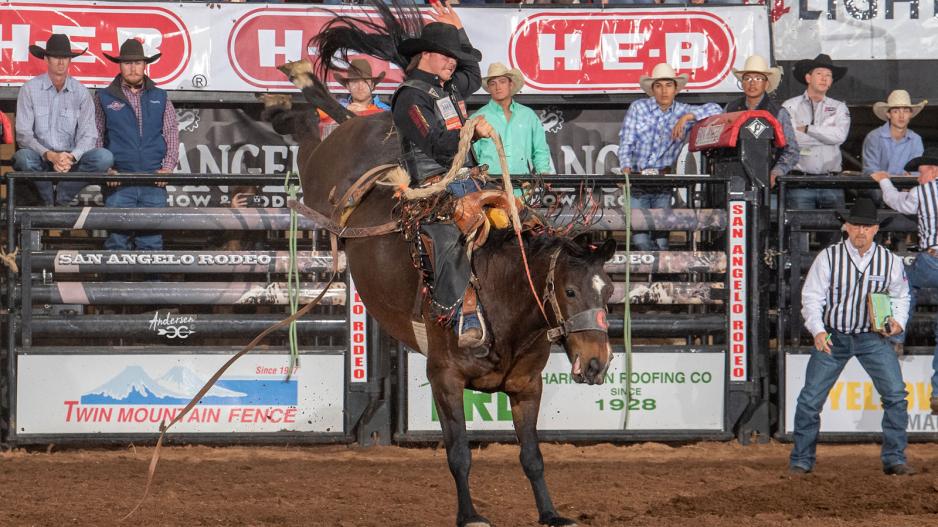 Most Recent Videos