Two Barrel Racers Claim Top Spots at 8th Performance of 2017 San Angelo Rodeo
SAN ANGELO, TX – Amberleigh Moore has a lot of faith in her young partner, a 7-year-old mare she calls Paige.
"She's taking me for the ride right now," said Moore of Keizer, Ore. "Ever since I fell off, she's hit a new gear. The rodeos I went to this week – Jackson (Miss.), Belton (Texas) and here – she's taken off like she did in Vegas, and I'm literally just hanging on for the ride."
She held on pretty well, circling the cloverleaf pattern Sunday afternoon at the San Angelo Stock Show and Rodeo in a rodeo-best 13.99 seconds. She owns the second-round lead and also sits No. 1 in the average with a cumulative time of 29.90 seconds on two runs. It's all been a whirlwind since she took a nasty spill last weekend in Fort Worth, Texas.
As she came around the third barrel on the afternoon of Feb. 4, the latigo broke on her saddle. Shortly after Paige crossed the scoring line, Moore hit the dirt hard. She is still sore, but she's been riding with a huge smile on her face. She won the rodeo in Belton this weekend and leads Jackson.
All this coming shortly after her inaugural run at the Wrangler National Finals Rodeo, where she earned more than $187,000 in 10 days and catapulted to the No. 2 spot in the final world standings.
"The momentum from last year is carrying over," Moore said. "After Vegas, she got a month off. She hasn't slowed down since the first run I put on her. That mare has not backed off one bit.
Watch:
"This is our third year on the trail, so this is the third time she's been in these pens. She knows what she's doing and where she's at. From 2016 to 2017, she's just a year older and a year stronger. She'll be 8 years old in May, and I've just let her do this on her own."
It's working, and now she's made her plans to return to San Angelo on Friday for the championship round.
"She took off from the alleyway, and she was smooth and fast," she said of Sunday's run. "Last year, I ran a 13.99 and (knocked down) the third barrel to win the second round and take the lead in the average. This year I made up for it. This year I was determined to run clean around the third barrel.
"Last year I didn't do any good at the winter rodeos. I tipped a lot of barrels. This year is setting up so it's not so hard later in the year. If you can do well at these winter rodeos, it can set you up so that your summer run is easier."
In 2016, Moore scrambled to finish the regular season 15th in the world standings, taking the last qualifying spot for the NFR. She'd like to have an easier time making it back to Las Vegas in December, and she knows the road she needs to take. More importantly, she knows that Paige is the right speedster to get her back. She is 14th in the world standings this year with nearly $11,000 in earnings.
"She's one in a million," Moore said her mare. "She gets bored being at home. She likes being out on the road with me."
It shows in every run the tandem makes.
Brooke Rix places 2nd Sunday with 14.03 seconds, 4th overall
Brooke Rix, the 33-year-old barrel racer from Skidmore near Corpus Christi, was just 0.04 seconds behind Moore at 14.03 seconds on her horse Gypsy Hat Oh Fame. Overall, she won second place in the second round and sits fourth overall for the 2017 San Angelo rodeo.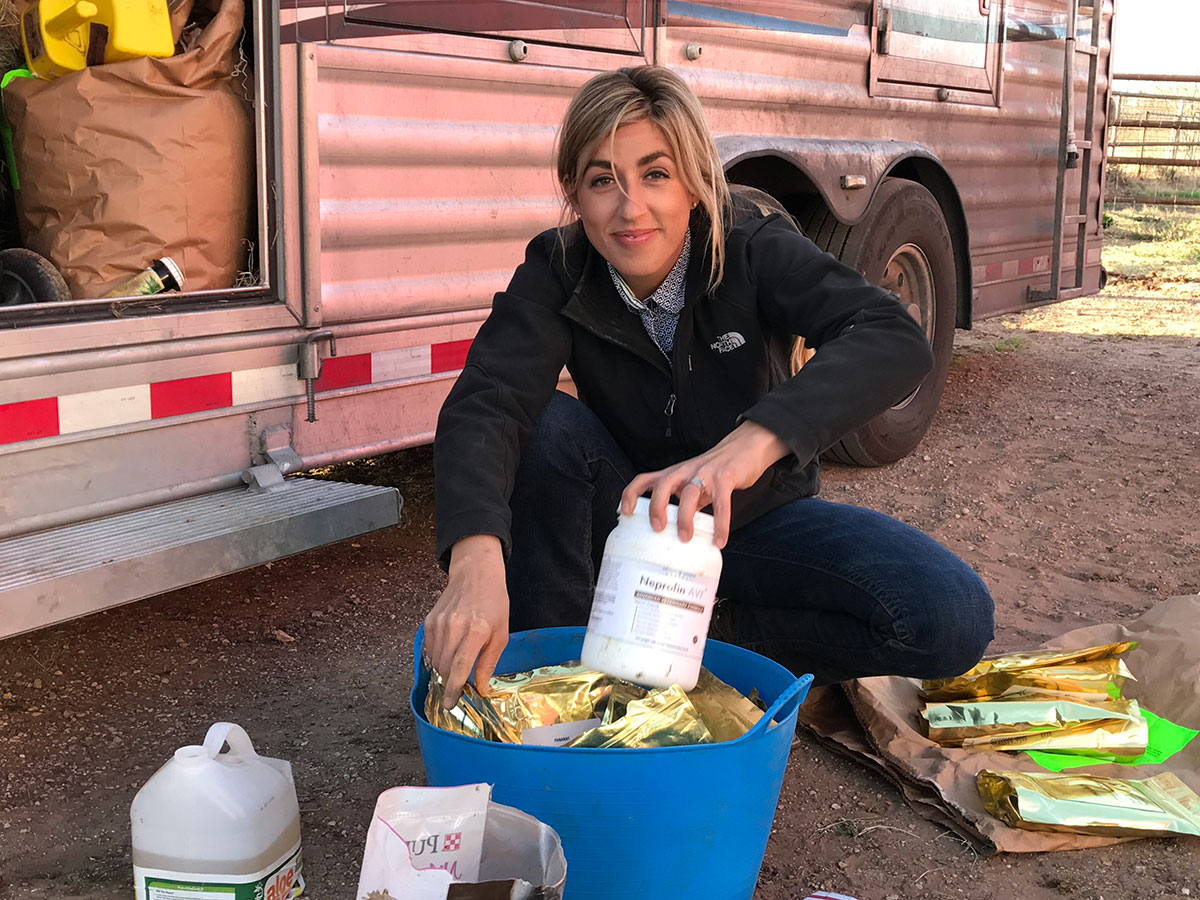 Above: Barrel racer Brooke Rix prepares her horse Gypsy Hat Oh Fame dinner after an amazing 14.03-second ride at the San Angelo rodeo Sunday. (LIVE! Photo/Joe Hyde)
Sunday, she went for the left side barrel first, and then nicked it. "I thought I was going to down the first barrel. I saw it coming," Rix said. The barrel wobbled, but luckily, it didn't fall over. It was a testament to how close Rix was rounding the barrels Sunday afternoon.
Foster Communications Coliseum's outdoor-to-indoor raceway into the arena can cause problems for some racers because of the lighting changes.  Before getting to a full gallop, barrel racers may wait until the lighting is similar to what is inside the arena to let the horse's eyes adjust. "I guess it's like a precaution. It varies from horse-to-horse and person-to-person," she said.
Rix didn't think the lighting changes affected scores that much between daytime and nighttime performances.
What about crowd noise? "I really don't hear it. There's so much concentration required," she said.
Watch:
Rix has been riding horses since she was 8, and she raised Gypsy from when he was a colt. It is a 24/7 operation, she said.
"We're riding every day," Rix said. "But if there are several days between events, I'll give him two days off."
"I'm mainly on my feet working with him," Rix said.
Gaining entry into the indoor rodeos like San Antonio and Houston rodeos is her goal. If she keeps racking up the 14.03-second scores here, it will help.
"The winner of this rodeo gets a shoo-in to Houston," Rix said.
Other than earning a number one ranking in San Angelo, Rix is aiming for $25,000 to $30,000 in winnings this year. That level of earnings during one season will probably get one into San Antonio's and Houston's rodeos.
"Last year, I only went to like 12 rodeos and won just $6,000 so I didn't get into everything," Rix said.
"I'm rodeoing harder this year. I mean, I'm going to do what my horse will allow me to do. Your horse is your ticket, he's your bread and butter and the only way you're going to get there is if your horse is working. It's all about the horse."
San Angelo is Rix's 11th event this year. She was ranked 6th in the 2017 WPRA World Standings with $15,832 in earnings before coming to San Angelo, and is well on her way to $30,000.
After the indoor rodeos are conquered, Rix wants to earn a spot to compete at the NFR in Las Vegas.
But right now she's competitively anticipating her next ride this week in San Angelo. "I think a 13-point-something would be a rocking score," Rix said.
Rix revealed that while Gypsy Hat Oh Fame is her horse's official name, she affectionately calls him "Bam Bam." "That's his 'barn name,'" Rix explained.
Contributing to this report were Ted Harbin with Amberleigh Moore and Joe Hyde with Brooke Rix.
The 2017 San Angelo Stock Show and Rodeo Leaderboard
Bareback riding leaders: 1. Austin Foss, 89 points on Powder River Rodeo's Craig at Midnight; 2. Orin Larsen, 87.5; 3. (tie) Devan Reilly, Tyler Nelson and Ty Breuer, 86 points each; 6. Kelly Timberman, 85; 7. Seth Hardwick, 83; 8. Clint Laye, 81; 9. (tie) Jamie Howlett and Casey Breuer, 80 each; 11. (tie) Justin McDaniel, Joel Schlegel, Luke Creasy and Jordan Pelton, 79 each.
Steer wrestling: First round leaders: 1. (tie) Tyler Waguespack and Dakota Eldridge, 3.3 seconds each; 3. (tie) Ty Erickson, Blake Knowles, Luke Branquinho and Justen Notes, 3.5 each; 7. Stephen Culling, 3.6; 8. (tie) Baylor Roche and Justin Shaffer, 3.7 each. Second round leaders: 1. David Hinman, 3.3 seconds; 2. (tie) Baylor Roche, Dirk Tavenner and Josh Peek, 3.5 each; 5. (tie) Timmy Sparring, Clayton Hass, Nick Guy Todd Suhn and Rowdy Thomas, 3.6 each. Average leaders: 1. Tyler Waguespack, 7.0 seconds on two runs; 2. Baylor Roche, 7.2; 3. Todd Suhn, 7.4; 4. (tie) Josh Peek and Blake Knowles, 7.7 each; 6. (tie) Kyle Whitaker and Cooper Shofner, 7.9 each; 8. (tie) Nick Guy, Dakota Eldridge, David Hinman and Dakota Champion, 8.0 each; 12. (tie) Dirk Tavenner and Ty Erickson, 8.1 each.
Team roping: First round leaders: 1. Erich Rogers/Cory Petska, 3.8 seconds; 2. JoJo LeMond/Quinn Kesler, 4.1; 3. Bart Brunson/Trace Porter, 4.2; 4. Chad Masters/Travis Graves, 4.3; 5. (tie) Dustin Egusquiza/Kory Koontz and Charly Crawford/Joseph Harrison, 4.5 each; 7. (tie) Shawn Besette/Sid Sporer, Tate Kirchenschlager/Trevor Kirchenschlager and Cole Markham/Nick Simmons, 4.6. Second round leaders: 1. Derrick Begay/Clay O'Brien Cooper, 3.9 seconds; 2. Nick Sartain/Justin Davis, 4.0; 3. (tie) Caleb Smidt/B.J. Dugger and Matt Sherwood/Joel Bach, 4.1 each; 5. Brett Stuart/Wesley Moss, 4.2; 6. John Alley/Clark Adcock, 4.3; 7. Trevor Brazile/Patrick Smith, 4.4; 8. (tie) Zac Small/Will Woodfin, Travis Tryan/Chase Tryan and Luke Brown/Jake Long, 4.5. Average leaders: 1. Tate Kirchenschlager/Trevor Kirchenschlager, 9.8 seconds on two runs; 2. Luke Brown/Jake Long, 9.9 seconds; 3. Chase Massengill/Kory Bramwell, 10.1; 4. Clayton Van Aken/Shawn Darnall, 10.3; 5. Seth Hall/Byron Wilkerson, 10.6; 6. Dustin Bird/Russell Cardoza, 10.9; 7. Dustin Egusquiza/Kory Koontz, 13.3; 8. Caleb Smidt/B.J. Dugger, 13.4; 9. Travis Tryan/Chase Tryan, 13.9; 10. Charly Crawford/Joseph Harrison, 14.5; 11. Ty Blasingame/Kollin VonAhn, 15.2; 12. Brandon Webb/Mickey Gomez, 15.5.
Saddle bronc riding leaders: 1. Ryder Wright, 81 points on Pete Carr Pro Rodeo's Pendleton Whisky Django; 2. (tie) Magin Lane Montoya, Dalton Davis, Isaac Diaz and Layton Green, 80 each; 6. CoBurn Bradshaw, 79.5; 7. (tie) Zeke Thurston and Jesse Kruse, 78.5 each; 9. (tie) Jacobs Crawley and Chuck Schmidt, 78 each; 11. Wyatt Casper and Jake Wright, 77 each.
Tie-down roping: First round leaders: 1. (tie) Michael Otero and Tuf Cooper, 7.0 seconds each; 3. Darnell Johnson, 7.5; 4. (tie) Marty Yates, Hunter Herrin, Cade Swor, Catfish Brown and Tyler Milligan, 7.6 each. Second round leaders: 1. Cody Quaney, 7.0 seconds; 2. Justin Smith, 7.1; 3. (tie) Scott Kormos and Tim Pharr, 7.3 each; 5. (tie) J.C. Malone and Lane Livingston, 7.4 each; 7. (tie) Blane Cox, Seth Cooke and Trinton Downing, 7.5 each. Average leaders: 1. Cody Quaney, 14.8 seconds on two runs; 2. Tuf Cooper, 15.0; 3. Clint Singleton, 15.8; 4. Cooper Martin, 16.1; 5. (tie) Cade Swor, Clint Robinson and Cimarron Boardman, 16.2 each; 8. Catfish Brown, 16.3; 9. (tie) Marcos Costa and Marty Yates, 16.4; 11. Adam Gray, 16.6; 12. Josh Peek, 17.0.
Barrel racing: Second round leaders: 1. Amberleigh Moore, 13.99 seconds; 2. Brooke Rix, 14.03; 3. Sammi Bessert, 14.15; 4. Cassie Mowry, 14.20; 5. Laura Kennedy, 14.24; 6. Lindsay Sears, 14.24; 7. Kellie Collier, 14.32; 8. Jennifer Arnold, 14.35; 9 Trula Churchill, 14.36; 10. Hailey Kinsel, 14.37. Average leaders: 1. Amberleigh Moore, 29.90; 2. Kassie Mowry, 30.15; 3. Sammi Bessert, 30.16; 4. Brooke Rix, 30.18; 5. Carmel Wright, 30.23; 6. Kellie Collier, 30.37; 7. Morgan Breaux, 30.44; 8. Trula Churchill, 30.47; 9. Hailey Kinsel, 30.48; 10. Shelby McCauley, 30.53; 11. Brittany Kelly, 30.60; 12. Kelsy Lutjen, 30.68.
Bull riding leaders: 1. Trey Benton III, 88.5 points on Pete Carr Pro Rodeo's Red Rocket; 2. Brennon Eldred, 87.5; 3. (tie) Jordan Hansen and Mickey Andrews, 85 each; 5. (tie) Kyle Balls and Jordan Wacey Spears, 84 each; 7. Brock Radford, 83.5; 8. (tie) Tanner Learmont and John Pitts, 83 each.
Get more stories like this by
signing up for our daily newsletter, The LIVE! Daily
.