SAN ANGELO – While most Tom Green County residents enjoyed the first day of 2023 off to celebrate the new year, the new court room in the Tom Green County Courthouse was packed and overflowing as newly elected county office holders took the oath of office and began serving their four year terms.  
The once-every-two year Constitutional orderly transition of power ensures the business of the Nation, the State of Texas and Tom Green County continues uninterrupted.  
There are 28 elected offices in Tom Green County, many are Constitutional, meaning they are mandated by the Texas Constitution; the others were created later by the Texas Legislature.  Of the 28, approximately half are elected during the midterm election cycle which was just completed in November 2022.  The rest will be elected by the voters of Tom Green County during the Presidential election cycle in 2024.  
Those who took the oath of office  Sunday are: 
County Clerk Christina Ubando
Justice of the Peace Pct. 3 Stacye Speck
Justice of the Peace Pct. 2 Tom Danie
Justice of the Peace Pct. 1 Susan Werner
Justice of the Peace Pct. 4 Eddie Howard
County Commissioner Pct. 4 Shawn Nanny
Treasurer Dianna Spieker
District Clerk Anthony Monico
Court at Law Judge #2 Andrew Graves
Court at Law Judge #1 Ben Nolen
County Judge Lane Carter
County Commissioner Pct. 2 Sammy Farmer was re-elected in November but was not present at the Swearing in ceremony Sunday.  He will take the oath of office at a later time.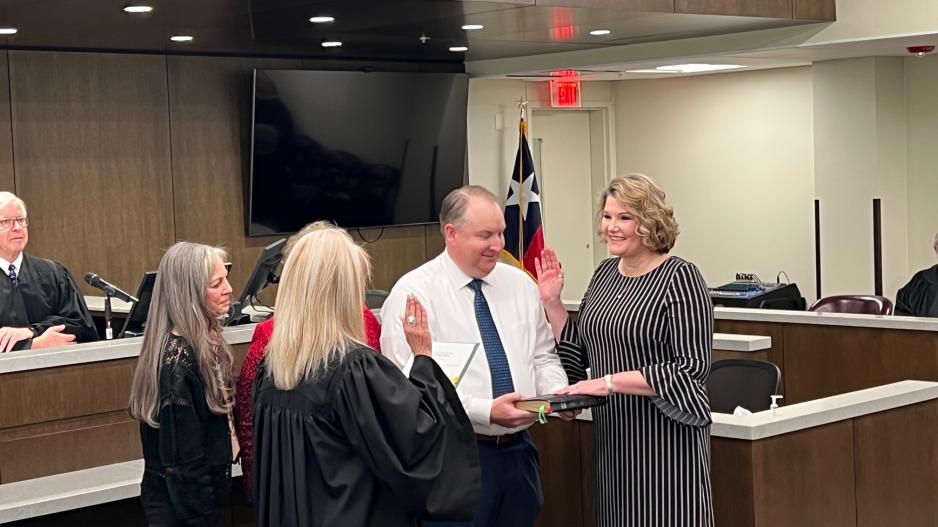 Each elected official selected the judge who administered their respective oath of office.  
All the newly sworn in officials will serve full four year terms.  
Peace Justice Tom Daniel and Court at Law Judge Andrew Graves won election but began serving in office because their predecessors resigned before their respective terms ended.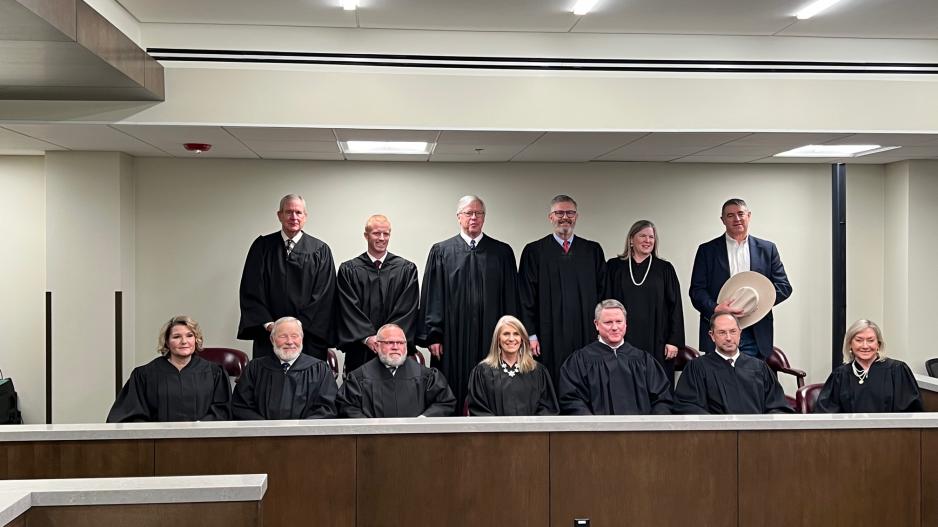 After 34 years of serving as an elected official in Tom Green County, Judge Steve Floyd turned over the Keyes to Lane Carter Sunday.  
Carter won a contested GOP Primary and General election to replace Floyd.  
Watch outgoing Judge Floyd administer the Oath of Office to incoming Judge Lane Carter below: 
The newly completed courtroom in the Tom Green County courthouse is one of only two functioning courtrooms now because the rest of the courthouse is under construction and mold mitigation.  We will have more on that story later and more stories from Sunday's ceremony in the coming week.  
Most Recent Videos