SAN ANGELO, TX — Lane Carter won the race for the Republican nomination for Tom Green County Judge Tuesday night after an arduous seven-month campaign that began with four candidates in the race. Carter was the last man standing. How did he do it?
Two years ago, then-Councilman Lane Carter decided he would run for Tom Green County Judge. Behind the scenes, he cultivated key relationships and set forth his plan. One local political activist told us she was on his steering committee that had been set up 1.5 years prior to the March 1, 2022 Primary Election.
Carter learned in 2016 how to defeat the establishment candidate. He walked the City of San Angelo's Single Member District 5 relentlessly knocking on doors in his first campaign for San Angelo City Council.
"That kid knocked on our door no fewer than four times," one voter in Santa Rita told me. That fourth knock convinced her that Carter sincerely wanted the job.
Still, in 2016, the incumbent was Councilwoman Elizabeth Grindstaff. Not only are incumbents difficult to defeat, but Grindstaff was promoted by well-known behind-the-scenes political kingmakers. With them comes money as they tap their network of concerned San Angeloans with deep pockets. By the first reporting period for Carter's chief opponent, Todd Kolls, Carter learned that with names on his opponents list of donors, Kolls had raised a war chest of $27,075.04. Carter raised just a little over a third of that at $11,050, according to campaign finance reports.
Kolls' strategy throughout the summer of 2021 was to meet with potential donors for lunch. The running question each week was who was lunching with Mr. Kolls at Fuentes Downtown Cafe? Armed with endorsements, Kolls had access and credibility with who's who of the San Angelo political establishment that drove his fundraising.
"It's just like it was with Grindstaff," Carter said. "But I've beat them before."
In January, facing a field of four candidates, Carter told Yantis Green on The Political Desk with Yantis Green live stream that his strategy was to walk door to door and build a grassroots network of support.
The strategy worked.
Carter ran the circuit in the Southland neighborhoods, starting with the homes on corner lots. Corner lot signs were gold as their presence created the appearance that everyone was for Carter. He instilled confirmation bias in the minds of many. That encouraged people to talk.
"Carter is working hard," was heard on the street.
He accomplished this tactic in the five populous precincts in the county that win Republican elections — most of Southland and College Hills. He then tirelessly ventured into the interior of the streets gaining more traction.
New donors, impressed with Carter's moxie, stepped up. Some of Kolls' donors also contributed to Carter's campaign. By the time Carter won the primary election runoff March 24 he had raised only $1,000 less than opponent Kolls.
During the final push in late April, Carter produced three issues-oriented video commercials produced by San Angelo LIVE!'s Manny Diaz. He ran those ads online but did not have a television advertising presence. A last-minute fundraising effort by Carter brought in $5,000 to saturate Fox News and HGTV on cable and KLST/KSAN. Andi Markee at the local ad agency Media Advantage devised the strategy of where to run the TV ads. TV and Internet ads energized the door-knocking. Many voters answering their doors recognized Carter — or Carter's name — from the 'air raid.'
Every morning, Carter resolved to himself that to win this election, his voters had to vote. He was everywhere, from ribbon-cuttings to charity events. At the same time, his team created a Google map with a pin on every house that voted in the March 1 primary. He and a small group of volunteers walked those streets, knocking on just the doors of those voters. Carter said knocking on doors of residents who didn't vote was a waste of time. He estimated only five percent of non-voters would emerge to vote in the May 24 runoff.
The door knocking energized Carter. One afternoon, his team walked the entire length of Canyon Creek Drive in Southland knocking on the doors Carter's data informed him were March 1 Primary voters. Of those voters who answered the knock — about 20 voters — none expressed an interest in his opponent.
Still, the worry was that Kolls' donor list was very vast and deep, and contained known business owners. Those donors had a vested interest in getting out the vote for they had invested money into Carter's opponent. They had large networks — family members and employees.
During the March 1 primary, although Carter won the election, Kolls defeated him in early voting 1,579 to 1,522, a 57-vote margin for Kolls. This was a sure sign of Kolls' strength with donors to the Kolls campaign and the extended networks that come with it. That haunted Carter. During the final days leading up to the runoff, when asked what his prospects for winning were, he'd say, "If you don't go and vote, I'll lose."
Throughout early voting and on election day, Carter and team were busy making phone calls. On election day, when a potential voter was contacted, that voter might be in Grape Creek on a job site. Carter would text directions to the nearest voting center at the Grape Creek ISD Admin Building to get that vote.
"If you don't vote, I'll lose," he'd say again and again.
On election night, early returns showed Carter defeating Kolls in early voting by 109 votes. Statistically this meant Carter would win handily, as lower voter turnout made Carter's 109-vote edge much more significant than his March 1 Primary 43-vote deficit; Carter had flipped the votes in his favor by 152 votes (the spread between -43 and 109). The runoff attracted 6,198 votes; the March 1 Primary saw 11,094 votes.
Still, the mood at Carter's election watch party on Tuesday was somber right after the early voting numbers were released. Those 109 votes seemed like a tiny margin. What if on Election Day his opponent overcomes the deficit?
In the end, the early voting returns accurately predicted the victory. Carter won the election by 288 votes, 3,242 to 2,955. That was likely the number of phone calls Carter and team made during the final push leading up to and on Election Day. But statistically, the victory appeared larger, 52.32% to 47.68%.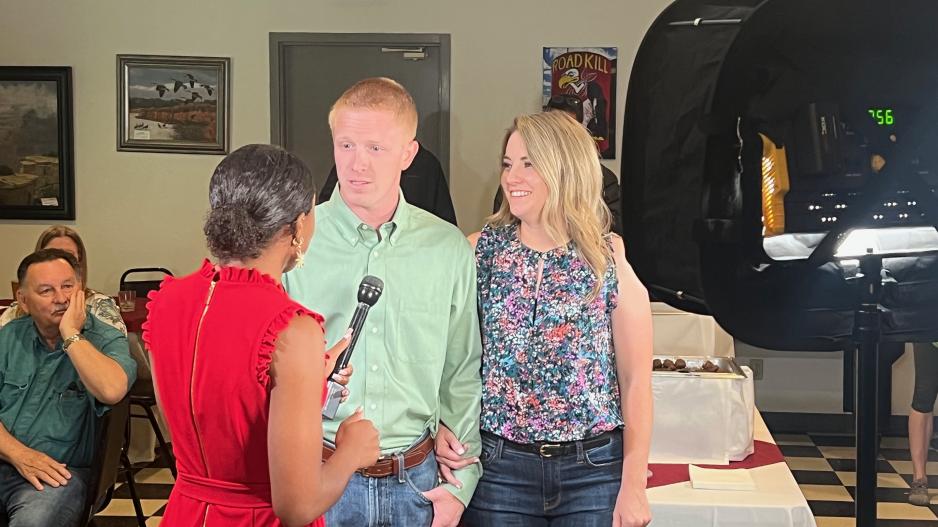 Lane Carter interviewed on the LIVE! Show on May 25, 2022
Most Recent Videos