SAN ANGELO, TX — A lingering two-year-old tax lien filed against Tom Green County Judge candidate Todd Kolls invites questions.
According to the Tom Green County Clerk, the Texas Workforce Commission filed a lien for $1,622.13 on July 27, 2020 on Todd Randal Kolls d/b/a Kolls Diamond and Design. The lien states that Kolls was indebted to the State of Texas through the TWC for unemployment taxes, interest taxes, and other charges.
See lien (download a copy here)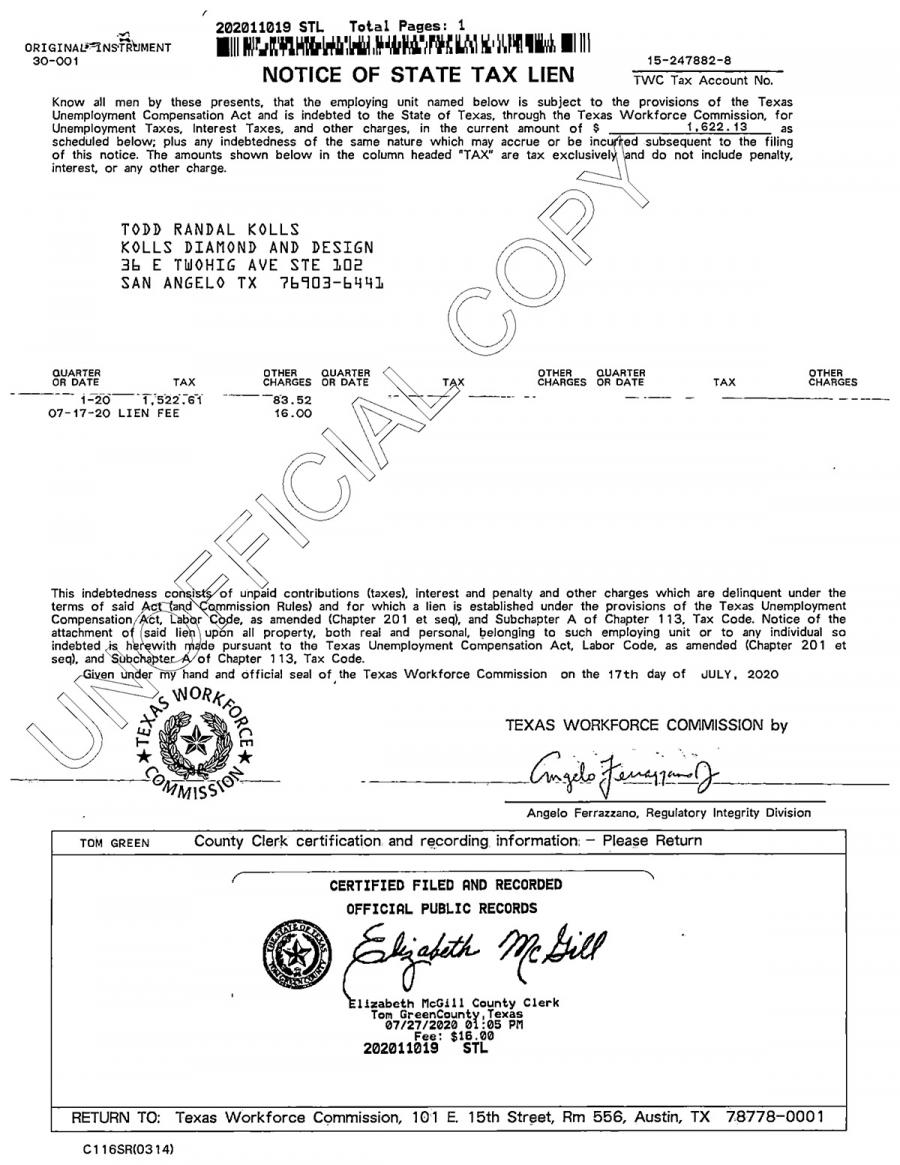 The County Clerk's office shows the lien was still active as of this week.
Todd Kolls said he knows nothing about the lien's existence when we called him Friday morning. While on the call, he logged into his account on the TWC portal and sent a snapshot of a $0 balance. He said he would go to the TWC offices this afternoon and clear up the matter.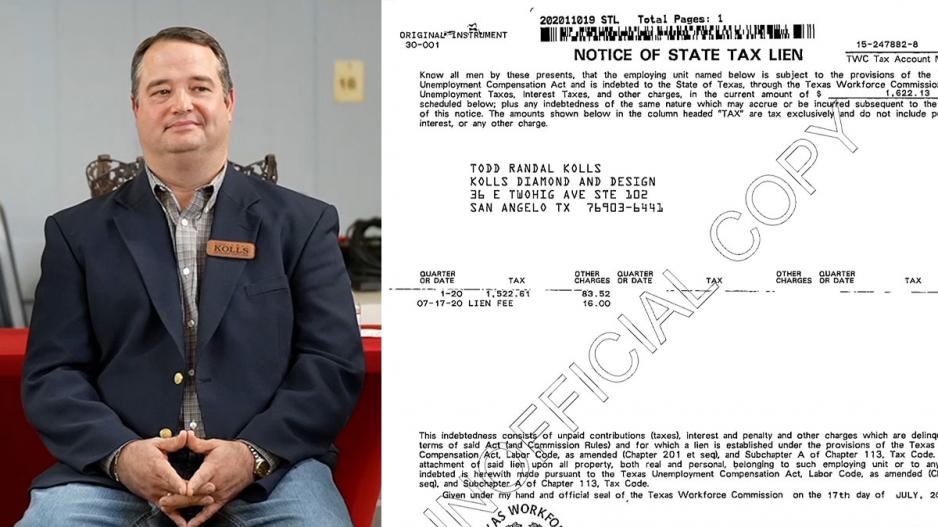 A TWC agent told us this afternoon that the lien has not yet been released. Kolls said that his recollection was that the $1,622.13 was paid in full during 2020 yet he claimed he did not realize there was a lien filed against him with the county clerk to this day. The TWC told us that their agency does not release liens until all indebtedness is paid in full.
For a small company, TWC quarterly taxes are usually the least amount of all payroll taxes owed. For a small, two- to four-employee company like his jewelry store, unemployment taxes generally total $200 or less per quarter. This opens the question about Kolls. Even given the small amount TWC taxes are, does Kolls have a history of paying his unemployment taxes late?
"All of the taxes were paid in 2020 but the TWC never sent the release letter," Kolls said. He noted that 2020 was a "cluster" for his business. "We were trying to scramble and do everything we could do."
Kolls has highlighted his business acumen in forums as the reason he should be elected. At the Chamber of Commerce forum last week he boasted his business experience multiple times.
"The main role of the county judge is business management that is why I was approached by others knowing I'd be a good fit for it. ... (Running the county) is business management. I have experience — running my own business for the past 11 years — doing that," Kolls said in his opening statement.
In prior forums, Kolls has also said that the past two years have been hard on his jewelry business with the Covid shutdowns and restrictions. The Covid shutdowns did not start until March 20, 2020. After that time, public records show that Kolls received two PPP Loans that are now forgiven. One was for $39,188 issued on April 5, 2020. The second was for $45,000 issued January 30, 2021, according to ProPublica.
The lien appeared to have been issued for non-payment of taxes for many quarters from the first quarter of 2020 and prior, all before Covid.
Later Friday, Kolls said that he talked to the TWC. He claimed that the TWC mailed a release letter in August 2020. He said the TWC informed him the release letter was sent to Koll's Diamond and Design in the Cactus Hotel in suite 102. That he had moved to suite 101 but had not updated his address with the TWC was Koll's reasoning as to why he had not received the release on a lien that he previously said he knew nothing about. Kolls promised to present the release letter to us after it arrives in his email Friday afternoon.
The runoff election for the Republican nomination for county judge is May 24. Early voting starts May 16. Kolls faces Lane Carter for the nomination.
Eds. note: The author is this article ran against Todd Kolls and Lane Carter in the 2022 Republican Primary election on March 1.
Most Recent Videos