SAN ANGELO, TX — Wednesday, August 4, the San Angelo Chamber of Commerce held the 17th Annual West Texas Legislative Summit on the campus of Angelo State University. The summit featured four panel discussions about education, agriculture, transportation, and energy. But the panels weren't where the news was breaking. Instead, we leveraged the opportunity to understand how much Texas Republicans believe the party is positioned to retake the U.S. House and Senate in 2022 by interviewing key lawmakers in via live stream in the media room. Here is some of what we learned.
Congressman Dan Crenshaw believed that even with the failure of President Donald Trump to win the suburbs in 2020, most Republican congressional and senate races were huge wins.
"Republicans crushed it in the last election. We just need to embrace that reality," he said.
White men and the suburbs turned on Donald Trump, Crenshaw said, pointing to the gains in the House and the less-than-expected losses in the Senate.
"My district is very suburban. Trump won by 1 point, I won by 13 points," Crenshaw said. "Suburbanites don't like mean tweets."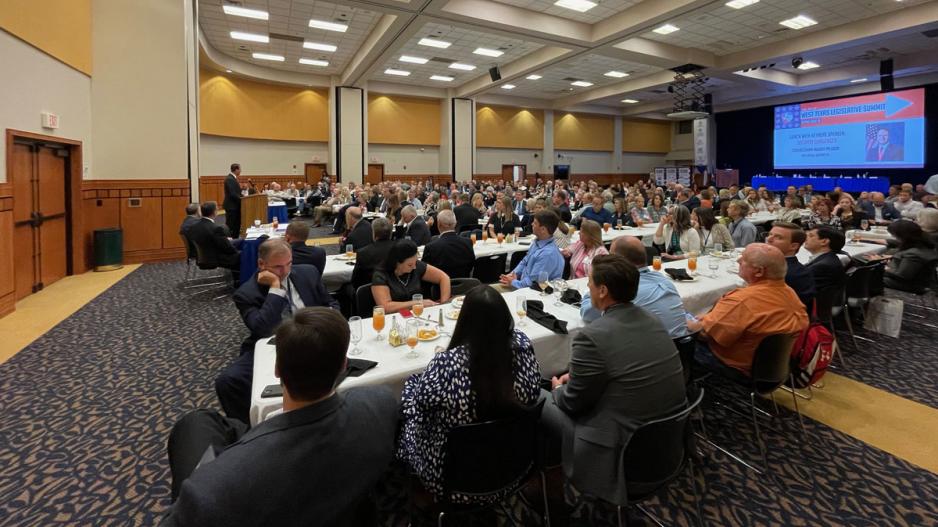 On the Democrats' bill called HR 1, the gigantic legislative package call the "For the People Act," designed to nationalize elections and do away with state voter ID laws, Crenshaw said the Democrats don't have a good chance of passing it. It requires a supermajority, or 2/3s of the Senate to pass, thanks to the filibuster, a long Senate tradition that is in peril this session.
"[Senator Joe] Manchin (WV) and [Senator Kristen] Senima (AZ) seem pretty intent on keeping the filibuster," Crenshaw said.
On election laws and procedures, Crenshaw noted that, "Democrats keep on wanting to expand the rules to the point that there are no rules." At the same time, he warned Republicans, "The [idea of] take your ball and go home because you are upset about the past election just needs to stop."
Crenshaw said the Republican Party needs to work on attracting younger voters.
"Demographically it's the party of stuffy old white men. It's going to take time to change that perception," he said. But it's an uphill battle. "It's always cooler to follow a romanticized revolutionary message that the Democrats have than cheer for Republicanism's incremental change," he said.
San Angelo LIVE!
Congressman Dan Crenshaw interviewed at the West Texas Legislative Summit in San Angelo on August 4, 2021
Congressman Ronny Jackson was President Donald Trump's physician while in the U.S. Navy and is most known as the doctor who ordered Trump to take a Montreal Cognitive Assessment, a 10-minute test to detect cognitive impairment such as dementia. Trump passed the test with a perfect score, a 30, meaning Trump was sharp as a tack. Jackson asked our audience to compare Biden's cognitive capabilities to Trump's.
Dr. Jackson said the Democrats in power require a perpetual Covid scare nationwide in order to have unmetered mail-in ballots in the 2022 election. He noted that the U.S. population can withstand a new Covid strain much better today than in March 2020, suggesting that 80 percent of the population has some measure of Covid immunity. He asked, why is there talk about new mandates and lockdowns? Jackson contends it is so the Democrats can push for another election with lax rules allowing millions of unaccountable mail-in ballots to be counted.
San Angelo LIVE!
Congressman Ronny Jackson interviewed at the West Texas Legislative Summit
At the state level, State Senator Charles Perry said many of the election reforms in front of the Texas Legislature this session are to curtail the entrepreneurial efforts by the Left in Harris County. Of most importance, Perry said the legislation will prohibit drive-thru voting, prevent 24-hour polling locations, and outlaw mass mailing ballots to the registered voter database.
San Angelo LIVE!
State Senator Charles Perry on UT to the SEC
Congressman Roger Williams, who owns a large auto dealership on the west side of the Dallas/Fort Worth Metroplex, wants to re-energize the economy. Rather than paying Americans not to work with $300 per week unemployment checks, he wants the government to get out of the way and to quit spending money, so businesses can prosper.
"We need to cut taxes, create more tax payers, build more jobs," Williams said. "Big government pushes down on people and makes them average. But America is not an average country."
"We are living under an American scheme, not an American dream," he said.
Williams said his dealership usually has 500-600 units on his lot but today there are only 38 new vehicles to choose from. Customers are being forced to order a new car unseen with a 3-week delivery timeframe. The problem, he said, is a shortage of semiconductors, and that has international foreign policy implications.
"With Taiwan making our chips, we have to be concerned with what China is doing," he warned. Williams, a staunch Trump supporter, said that if Trump were still president, we'd be building semiconductor plants in America right now.
Williams also has concerns about inflation. "We cannot print this much money and not have inflation," he said.
San Angelo LIVE!
Congressman Roger Williams at the West Texas Legislative Summit on August 4, 2021
Congressman August Pfluger, who represents San Angelo, said that voters are tired of feeling abandoned by Washington, DC. He gave as an example. The 200,000 known illegal migrants — and likely double that in unknown migrants — are crossing the border and damaging the property of farmers and ranchers in doing so. Those landowners are abandoned by the federal government. Pfluger was able to gain the support from key Democrats to introduce legislation to redirect unspent coronavirus money to help borderland land owners repair broken infrastructure.
Pfluger warned that the Biden Administration has a tax increase proposal with a stepped-up tax basis on capital gains on inherited assets. Forbes reported this is a hidden tax on America's middle class that is tucked away in the Biden "American Families Plan".
As the law is today, when an American inherits, say $100,000 in land, and then 10 years later sells that land for $200,000, the capital gain is $100,000. The basis on your inherited land is the fair market value of it on the date that you inherited it. The Biden proposal is to do away with the stepped-up basis, making the capital gain in this example as much as $200,000, or double. The elimination of the stepped-up basis comes with a small benefit in the form of an exemption of $1 million for single tax filers and $2 million for married couples. If inflation continues unmitigated, everyone who is a homeowner can be a millionaire.
For midsized to large land owners, like many farmers and ranchers in Pfluger's district, the elimination of the stepped up basis could force families to sell their land or small business at the time of the death of a parent just to pay the taxes on that property. Forbes has more on the stepped-up basis.
Pfluger said the exact same tax increase applies to almost all small businesses and it is not necessary.
"In 2019 under President Trump, we had the lowest tax rates in history, and the largest increase in revenue to the federal treasury in history," he said.
San Angelo LIVE!
Congressman August Pfluger at the 2021 West Texas Legislative Summit
Most Recent Videos