EL PASO, TX – It's official, Kamala Harris will finally be coming to Texas this Friday to visit the border.
Vice President and Border Czar Kamala Harris will be in El Paso on Friday with Homeland Security Secretary Alejandro Mayorkas. At this time is unclear if the two will actually view anything or if it is just a photo op for the VP. 
Harris has been under fire recently after she lied on camera saying she went to the border during an interview with the NBC Night News anchor Lester Holt. She later came clean and admitted that she hadn't been to the border. In her defense she claimed "And I haven't been to Europe," Harris said. "And I mean, I don't understand the point that you're making. I'm not discounting the importance of the border."
Since then, Harris has been touring Central America attempting to fix the surge of illegal aliens coming into the United States. During her trip to Guatemala, Harris told the people "Do Not Come Here." This led to extreme leftist like Alexandria Ocasio-Cortez to release statements like this.
Earlier this month Texas Governor Greg Abbott announced that former President Donald Trump would becoming to McAllen to see the problem at the border. This is one of the hot spots of illegal alien crossings in Texas.
After seeing criticism from both parties, pressure from Trump and other Republicans, and cries from the American people on the border, the Border Czar will finally come to the border. Although she is coming, many politicians do not expect much.
Gov. Abbott and President Trump believe that this is all a publicity stunt because she isn't going to a place where illegal aliens are flocking to.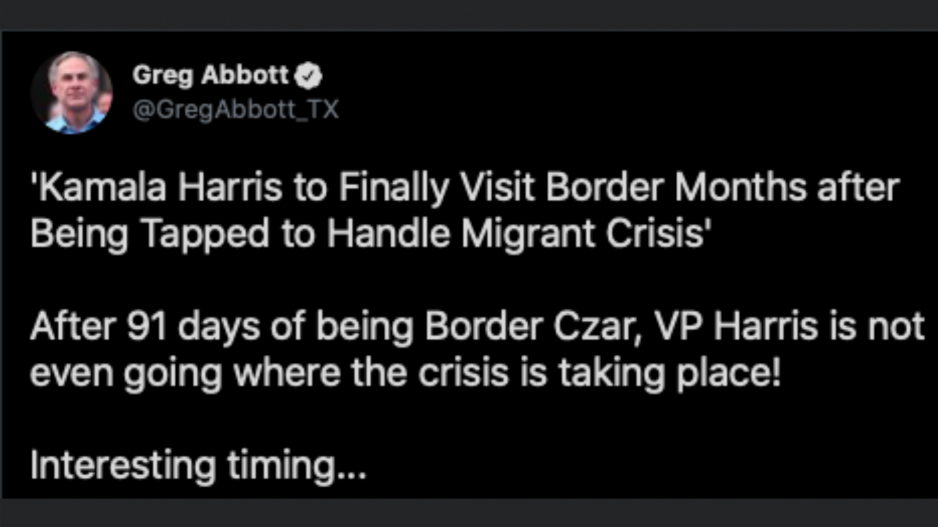 It is unsure how long Harris will be at the border but a press conference is scheduled for sometime Friday.
Most Recent Videos